SmartTouch® Interactive Wins Five Star Awards at the Texas Association of Builders 26th Anniversary Ceremony
Austin, TX – August 15, 2019 – SmartTouch® Interactive, an interactive real estate marketing agency, real estate marketing automation and lead nurturing CRM solution company, announces the honor of five more industry Star Awards from the Texas Association of Builders (TAB). The awards ceremony was held at the Gaylord Texan in Dallas early August and included about 175 winner categories with over 500 entries submitted and judged. Winners were selected after a rigorous judging period by industry leaders awarding excellence in architectural design, remodels, and Sales and Marketing.
This year, SmartTouch® interactive was recognized for exceptional work with 5 awards: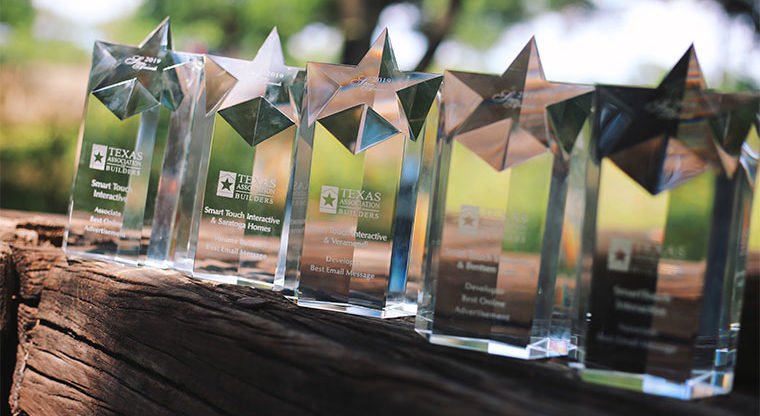 Best Email Message
Best Online Advertisement
SmartTouch® has been attending Star Awards since 2013 and has been honored with 30+ awards over the years in a variety of categories. In addition to Star Awards SmartTouch® attends other distinguished and competitive real estate marketing awards such as MAX held by the Home Builders Association of Greater Austin and The Nationals held by the National Association of Home Builders.
"We are always honored to be recognized for the work we execute on behalf of our clients. The campaigns we produce feature exceptional creative as well as outstanding results in driving traffic and connecting our clients with buyers," said Robert Cowes, CEO and President of SmartTouch® Interactive. "What makes a great marketing production work is the intimacy within the partnership with our clients that allows us to create such high‑performing campaigns."
Examples of the campaigns that won these five 2019 Star Awards can be found on the SmartTouch® Interactive blog. More on the company's past recognition and awards can also be found on the SmartTouch® website.
About SmartTouch® Interactive
SmartTouch® Interactive is an interactive marketing agency that provides proven lead generation programs as well as a lead management and lead nurturing CRM, SmartTouch® NexGen. The SmartTouch® team's expertise in lead generation and online marketing helps firms that require a multi‑touch sales cycle to create demand for products and services and grow their business with customized, interactive lead generation programs and lead cultivation. Backed by 30 years of experience in developing lead generation programs for hundreds of clients, SmartTouch® Interactive sets a new standard for lead generation programs and a single solution that integrates CRM, Marketing Automation, Email Marketing and Inventory Management all in one platform, SmartTouch® NexGen. https://smarttouchinteractive.com
###
Press Contact:
Robert Cowes III
rcowes@smarttouchinteractive.com
512‑582‑5900