The Real Estate CRM built for new home sales
NexGen combines CRM solutions with industry expertise
CRM FEATURES
Capture leads from your website, landing pages, chat bots, advertising publishers, Zaps or manually enter walk in or phone leads
Aggregate and automate distribution to corresponding online or onsite sales agents based on communities
Automate profile and behavior-based lead scoring, email and text drip, or action driven campaigns
Enrich profiles with Full Contact data appending for buyer/broker insights
Set up online and private tours with advance calendaring, notifications and alerts
Enable automate follow up and reminders
Hot List and live website visit tracking alerts and reporting
Marketing platform to lead generation and reengagement emails and text messaging
Traffic/Onsite visits reporting with advance filtering
Pipeline and sales reporting
Buyer journey tracking
Lead, tour and sales conversion reporting with community, lead source or sales executive filtering
Data mining and advance filtering
KPI Dashboard
WATCH VIDEO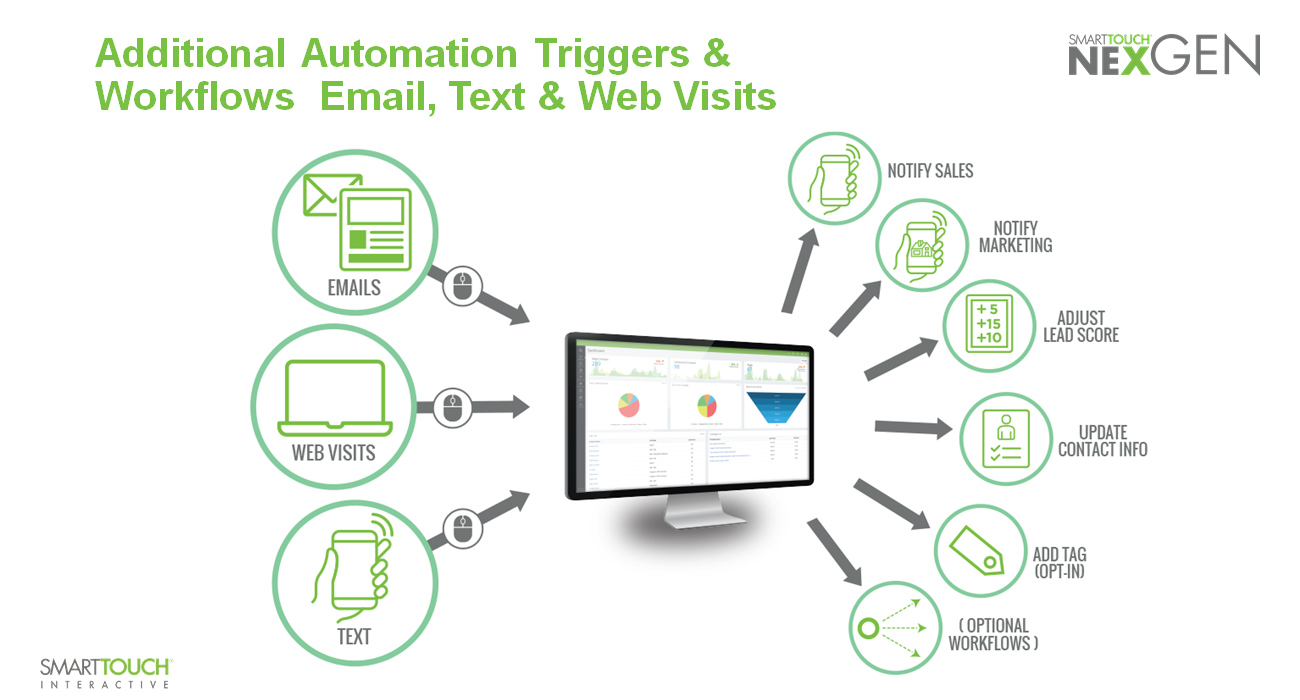 WHY SALES PROFESSIONALS LOVE IT
"Our sales team members are always in the field and having access to their hot prospect information and CRM tools from the easy to use SmartTouch® Mobile app means our sales team can focus on what they do best, selling more homes!"
Jack Bombach
Houston Division President
Saratoga Homes
"With the SmartTouch NexGen Mobile App, we have all key contact information and engagement tools available on the one device we always have with us, our smartphones. Our entire sales team is delighted to have such easy access to our most critical CRM features that helps ensure our team never leaves a lead untouched."
Shant Samtani
Sales Manager
Esperanza Homes
"The SmartTouch® managed CRM service is truly turnkey making it seamless for us to manage and distribute leads to our builders via email text to builder sales agents as well deliver robust reporting to our executive team. Today the system enables the automated distribution and nurturing of 100 registrations per month and automates nurturing of over 2000 existing lead and buyers."
Duke Kerrigan
General Manager Austin
WOLF RANCH (Hillwood Communities)
Why spend your sales team's valuable time learning to manage your CRM tools when you can have a solution designed specifically for home builder and real estate developer sales professionals. For more than 20 years SmartTouch® has worked to deliver award-winning lead-nurturing CRM solutions. SmartTouch® NexGen CRM leverages the latest best practices and delivers 90% of the configuration out-of-the-box that span the real estate industry, including condo, single family, land/ranch buyer, home builder, master planned community and commercial developers as well as time share/fractional and for rent organizations.
It has never been easier to manage home buyer and broker engagement from one place and seamlessly automate, track and report on sales activities. And we make it push button simple to get started with SmartTouch® NexGen CRM desktop and our new mobile app by enabling all the workflows you need in two weeks or less. So, all your sales team must do is work the leads while marketing generates the best leads and reengagement campaigns to increase velocity and sales absorption. Get started today!
ENGAGE CONTACTS AT THE RIGHT-TIME WITH KEY PROFILE DATA
TRACK TOP PROSPECTS WITH HOTLIST ACTIVITY
CONVERT MORE BUYERS WITH BETTER CUSTOMER EXPERIENCE
SMARTER LEAD MANAGEMENT
As home builder sales leaders and real estate development project leads you know that about only 20% -25% of your sales staff or your builders actively participates in using your organization's CRM for its principal use. Our research also shows that the remaining population of staff falls into one of two categories, the 50% that use the bare minimum and the 25% that are absentee, typically due to lack of training, organizational accountability, or accessibility.
SmartTouch has taken accessibility and accountability out of the equation with the availability of the new SmartTouch® NexGen Mobile App, giving sales organizations 24/7 access to achieve optimal CRM usage. NexGen empowers sales professionals to create a contact engagement and lead follow up process that guarantees a higher conversion rate and better customer experience with targeted buyer communications.
HOW SMARTTOUCH NEXGEN WORKS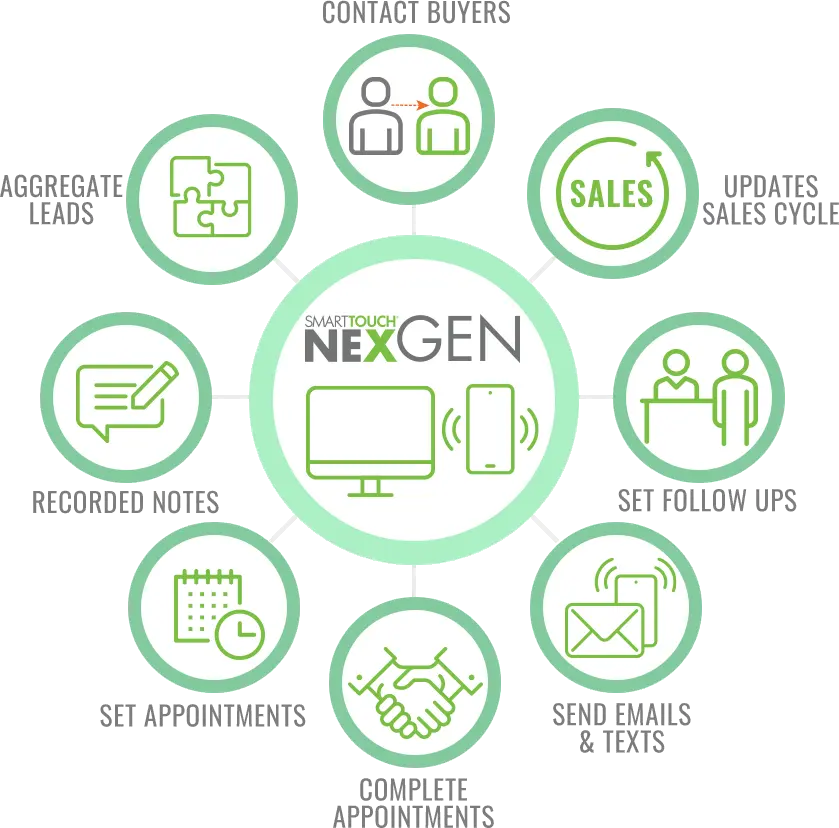 CAPTURE HOME BUYER INTEREST IMMEDIATELY
Now available with SmartTouch® NexGen, the new SmartTouch® QR Code enables home builder and real estate developer clients to easily launch a unique event-driven QR code across all marketing. The QR codes can be used to enable home buyers to scan and schedule visits to model homes, download marketing brochures, sign-up for text alerts, VIP lists and more. With the increased use of QR codes across all aspects of marketing, builders and developers have a quick and recognizable way for home buyers to engage immediately with their home product wherever they see one as well as track and measure QR code use to share with developers and home builders.
SET AND MANAGE APPOINTMENTS ALL IN ONE PLACE
SmartTouch®'s NEW comprehensive appointment management solution enables home builder and real estate developer sales teams to share a personal calendar web page with home buyers to book model home visits and schedule meetings directly on their calendar. The appointment management solution syncs with all calendars, including Outlook, Google, iOs, and more, making it simple to keep your calendar up-to-date and automate appointment management so you never have to search for calendar availability or miss a model home tour again!
ENGAGE YOUR LEADS 24/7 ANYWHERE
Available for use on both Apple® iOS and Android™ devices, the SmartTouch® NexGen Mobile App includes the most critical features of the award-winning SmartTouch® NexGen CRM platform, which was designed for any company that needs to more effectively manage its multi-touch sales process with smart home builder CRM tools and gain full transparency of leads activities in real-time, delivering the real-time data required to know when a customer is ready to buy. Now with SmartTouch® NexGen Mobile home builder and real estate developer sales teams have the essential contact engagement tools they need anytime, anywhere to ensure they are maximizing every lead.
NEXGEN MOBILE APP FEATURES
Developed specifically for sales teams
Add, update, and engage with buyer or agent contacts
Update life cycles, preferences and appointments
Email, text and call
Access buyer full contact profile, notes, and preference history
Record notes, set appointments and tag
View pending tasks and calendar appointments
View team or individual dashboard
HOW TO GET STARTED
Ready for a better way to manage leads? We can set you up with a base SmartTouch® NexGen CRM system for $750/month* and you get unlimited mobile app use free.
Already a SmartTouch® NexGen CRM Platform client? Great! Your sales team has unlimited use of the mobile app for free! Visit the App Store or Google Play to download the app and give your sales team the 24/7 contact engagement and lead management tools they need to sell more homes!