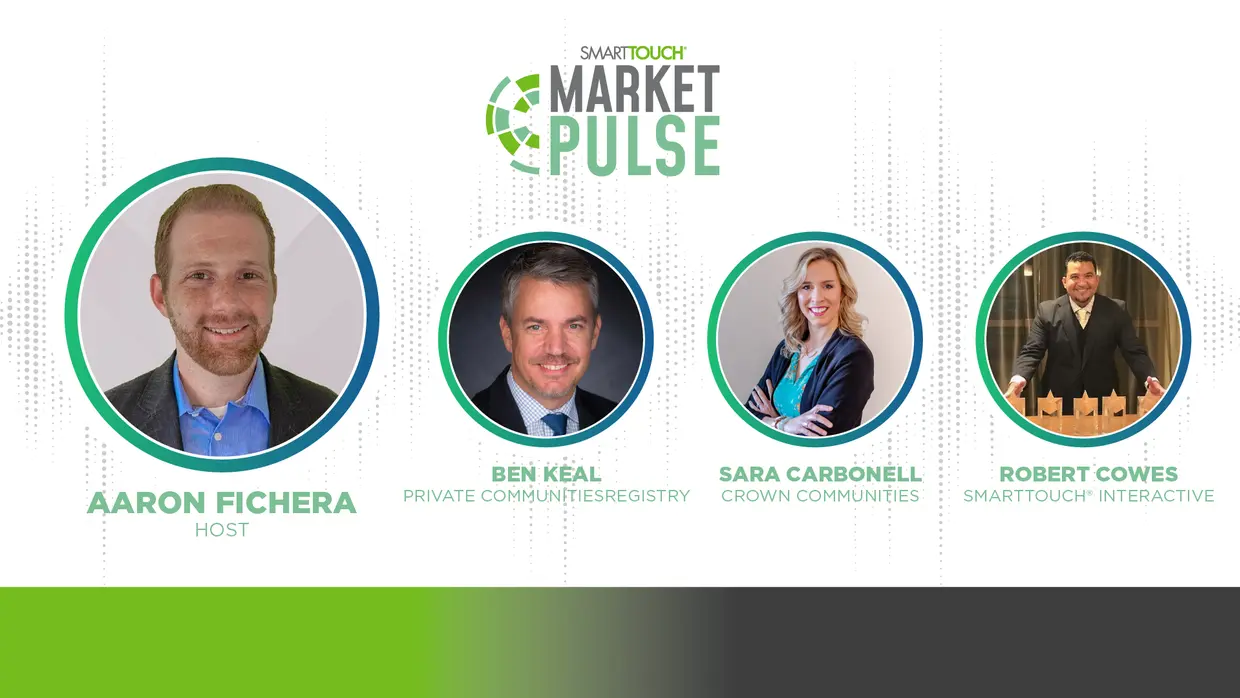 Episode 2, October 3, 2023
Digital Strategies for Today's Active Adult Home Buyer
In this insightful episode of Market Pulse, hosted by Aaron Fichera, we welcome industry experts Ben Keal of PrivateCommunities.com, Sara Carbonell of Amblebrook, and Robert Cowes of SmartTouch® Interactive to explore the ever‑changing landscape of 55+ Active Adult Residential Communities. This episode dives into key market trends that are influencing amenities and lifestyle choices in these communities. Our panel also delves into the latest digital marketing techniques—from social media campaigns to virtual tours—that are effectively engaging the 55+ audience. 
Hear insights from Ben Keal on the invaluable role that online registries like PrivateCommunities.com play in enhancing visibility and lead quality for residential communities. Adding to this, Robert Cowes provides an overview of data‑driven strategies that can yield high returns on investment, focusing on key performance indicators crucial for marketing success. Whether you are a developer, marketer, or a stakeholder in the 55+ residential community sector, this episode offers a treasure trove of actionable insights and strategies. 
Episode 1, September 19, 2023
Master Planned Developments in the Heart of Texas Hill Country
In this episode, host Aaron Fichera, COO of SmartTouch® Interactive, welcomes Robert Cowes, Founder and CEO, and Erika Ramon, Marketing Manager at Crown Community Development. Together, they explore the intricacies of digital marketing's role in the Central Texas real estate boom, from leveraging analytics and branding to virtual home tours.
Erika also unpacks Crown Community's strategic approach to master‑planned residential developments, offering a glimpse into how community visioning and marketing programming are reshaping the Texan suburbs. Whether you're interested in the tech behind targeted real estate ads or curious about what goes into planning a residential community from scratch, this episode delivers both strategy and substance to keep you ahead in the market.