Get Tweeting: Twitter for Real Estate Marketing
How to Use Twitter for Real Estate Marketing
Effectively using Twitter for real estate marketing will depend upon if you're a builder, developer, agent, or broker. If you consider Twitter as a news platform with snippy "tweetable" headlines, then your news strategy will slightly vary depending on which of these afore mentioned groups you fall under. For instance, a good strategy for builders is to consistently tweet out inventory or near‑completion homes, while a developer would promote community updates and area events, and an agent or broker would tweet open houses and events along with listings.
Of course, all of these strategies will overlap case‑to‑case, but your brand voice will also play a huge role in your strategy. Real estate agents and brokers have a little more of an advantage when it comes to sharing current updates in the professional and personal lives and incorporating more of a human element to their profession. However, even as a large national builder or a private local builder you still need to make sure you're not just pumping out headlines and addresses and actually engaging in the platform by retweeting, tagging, using relevant hashtags, and keeping up with current conversations.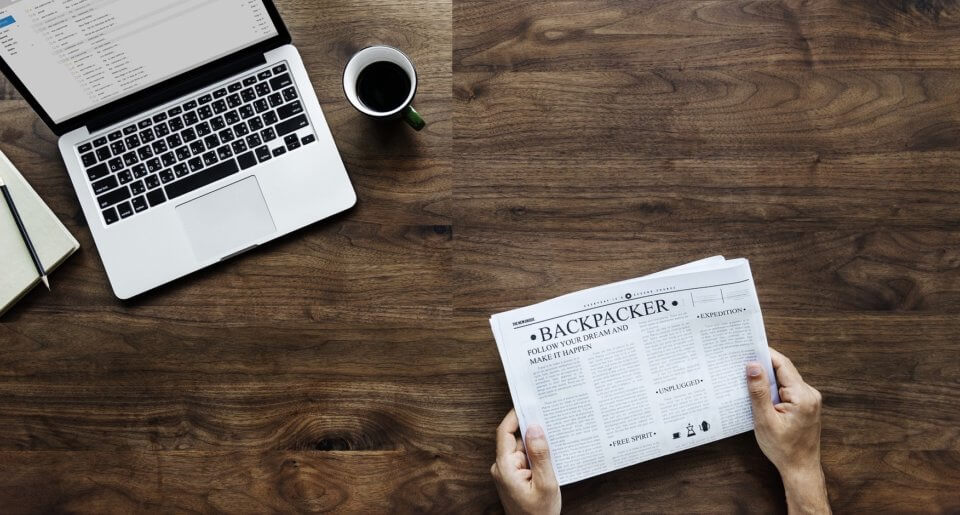 Let's break this down into a few high‑level topics to get your Twitter page kicked off and pumping out quality content in no time!
Profile & Personal/Business Hashtag
Best Twitter Handles for Real Estate
When and How Often You Should Tweet
Automated Real Estate Marketing Techniques
Where Twitter Real Estate Marketing is Heading in 2018
Real Estate Twitter Profile & Personal Hashtag
The importance of your profile and personal hashtag is often overlooked or can become a victim of no follow‑through. You may choose to never swap out your profile image if it is your company or community logo, but making timely and relevant updates to your cover photo to promote events and stay cohesive with your other social channels should always be on your Twitter marketing todo list. Changing your theme color from the default blue is also another way to stay within your brand. Twitter even gives you the capability to use an exact brand color by entering a Hex Code.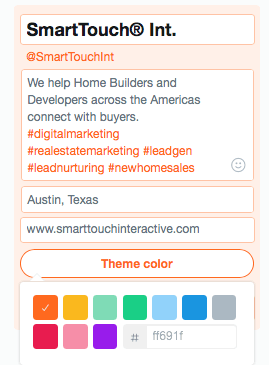 Profile customization on Twitter is a little more limited than on Facebook, but the power of the hashtag can be more impactful. For instance, optimizing your profile to incorporate relevant hashtags in your bio is also very important to ensure your page and tweets are getting noticed by the right people. Think of the hashtag as a keyword. When someone searches on Google for new homes in Atlanta, you want your ad or website to be top of page. The same goes for when people search these terms on Twitter. However, hashtags haven't really caught up with longtail keywords or phrases yet, and being too specific isn't very valuable. You could, however, split up #NewHomesinAtlanta to #NewHomes #Atlanta.
As for your personal or business hashtag, you'll want to include that in every one of your tweets. Your company name, or a shortened version of your company name, is the best way to go so it's easily identified with your profile.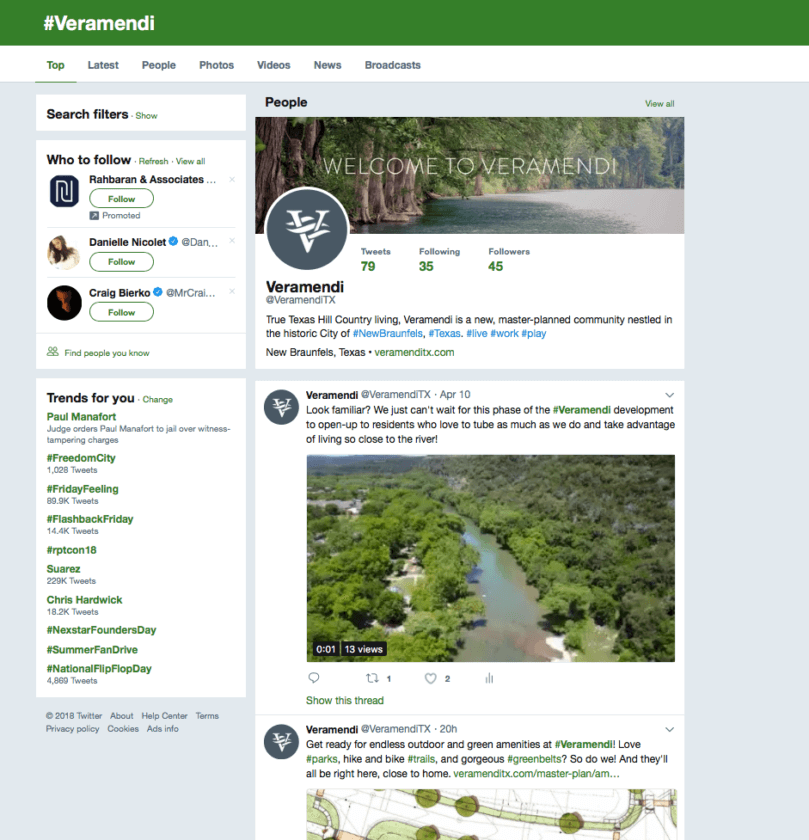 Best Twitter Handles for Real Estate Marketing
If you can grab your company or community name, that's always the easiest way for buyers to follow you. However, your handle is not the name of your account. So you can have an account for Jane Homes but the handle be @tweetsfromJaneHomes.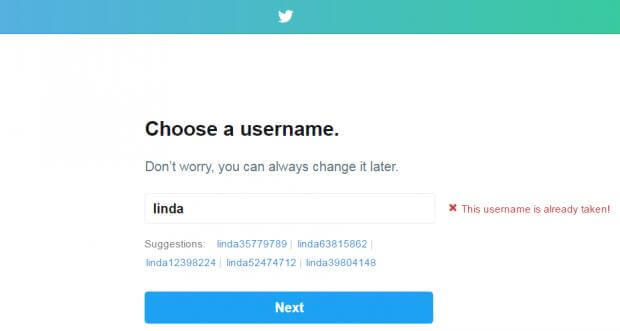 A good alternative, if you can't claim your your company name, would include a benefit, lifestyle, or core value of your company. For Example:
Jane Homes
@buildingabetterway
@AustinDreamHomes
@JaneHomesLiving
Of, if this page is for development property profile, you can include a call to action or the area the community is located. For Example:
Legacy Park
@livelegacypark 
@legacyparktx
When & How often you should tweet
One of the major differences you should keep in mind between your Twitter and Facebook strategies, is that on Twitter you should tweet multiple times a day. When planing your Facebook Real Estate Marketing Strategy, you should only be posting a few times a week or at most once a day. This is because the Facebook feed is based on an algorithm that decides what a user is most interested in and serves them content based on that formula (and not necessarily when it was posted). Tweets are served up to your following the moment you tweet them (unless specified in a users settings) and have about a 15 minute window before being pushed down the feed and never seen again.
Some Social Media Twitter Strategists suggest tweeting at least once an hour. However, say you just don't have enough content to fill up every hour during business hours and peak times on weekends. If that's the case, you'll want to make sure you're tweeting when your niche audience is online.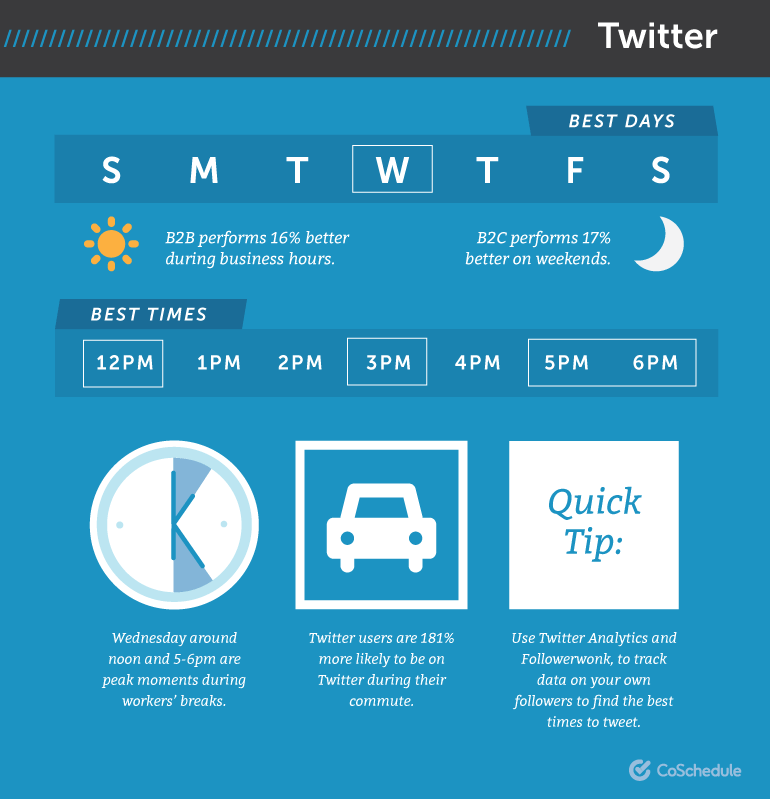 (Reference: Best Time to Post on Social Media According to 23 Studies)
In order to make the most impact and reach a larger audience, keep to optimal tweet times for your industry. Also, get creative. Say you have only one really good piece of content or a beautiful home with tons of exterior and interior photos. On Twitter, it's ok to create 3‑4 different tweets based on that one piece of content or home, and voila! You now have your 12:00, 1:00, 2:00, and 3:00 p.m. tweets for the day.
Another important rule you want to follow when creating your content calendars for Twitter is the 80/20 rule. According to the Do's and Don'ts of Using Twitter to Generate Real Estate Leads, you'll want tweet educational and interesting information 80% of the time and listings/promotional posts only 20% of the time. The trick to organic leads on a social platform with a voice, that can be very positive or very negative, is to make sure people don't feel "sold" to.
Automated Real Estate Marketing Techniques for Twitter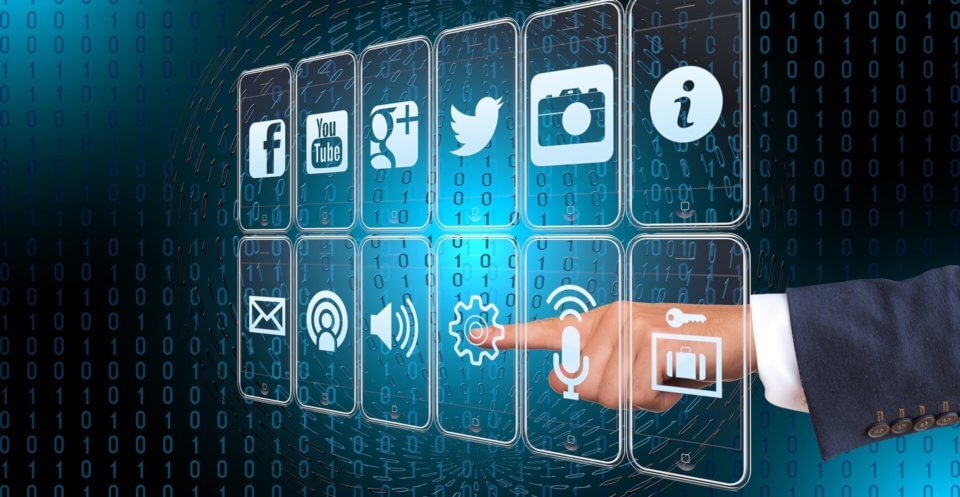 If the recommended amount of tweets is up to one per hour, how do you keep up without a dedicated social media specialist? Creating a content calendar ahead of time will help, but who has the time to tweet once an hour even if the tweet is already written for them? The solution is automation. There are a number of scheduling platforms out there ranging from $20/per month – $500/per month. And, most of these tools are free if you're only using them for your company's account versus an agency managing multiple twitter accounts.
Some of our top recommendations include Hootsuite, Buffer, MeetEdgar, Crowdfire, and Hey Orca. The best platform for your team will depend on the number of accounts you'll need to manage, what content you'll want to share, what features mean the most to you (like post approvals and calendar views), and your price range.
Where Twitter For Real Estate Marketing is Headed in 2018
The expanded 280 character count and tweet thread feature isn't new news, but there are different ways the real estate industry can start to utilize these updates. The higher character count shouldn't necessarily be used to pack in more new home details (a lot of Twitter users still look for quick, snappy, and clever tweets), but this extra space gives you more of chance to tack on links and relevant hashtags. Keep the tweets concise and use the extra characters to promote a click or increase your tweet's reach with hashtags.
The tweet thread is what you want to use to add more details of a home or event. You can split up your content in a strategic way that appeals to the audience and gives them more information IF they choose to click "Show this thread."

And last but certainly not the least important thing to note about where Twitter for real estate marketing is heading is it's potential to reach Millennials and young professionals. If these two groups are part of your new home target demographics and you haven't considered reaching them through Twitter, then it's probably time you get tweeting. 37% of Twitter users are between the ages of 18‑29, and 25% are between the ages of 30‑49. This is a very substantial part of the homebuyer population that you may have yet to tap into.
Contact SmartTouch® Interactive for Your Twitter Real Estate Marketing!
We can help you strategize your profile message, handle, hashtags, and tweet schedule, and then take care of everything for you! Think of us as your automated real estate marketing for Twitter that you can talk to and collaborate with.
Depending on your needs, SmartTouch® is equipped to develop and post your content calendars as well as engage users and manage replies.