Real Estate Facebook Marketing: A Worthy 10-Minute Read
Facebook Real Estate Marketing
Facebook real estate marketing is absolutely one of the most important marketing channels you want to use to get your homebuyer message out there – no matter the demographic or age group. A lot of companies are unsure if Facebook is the right fit for their target audience, but with Facebook reaching 214 people in the U.S. alone from ages 13‑65, you can trust that your product will reach your audience.
Follow along as we dive into:
Facebook Real Estate Marketing Strategies
Organic Facebook Marketing for Real Estate
Facebook Page Marketing Content Strategies for Real Estate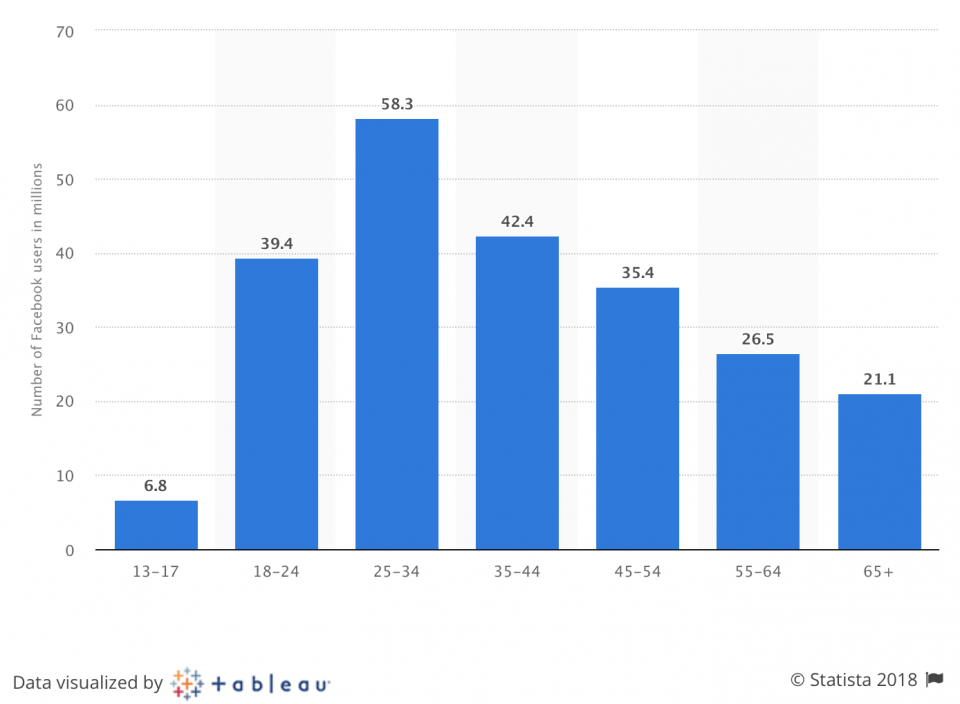 Number of Facebook users by age in the U.S. as of January 2018 (in millions) – Statista.com 
Facebook Real Estate Marketing Strategies
One of the most important things to research before starting your Facebook real estate marketing strategy is the different types of Facebook ads at your disposal. That is,
Sponsored or Landing Page Ads
Lead Gen Ads
Carousel Ads
Video Ads
Canvas Ads
The next step is building out your ad sequence plan and deciding which ad to use and when as well as which ad to serve to which audience. When building this plan, keep your overall message in mind. Although lead generation is always the overarching goal, the goal a particular ad sequence can vary depending on the campaign.
First, let's walk through an example of just one strategy you can use, and then we'll walk through the different types of ads.
The best approach is using a mix of ad types in your strategy for audiences who've never heard of your product, semi‑interested audiences, and very interested audiences. For instance, if you're targeting a broad audience at the top of the funnel, you'll want to utilize video ads to gain their attention. Once they've engaged and shown interest, you can then move them down the funnel to your "warm" list group and serve them a Lead Gen Ad with slightly more information and a user can easily provide their contact info in just 2 clicks using their Facebook profile. After this, a user then progresses to your "hot" list and this is where the Sponsored Ad that links to your unique landing page with the full monty of community and home details comes into play.
This is just one way to build your funnel, and Carousel and Canvas Ads will have their own part to play depending on your strategy. Are you trying to build new community awareness? Do you have inventory to move? These are just a couple of questions to ask yourself before building your paid Facebook real estate marketing strategy.
Now let's break down these five ad types:
Sponsored or Landing Page Ads:
Sponsored Ads and Lead Gen Ads look the same to users before they click, however, the difference is what pops open next. With this type of ad, a user is directed off of Facebook to your unique landing page. Which you can use to inform, build brand trust, share an event, etc. Since it's your landing page, you can add as much content as you deem necessary to then get the user to fill out a form.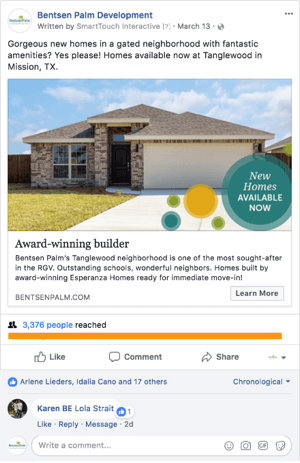 >>>

Lead Gen Ads
How Lead Gen Ads differ from Sponsored Ads, is their quick and easy sign‑ups. A user clicks the ad, a small description pops up, their information is automatically populated by Facebook, and they simply click submit.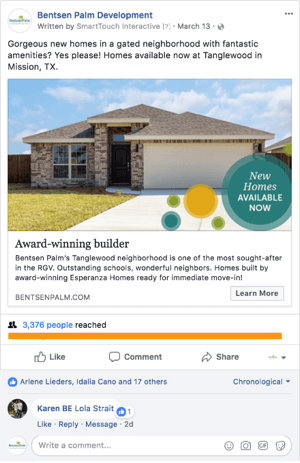 >>>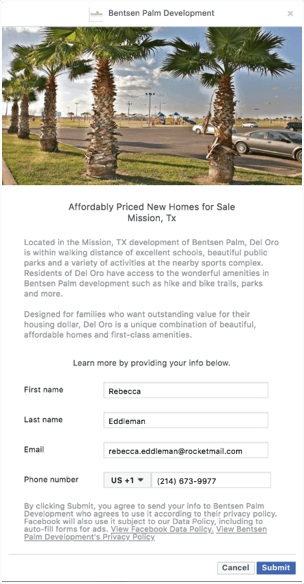 Carousel Ads
Carousel Ads give you a chance to get more creative on Facebook. You can add multiple images, or cards, with short descriptors and call outs under each. These ads are great when you're trying to push your inventory.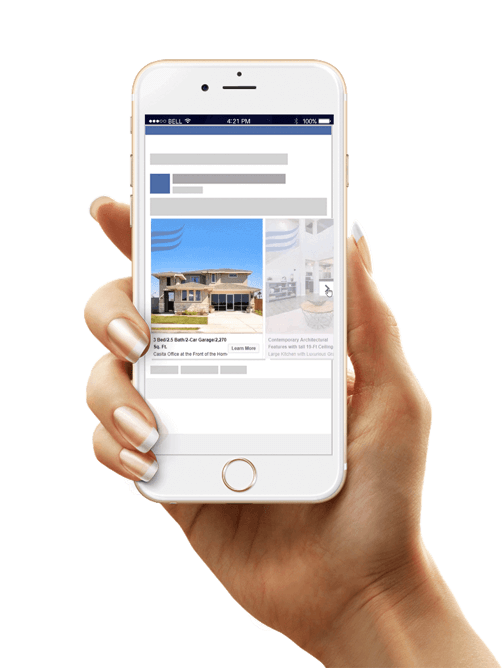 Video Ads
Pictures are worth a 1000 words, so how much could you say with a video? Facebook users find video ads 5x more effective according to a study done in the UK, however, that doesn't mean you should always use video. In the example strategy sequence above, we stated using video to engage a larger audience, but then how qualified are those first initial leads that role in?

Canvas Ads
Canvas Ads are exclusive for mobile but a very powerful storytelling tool. You can now bring a static ad to life that scrolls and includes videos, multiple images, and engaging headlines.

For a quick 30 minute breakdown of these 5 different ads, watch a previous webinar we hosted, Facebook Ad Campaigns: More Than Just Post Boosting.
Organic Facebook Marketing for Real Estate
When mapping out your real estate Facebook marketing strategy, paid Facebook ads are used for lead generated. The goal of organic Facebook marketing is brand awareness and building a brand personality. If your doing things right, you're sharing both information about your product and teaching your audience about your company's values and personality, and your users are actively engaging ‑liking, sharing, commenting, direct messaging, and genuinely showing interest and starting a conversation versus just clicking and submitting a form.
If you're a builder or developer, your strategy for your organic page will be a bit different. A builder may focus more on product, while a developer will focus more on lifestyle and share their builder's posts. Either way, you'll want to keep in mind a 411 rule when creating your social media content calendars. That is, for every  4 entertaining or educational posts, you can post 1 soft and 1 hard promotion. Not only will this make your page more fun and engaging, it will help combat Facebook's algorithm that dictates which posts show in a users' newsfeed and when. Too many engagement or click baiting posts will result in limited visibility.
Entertaining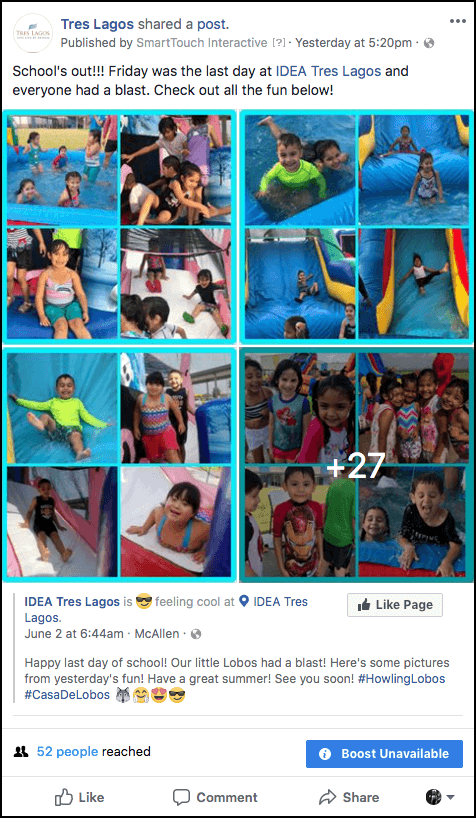 Educational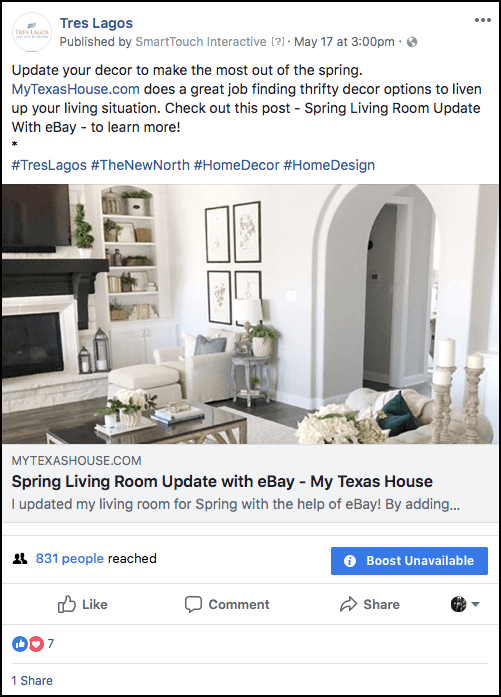 Soft Promotion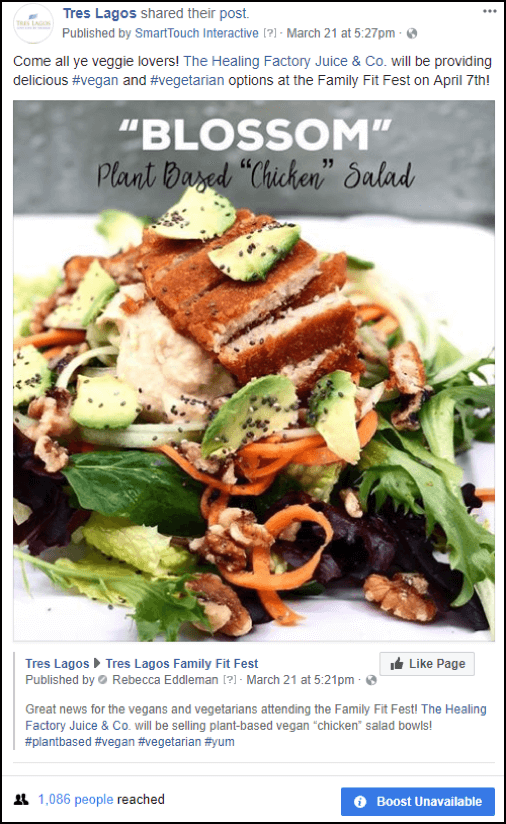 Hard Promotion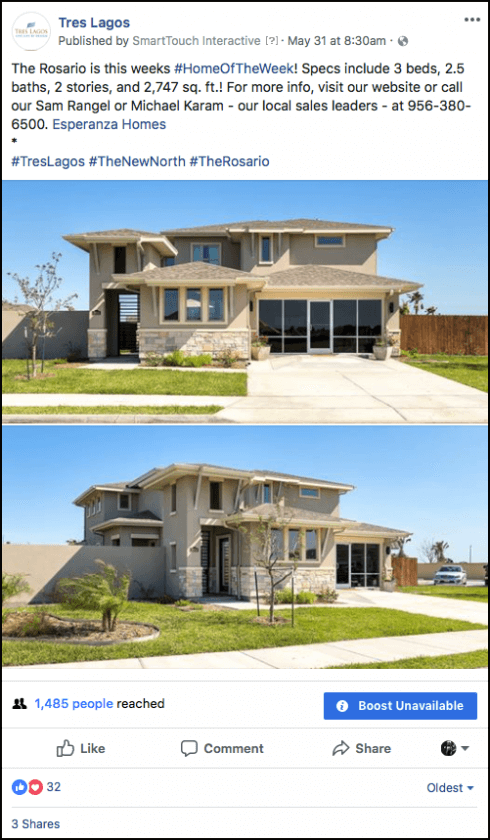 Top 5 Facebook Page Marketing Content Strategies for Real Estate
1 – Use Social Scheduling Tools
Often times we start with good intentions and plan to consistently post on our Facebook page. It's that easy right? But then we find that consistent posting and content calendars can become a very time‑consuming task and yet it must be done. Post scheduling tools like HootSuite and Buffer can save you a lot of time, make you more efficient, and ensure your followers are receiving the consistent content they crave from you.
2 – Keep Page Information Updated
Facebook is constantly improving ways to make your business page more informative and engaging. If your profile is completely set up, it's essentially the equivalent of a Google listing. Depending on your audience, a user may even look at your Facebook page for hours, location, and pricing, versus Google. Facebook has also recently added an Our Story section to the right of your profile. Making the old About tab that was small and off the side more visible. Now you can even add images, captions, hyperlinks, and bold and italicize text to make your story overall more engaging.
3 – Set Up Automatic Replies
Did you know Facebook ranks you on how fast you respond to direct messages? And it's visible to everyone. A great way to increase your response score is by setting up automatic replies when someone messages you. You'll want this message to be friendly but general enough that it gives you some time to reply. Such as, "Thank you for your message! We are currently offline but will get you an answer within 24 hours."
4 – Award Reviews
Your 5‑star reviews on Facebook have the same impact as reviews on Google or Yelp. Sharing some of these to your timeline is great user‑generated content, another testimonial for your company, let's people know you hear them, and can prompt more great reviews!

5 – Engage With Your Audience
Just posting on Facebook will not grow your follower base and will limit your visibility. To have a successful Facebook page content marketing strategy, you must also engage and interact with your audience like you would on our own personal page but even more so. That is, you also need to like other posts and pages and like comments on your own posts; comment back and follow up to questions; share other page's content that is relative to your business and area; and finally, be timely and be prompt. When entering a conversation on Facebook "better late" is not better "than never."
SmartTouch Interactive: Your Facebook Real Estate Marketing Company
Many real estate marketing companies specialize in either paid or organic social media marketing, but at SmartTouch® Interactive we understand that these two efforts affect and impact each other and should, therefore, be kept under one marketing management team to ensure a cohesive message and brand across both paid and organic social media marketing.