Top Five Things to Know About SEO for Home Builders and Developers
Why Is SEO Important for Home Builders?
Everything starts with a search, which is why search engine optimization (SEO) is so powerful. Ultimately, your goal with SEO for home builders and developers is to boost your visibility so that your home builder or home developer website ranks #1 for the phrases potential home buyers are searching to find your website. Without SEO, it would be very difficult to show up as a result in these searches, much less in the very top position.
Want to learn how to get more organic traffic?
Ask our SEO expert, Eric.
What Should You focus on to Improve SEO for Home Builders?
#1 On‑Page SEO
It's important to create valuable content that answers the burning questions prospective home buyers will undoubtedly have, leading up to the purchase of their new home. The body text, or the main text on your page, should also include your primary keyword phrase. However, while everything is fine in moderation, be sure not to "stuff" your keywords into the body text excessively. This isn't 2002 and it won't help your SEO anymore. In fact, in the most extreme cases, it could lead to a penalty and cause your page to drop off the search engines completely. In addition, be sure to match your target keyword with the content on your page. Running a competitor analysis can be a great way to find that perfect keyword to go after.
#2 Content Marketing

Publishing articles on your website keeps it "fresh". The top search engines will revisit your website periodically to "reindex" or update your website in the SERP (Search Engine Results Page). If your website is not regularly updated with new content this signals to the search engines to visit your website less frequently and thus dropping your rankings as your competitors are improving. 
Additionally your content should always have a clear objective. Whether that objective is to inform, become a resource, or to highlight a recent event, always give your readers a reason to stick around.
Relevant topics for home builders and developers
Moving/Finding a New Home
Home Building Process
Financing
Community Events
Available Amenities
Home Improvement Topics
Current Events
Once you post that article don't just let it sit there! Promote, promote, promote and share it with the world! Social media goes hand in hand with your content marketing strategy. Facebook, Instagram, Twitter, Google My Business and LinkedIn are all great platforms to share content with your followers. 
#3 Local SEO
Local SEO may be the most important optimization home builders and developers can make to increase leads fast. The local pack is prime real estate for location specific terms, such as "new homes for sale in X city," and it's often the first place users look when searching for a new community.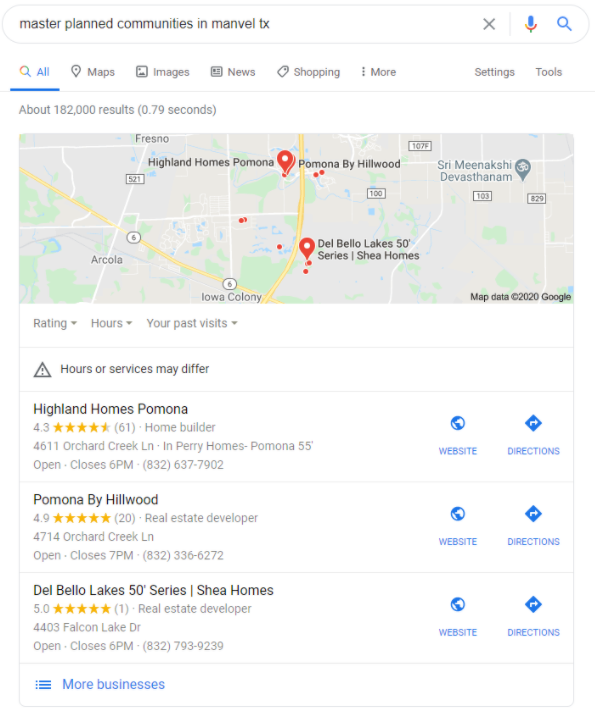 NAP or (Name, Address and Phone number) is the first thing to remember when focusing on improving local SEO visibility. A consistent NAP across your website and business listings is vital for search engine trust when it comes to your local SEO rankings. Your NAP should be listed on the footer of your website, a contact page and should be identical to the information you display on listings such as Google My Business, Yelp, Bing Places for Business, and many more. 
#4 Don't Neglect Google My Business!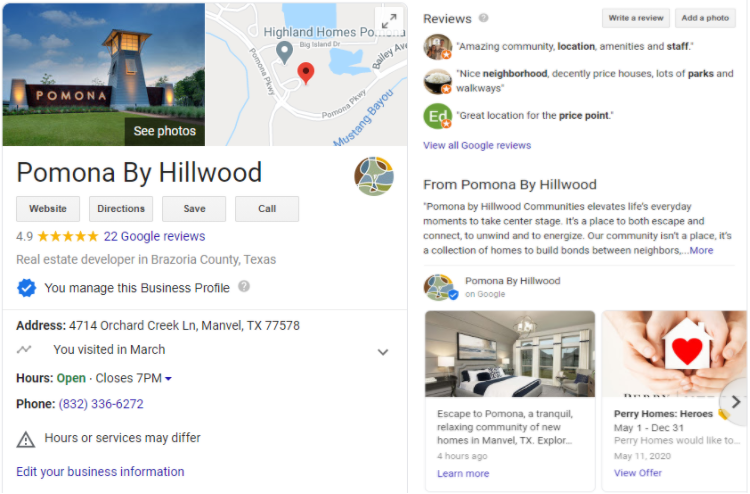 Treat your Google My Business listing like another social media platform. Google My Business is a powerful tool to supercharge your visibility and engagement. Positive reviews, high‑quality images, and a thorough business description will help build trust and confidence with potential home buyers. As mentioned previously, Google My Business is also a great opportunity to put your content front and center on the Google SERP. 
#5 Technical SEO and On‑Page Optimization
Time for the technical stuff…
Your technical optimization is another cornerstone to great SEO. Be sure to have someone that is website savvy handle these optimizations. If there are issues with your technical SEO then it is likely that all of your SEO efforts will not perform as expected. Technical SEO is the foundation that helps search engines access, crawl, interpret, and index your website for the desired keyphrases.
A technical website audit will identify the current issues on your site and how to fix them. There are many tools and software programs to perform a technical audit, but an SEO specialist can help prioritize and develop a plan on how to tackle those issues efficiently.
The following are just some of the major on‑page and technical SEO ranking factors to keep in mind:
Page Speed
Mobile First Optimization
Page Titles and Meta Descriptions
Header Tags
Image Alt Text
Internal/External Link Structure
Schema Markup
Robots.txt Optimization
Hire a Proven Real Estate Focused SEO Agency
SmartTouch® Interactive is a full‑service real estate marketing agency offering home
builders and residential developers custom marketing plans, CRM software and digital marketing services like SEO, SEM, and Facebook advertising. Contact us today to learn more about how we can help you connect with buyers and sell more homes faster!
Want to learn how to get more organic traffic?
Ask our SEO expert, Eric.