SmartTouch® Launches Three New Websites For Residential Real Estate Projects
Austin, TX – August 10, 2021 – SmartTouch® Interactive, an award‑winning interactive real estate marketing agency, real estate marketing automation, and lead nurturing CRM solution company announced today that it recently launched three new custom websites for three master‑planned community clients, Veramendi and Meyer Ranch, both in New Braunfels, TX and Islands of Rockport in Rockport, TX. All three of these new launches represent the strength of the SmartTouch® creative team and their ability to design and develop websites for unique brands, audiences, and purpose.
Located just a few miles northwest of downtown New Braunfels, TX situated between Highway 46 and River Road, Vearamendi is a modern Texas master‑planned community with small town Hill Country charm and easy access to not just one, but two unique central Texas cities. Veramendi weaves the area's beloved traditions into a vibrant, dynamic lifestyle that encourages everyone to live, learn, work and play. The new Veramendi website designed by SmartTouch® featured a virtual model park, home search, and interactive site plan galleries for homebuyers to explore and find the perfect home and homesite to fit their lifestyle.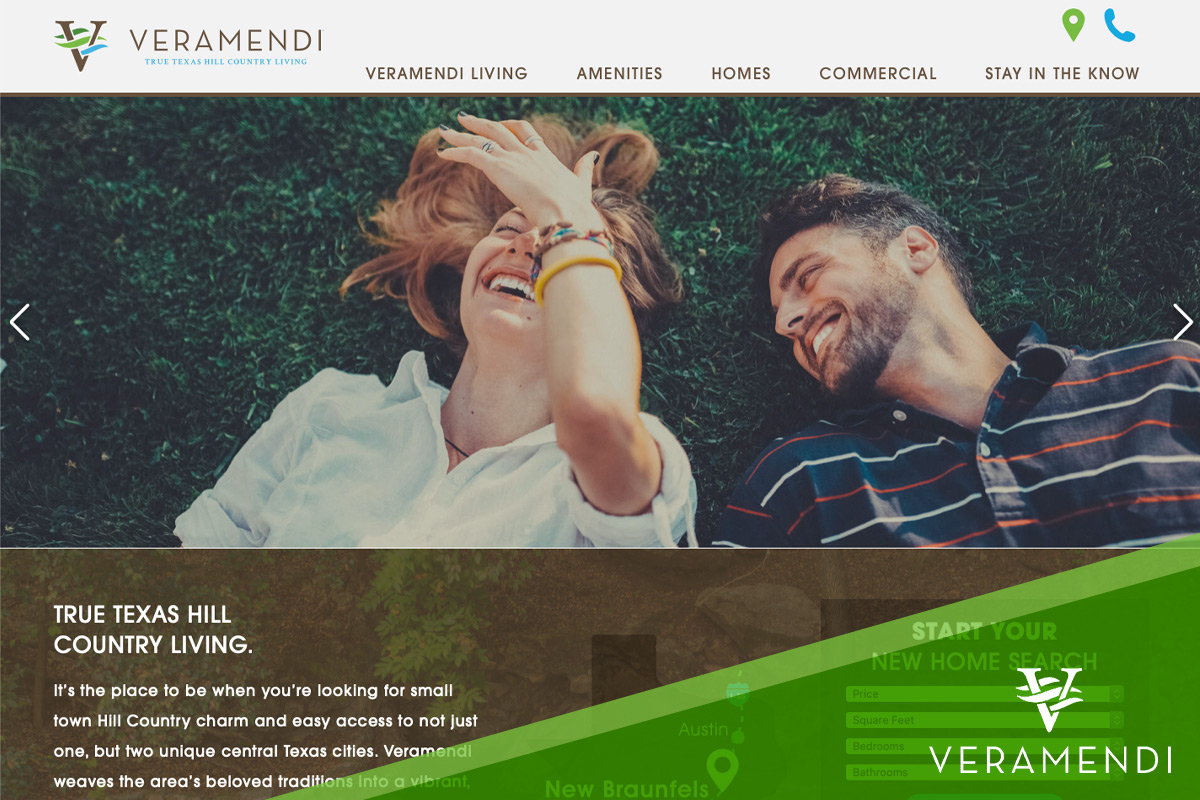 "We are beyond ecstatic to launch the new Veramendi website thanks to the help of the SmartTouch® team. The design and functionality are exceptional, and we have received many compliments from buyers, builders, residents, and trade organizations," commented Emily Lane, Development Coordinator for Veramendi.
Meyer Ranch is a 700‑acre master‑planned community located in the charming town of New Braunfels, TX, and is a former working cattle ranch originally settled by German immigrants over a hundred years ago. The community offers new homes for sale in New Braunfels, TX from seven award‑winning builders and access to award‑winning Comal ISD schools. The Meyer Ranch website was the winner of the 2021 San Antonio Home Builders Association best developer website and features a virtual model park, available homes, interactive maps, galleries, blogs, videos, and appointment setting capabilities with each builder in the community. The SmartTouch team did a complete UX/UI renovation as well as content upgrades for the Meyer Ranch website.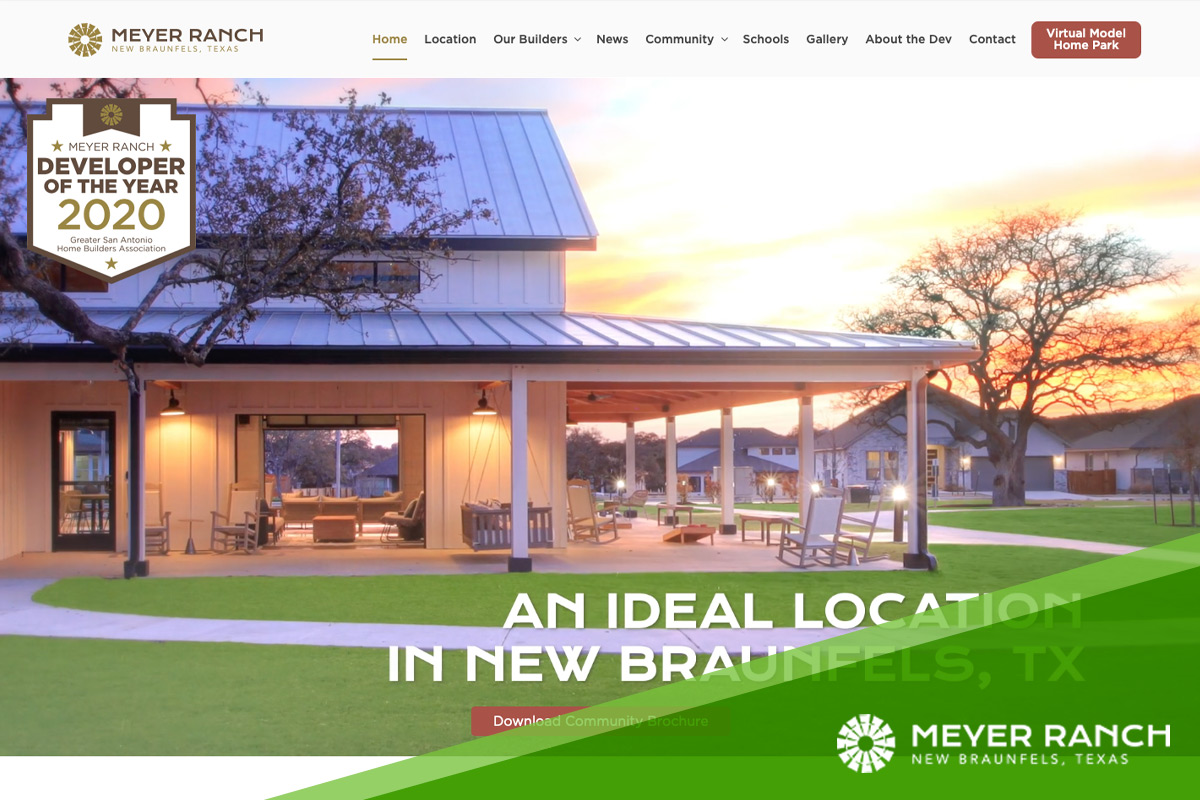 "With the launch of our stunning new website and executing both content enhancements and optimizing our conversion, we have experienced an incredible response, increasing our lead generation by 30% and seeing improvements of an additional minute spent viewing our site by buyers and realtors," said Erika Ramon, Director of Marketing, Crown Communities, Meyer Ranch.
The Islands of Rockport (IOR) is the most exclusive luxury coastal community along the Texas coast. Featuring elevated waterfront living with ease of access to the Intercoastal Waterway and popular fishing grounds, coupled with the luxury estate‑sized lots and exclusive amenities. The SmartTouch team helped the IOR team launch a completely new virtual experience with interactive galleries, videos, site plans, and online appointment booking to improve conversion rates.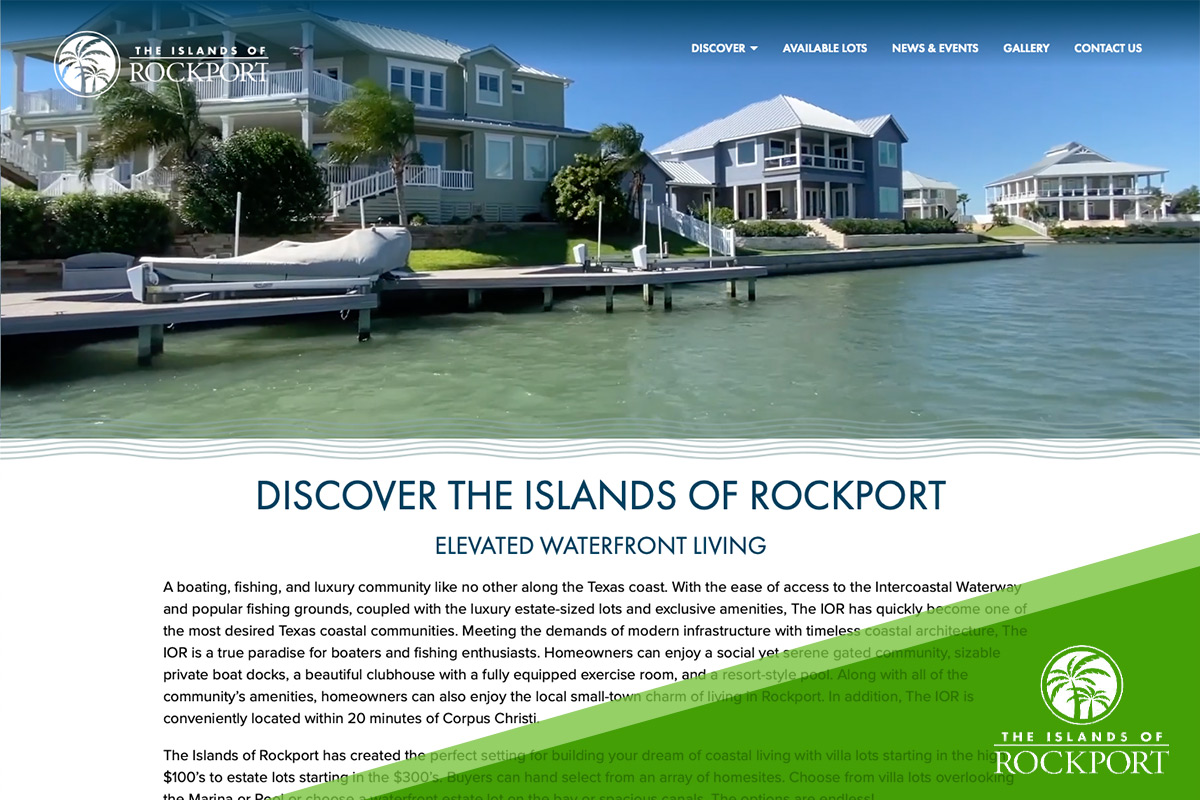 "Websites are the primary hook to capture home buyer engagement, which is why every website we build is focused on performance, visibility, engagement, and conversions," added commented Robert Cowes, President, and CEO, SmartTouch® Interactive. "All three of these new websites were custom‑built based on development size, budget, and understanding what buyer expectations are from an optimal virtual home shopping experience."