SmartTouch® Week in Review | Developing Your Content for Your Audience
Developing Your Content for Your Audience
Keeping your audience in mind when developing your content has been a buzz phrase for a while and is really the backbone of content marketing. This week's Week in Review will touch on just that as we share:
Sonador Trails Website Launch of Completed Spanish Version
SmartTouch® Interactive Server Migration for Faster Load Time & an Upgraded User Experience
Sitterle Austin's Q1 eNewsletter
MAX Awards Finalist List Announced
HBA Sales & Marketing Council Education Class: Integrating Sales & Marketing to Create a Conversion Driven Culture
Phew. That was a busy week!
We always try to come up with catchy titles for our Week in Reviews, but with so much to share, the best way we could accurately describe the importance of each project was by grouping it as "developing your content for your audience." Let's break it down before we dive in.
In the case of Sonador Trails, writing for our audience included creating a Spanish variation of the entire website–housed under one URL.
For the SmartTouch® Interactive audience, being busy professionals often on the go and on their phones, website speed was a big challenge for us until we migrated our website to a faster server this week. Shout out to our Sr. Web Developer, Steven!
The Sitterle eNewsletter is one of our favorite content emails this week that hits the three intentions of every content piece: it educates, informs, and entertains.
MAX Awards recognizes great looking campaigns but also campaigns developed around specific messaging and target audiences. We finaled for 5!
As for Robert Cowes and Shant Samtani's Sales and Marketing Council education class next week, the audience is home builder marketing and sales professionals, and Robert and Shant have put together a fabulous presentation on Integrating Sales & Marketing to Create a Conversion Driven Culture addressing both the sales and marketing audience in the home building industry.
Home Builder Website | Developing for a Spanish Audience
The launch of the Sonador Trails website is a perfect example of developing content for your audience.
Why?
Sonador Trails is located in Texas's Rio Grande Valley area with a large Spanish speaking population. Of course, it's also predominately English speaking. Therefore, without creating two websites, and without ignoring the potential for a large portion of prospective buyers that speak Spanish as a first language, we created a new community website that easily toggles back and forth between a completely English website and a completely Spanish website. All a user has to do is click English or Espanol in the top right‑hand corner.

SmartTouch® WEbsite | user Experience Gets an Upgrade!
In this case, by "upgraded user experience" we're referring to a faster experience. One tip to always remember when dealing with websites, is a great looking website MAY NEVER BE SEEN BY CUSTOMERS if it takes too long to load and provides a bad user experience. These customers and buyers will bounce.
In SmartTouch®'s case, our slow website speed was largely due to our hosting provider. The great content on our website has been overshadowed for too long by a poor hosting choice. The wrong hosting provider has impacted our user‑experience and SEO ranking for too long! This is why we have taken the time to migrate our own site to a new provider that meets our user expectations. If you're a repeat visitor, we hope you've noticed the bump in page load speeds across the board.
How did we accomplish this? We made the move from GoDaddy to Amazon AWS (LightSail). Shout out to Amazon AWL as well as our web developer, Steven Crocker!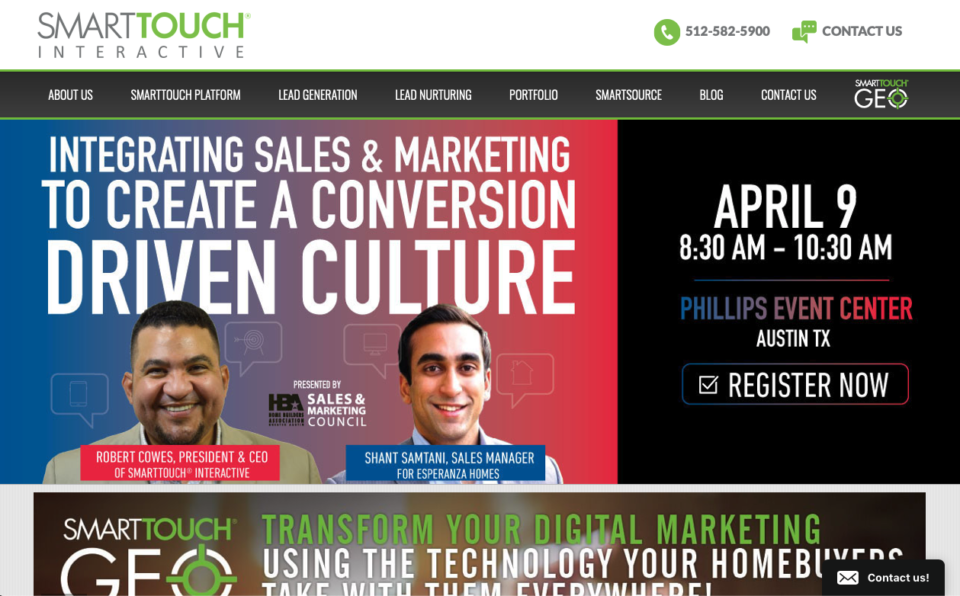 Sitterle Homes | Home Builder email Newsletter
We've picked Sitterle Homes Austin's Quarter 1 eNewsletter as a top content email for this week. It's clean, well organized, and doesn't include "filler content". It's relevant to the audience (Sitterle Homes builds in San Antonio, Houston, and Austin, but this newsletter was only sent to their Austin homebuyers and interest list).
It includes:
a community spotlight,
a new feature series, a featured floorplan,
what Sitterle Homes has been up to the first part of the year,
a shoutout to Sales Professional Kelly Carson,
home maintenance Austinites should be aware of this next season,
and a Finance Corner for buyers looking to get into a new home by summer.
It's often a challenge to get this much content into a well‑organized email, even for an eNewsletter that is expected to be longer. The key is chunking your content: breaking it up into digestible sections with images, icons, and other graphics. You also don't want to be boring with a standard template that's just headline‑image‑text‑headline‑image‑text. Technically, this monotoned format is also chunking, and it cab hit the first two must‑haves of every content piece–it educates and informs– but it isn't very engaging.
Max awards 2019 | Five Builder & developer campaigns made the cut
We've been competing in the HBA of Greater Austin's Marketing and Advertising Excellence (MAX) Awards since 2011. In previous years we've taken home awards for Best Email Marketing, Best Digital Ad, Best Socal Media, Best Website, and Best Overall Campaign.
This year, 5 marketing campaigns have made the finalist cut!
Best Logo Design – Blackburn Communities
Inspired by Blackburn's clean, open, and refreshing floor plans, the result was cool and elegant blues, greens, and greys and a modern sans serif font in contrast to the warmer browns, greens, and yellows and traditional font of the old logo. The new logo has now also become the prototype for all Blackburn company logos.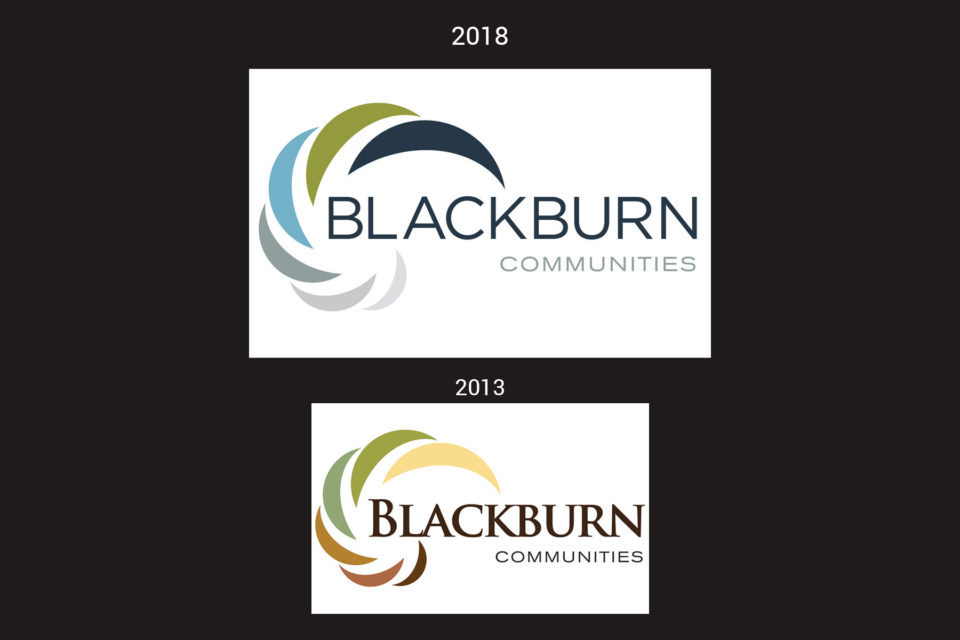 Best Social Media Program/Campaign – Gardens at Verde Vista
Medical Professionals in the Georgetown/Round Rock Area
Gardens at Verde Vista is a low‑maintenance, luxury garden home and villa community in Georgetown, Texas. It's also located very close to multiple hospitals and healthcare facilities in Georgetown and North Austin, making it a prime location for busy medical industry professionals looking for a lock and leave, low maintenance lifestyle. Therefore, the objective of the campaign was to create a message geared towards this specific demographic.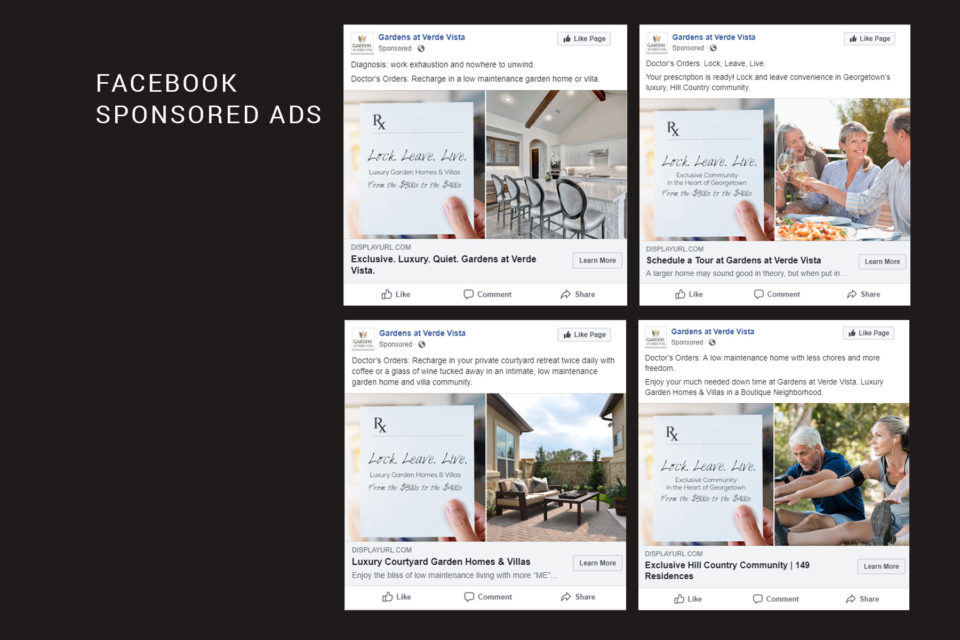 Best Website – Blackburn Communities
The overarching goal of Blackburn Communities' new website was to create a high‑converting site grounded in both the principles of on‑page user experience and off‑page optimizations. The website also needed to reflect Blackburn's core pillars, unique product, and focus on homebuyer lifestyle.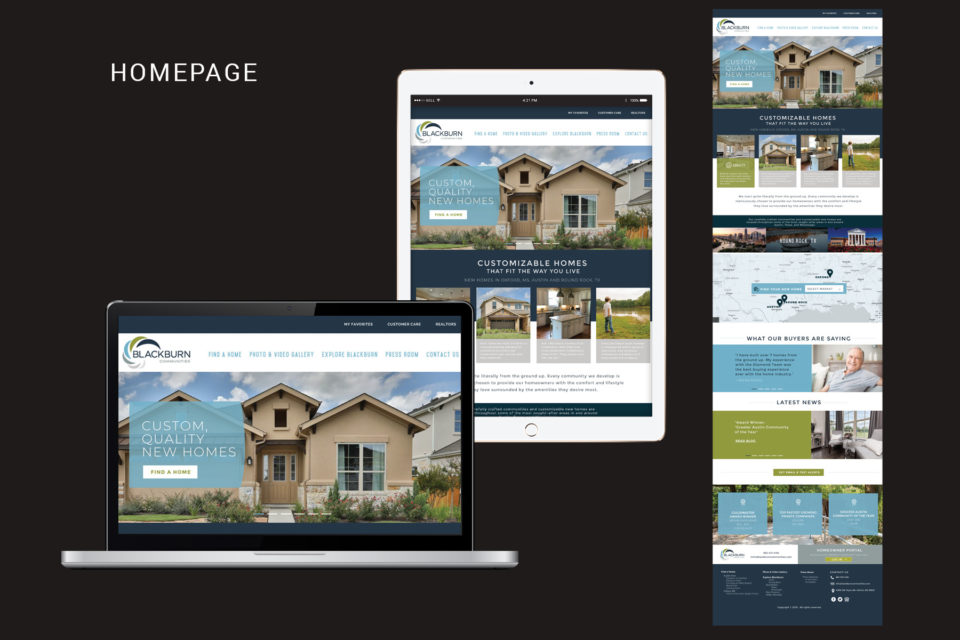 Best Special Event – The Crossing at Wells Branch, Blackburn Communities
Grand Opening
Like any grand opening campaign, the objective was to promote interest in the community and raise awareness of the event. The key to this campaign was making sure The Crossing at Wells Branch came across as a fun and affordable community located within Austin city limits and not the Wells Branch, Pflugerville, or Round Rock area.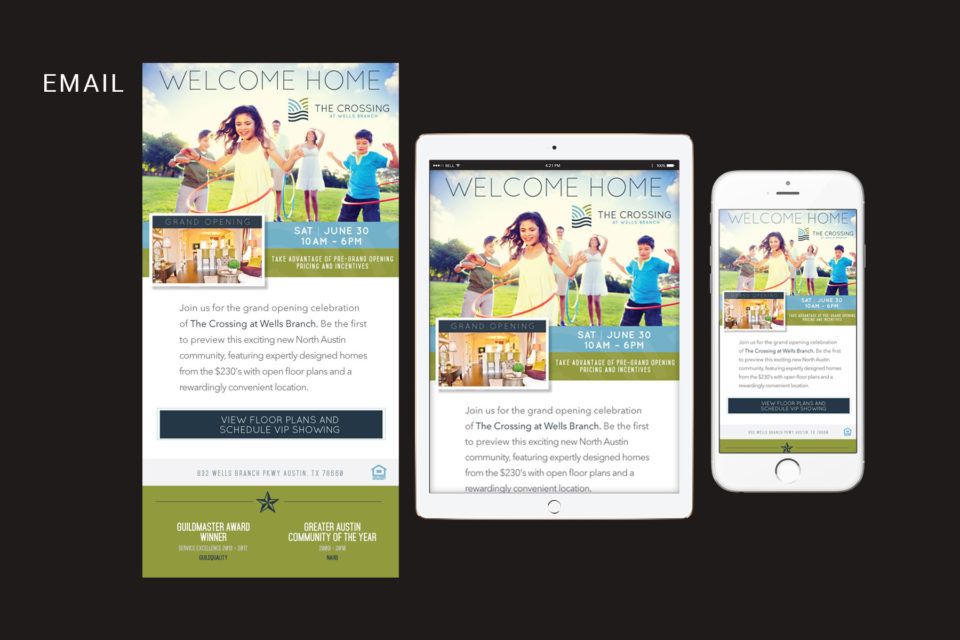 Best Special Event – Gardens at Verde Vista
Taste of Georgetown | Final Phase Grand Opening
The Taste of Georgetown was the name given to Garden at Verde Vista's grand opening of their final phase and new amenity center. The event gave attendees a "taste" of the Gardens of Verde Vista (GVV) lifestyle with home and amenity tours while also literally giving them a taste of local food and drinks and live music from local artists. It was very important to portray GVV as an intimate community connected to the City of Georgetown.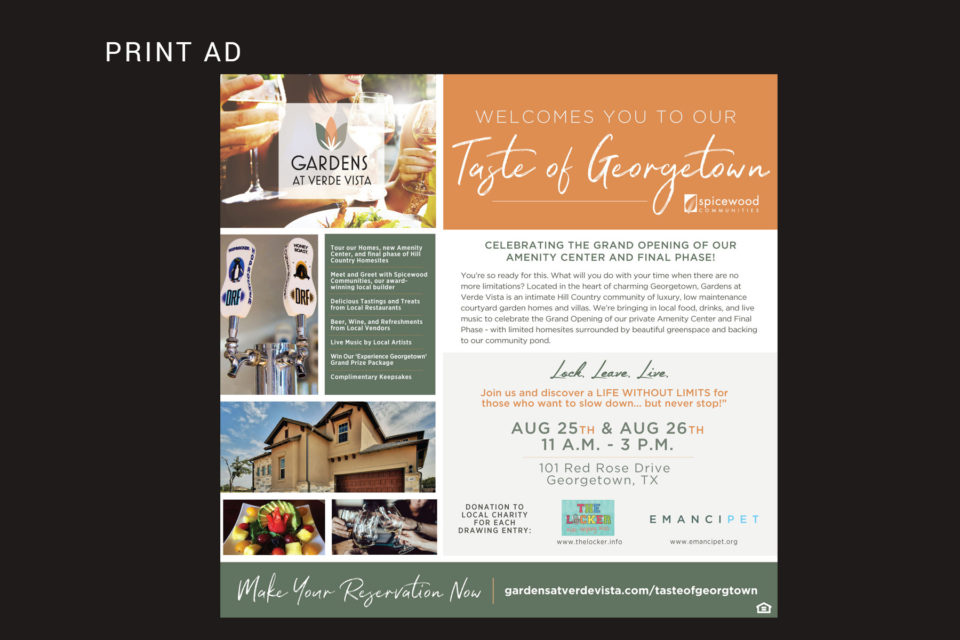 Press Release and more Finalist Creative Coming Soon!
HBA Sales & Marketing Council Education Class | Integrating Sales & Marketing to Create a Conversion Driven Culture

This content was created specifically for builders and developers and will be offered at the Phillips Event Center. It is an HBA Sales and Marketing Council education class that is for BOTH Marketing and Sales teams.
Way too often these two groups are siloed from each other, which creates holes in conversion culture. If you're unable to get them talking, then you're really going to have trouble creating content for your audience. Sales personally interact with buyers day to day and Marketing are the experts in interaction online. To truly create content for your audience you need to get these two groups talking…today!
If you're unable to make the event, stay tuned for next week's update!