SmartTouch Interactive Honored with Two Silver Awards from the NAHB National Sales and Marketing Council — Review
Award‑Winning Real Estate Marketing Agency Receives Best Website and Best Realtor Program from the National Association of Home Builders Sales and Marketing Council
Austin, TX –  January 21, 2020 – SmartTouch® Interactive, an award‑winning interactive real estate marketing agency, real estate marketing automation and lead nurturing CRM solution company announced today NAHB's National Sales and Marketing Council (NSMC) has named the 2021 Silver Award Winners for The Nationals new home sales and marketing awards. Home builders, developers, associates and consultants. SmartTouch Interactive received Silver Award honors for Best Website for a Builder for Esperanza Homes and Best Realtor/Broker Program for Wolf Ranch.
The award‑winning SmartTouch design team won Best Website for a Builder Silver Award for their work on EsperanzaHomes.com. The project entailed a meticulous design of every page to effectively map the home buyer journey and to deliver a comprehensive virtual user experience that included the ability to try different home exterior styles, plan interior rooms, and arrange furniture, as well as calls to action designed to engage and convert buyers. The site also includes three financial calculators for estimating energy, savings and mortgage. Since launching the website, the average visitor stays on the site for nearly 4:49 minutes and views 5.67 pages, which is a significant increase from 2:36 and 3.4 pages.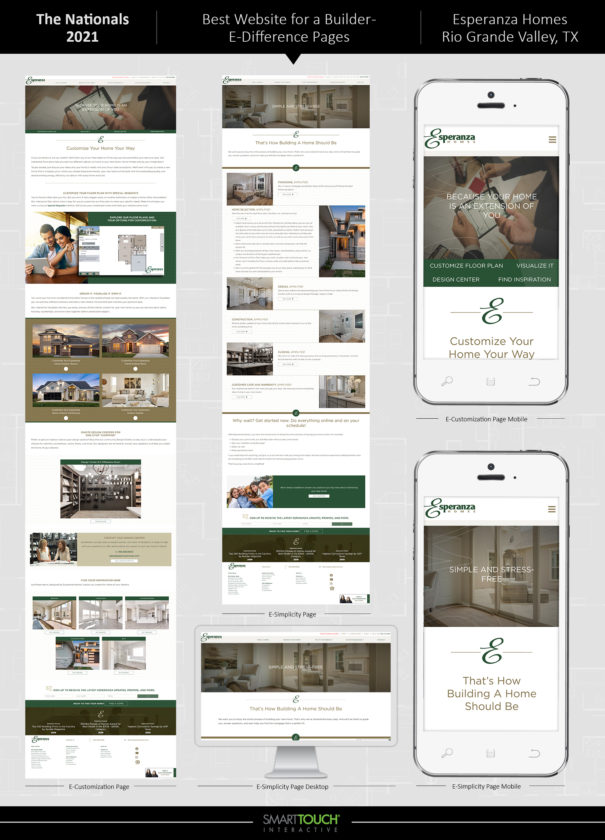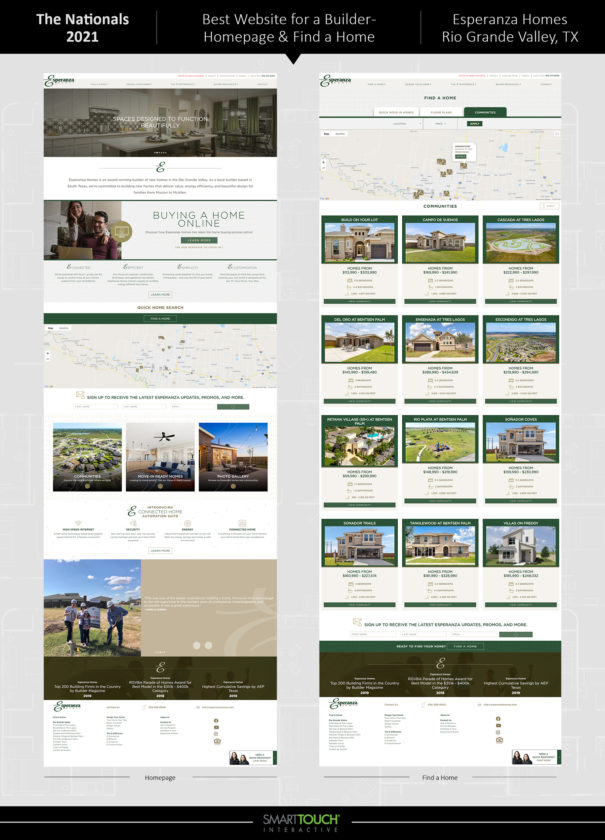 The Best Realtor/Broker Program executed for Wolf Ranch by Hillwood was to increase realtor participation from its 2019 level of 57% to approximately 75%, to motivate realtors to bring repeat referrals, and to increase sales reach with agents throughout Williamson and Travis counties.  The project included developing digital, web, and print communication pieces and a portal where the client could showcase top producing realtors, as well as a scoreboard listing top producers. The Wolf Ranch sales goal for 2020 was 180 homes, which was surpassed in November with a total of 240 homes sold.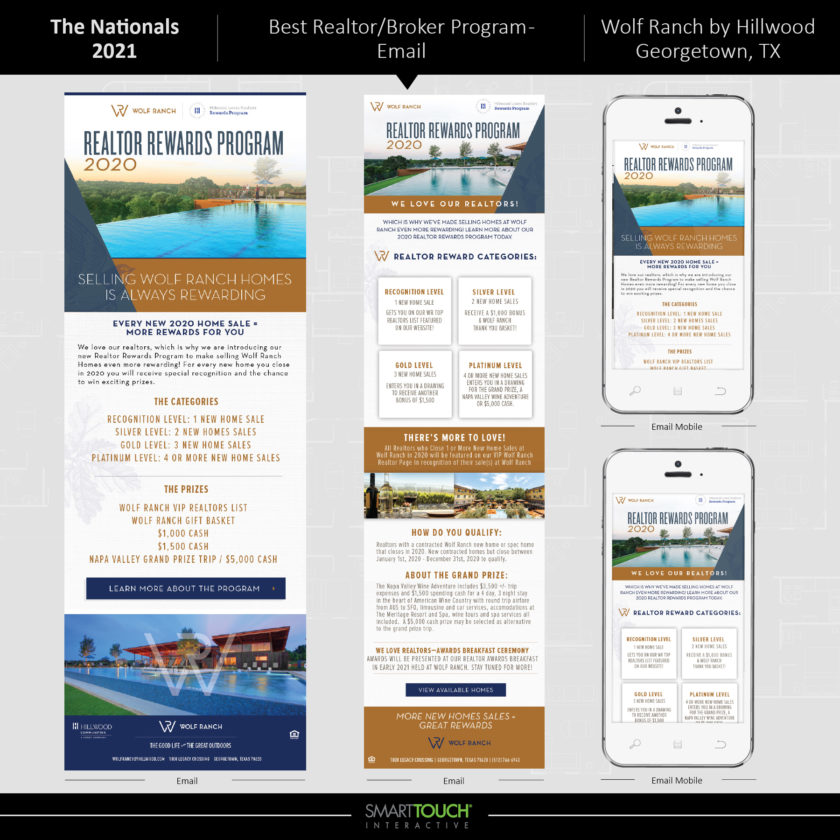 Both award‑winning productions are featured in the SmartTouch Interactive Best of 2020 Spotlight Series on www.smarttouchinteractive.com.
"We are honored to receive the NAHB Silver Awards for both the Esperanza Homes website and the Wolf Ranch Realtor projects," commented Robert Cowes, President & CEO, SmartTouch® Interactive. "The recognition validates the work we are doing to help home builders across the country to pivot their marketing to programs that have an impact and achieve as well as exceed sales goals even when faced with the challenges of the past year. Our high standard of excellence in our industry and respective disciplines continue to enable us to achieve these outstanding results for our clients."
The Nationals salutes and honors the best in the home builder industry for their determination, integrity, creativity and endurance. Silver Award Winners are the top vote recipients in each category and are the finalists for the Gold Award. Gold Awards in each category will be presented in February 2021 in a Virtual Awards Ceremony.
"The Nationals are the most prestigious awards of their kind, setting the benchmark for innovations in new home design, marketing and sales," said Angela Harris, chairperson of the Nationals. "NAHB's commitment to recognizing originality, imagination and success has been exemplified by its award winners since the competition's inception."
Started in 1982 as the Institute of Residential Marketing, The Nationals award program continues to recognize superior new home sales and marketing achievements.
With 61 categories across various disciplines of the new home industry, the awards honor excellence in product and community design, advertising, marketing and sales achievements by individuals and sales teams.
During a Four‑day judging process, a panel of 9 industry professionals from across the country determined the Silver and Gold award winners from a field of over 900
entries.
The Nationals are co‑sponsored by Wells Fargo Home Mortgage.
To view sliver award winners or to order tickets to the event, visit http://www.thenationals.com