SmartTouch® Interactive Has Released New Enhancements To Their CRM/Marketing Automation Platform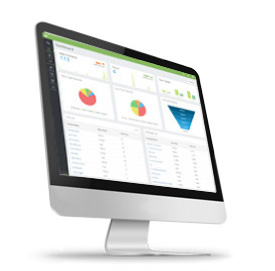 New Enhancements And Improved Functionality Are Now Available In SmartTouch® NexGen
Austin, TX – March 28, 2017 – SmartTouch® Interactive, a single‑source provider of interactive agency services and real estate eMarketing solutions for home builders, today announced new enhancements to their lead nurturing CRM platform.
The SmartTouch® CRM is designed to help sales and marketing teams effectively generate and nurture leads. Users can deploy automated marketing campaigns that allow for tracking and lead scoring while also being able to manage the multi‑touch sales process and gain full transparency of a lead's activities in real‑time.
The platform's most recent enhancements have improved the functionality of the system and have made it easier for users to navigate the platform, stay on top of leads, have better insight into campaign statistics, and run reports – further simplifying the lead nurturing process for managers and sales teams.
"This release is exciting for us because it builds upon our exceptional CRM and marketing automation platform and provides added functionality for lead nurturing and closing home sales. Sales Managers will enjoy improved reporting and insights into sales pipelines and on‑site traffic," said Tammy Arishenkoff, Sr. Product Manager at SmartTouch® Interactive.
March 2017 enhancements include:
Improved usability and management of Custom Fields
More robust creation and management of daily Actions
Better ability to edit Campaign images (coming in April)
Expanded view of Email, Campaign and Workflow Statistics
Litmus integration for better insight to how marketing campaigns render on various email platforms*
Additional WordPress Plugin support
Improved Opportunities module for better tracking of sales pipeline
New Tours report for tracking on‑site traffic
 *Paid service.
About SmartTouch® Interactive
SmartTouch® Interactive is an interactive marketing agency that provides proven lead generation programs as well as a lead management and lead nurturing CRM, SmartTouch® NexGen. The SmartTouch® team's expertise in lead generation and online marketing helps firms that require a multi‑touch sales cycle to create demand for products and services and grow their business with customized, interactive lead generation programs and lead cultivation. Backed by 30 years of experience in developing lead generation programs for hundreds of clients, SmartTouch® Interactive sets a new standard for lead generation programs and a single solution that integrates CRM, Marketing Automation, Email Marketing and Inventory Management all in one platform, SmartTouch®. https://smarttouchinteractive.com
###
Press Contact:
Rebecca Eddleman
reddleman@smarttouchinteractive.com
512‑582‑5900