SmartTouch® Interactive Best of 2020 – Esperanza Homes – Best Website
It's finally here! The big unveiling of our #1 spotlight from our Best of 2020 success stories. This week we're highlighting the work the SmartTouch creative team did to launch Esperanza Homes' new website that drove thousands of leads in just 11 months!
Spotlight #1
Best Website – Esperanza Homes
Esperanza Homes is an award‑winning volume builder of 300+ new homes/year in the Rio Grande Valley. As a local builder based in South Texas, they wanted to launch a new website targeted to families and first‑time homebuyers in the Rio Grande Valley that would enable a virtual shopping experience and optimize website lead conversions to drive more new home sales.
The Mission
The SmartTouch mission was to enhance both the content and user experience to turn the Esperanza Homes website into a lead generation machine. Esperanza Homes also wanted SmartTouch to help it develop a virtual shopping experience that allowed buyers to choose fixtures, features, and upgrades conveniently. Finally, the new website needed to leverage a content management system (CMS) that would allow for easy updates and future scaling.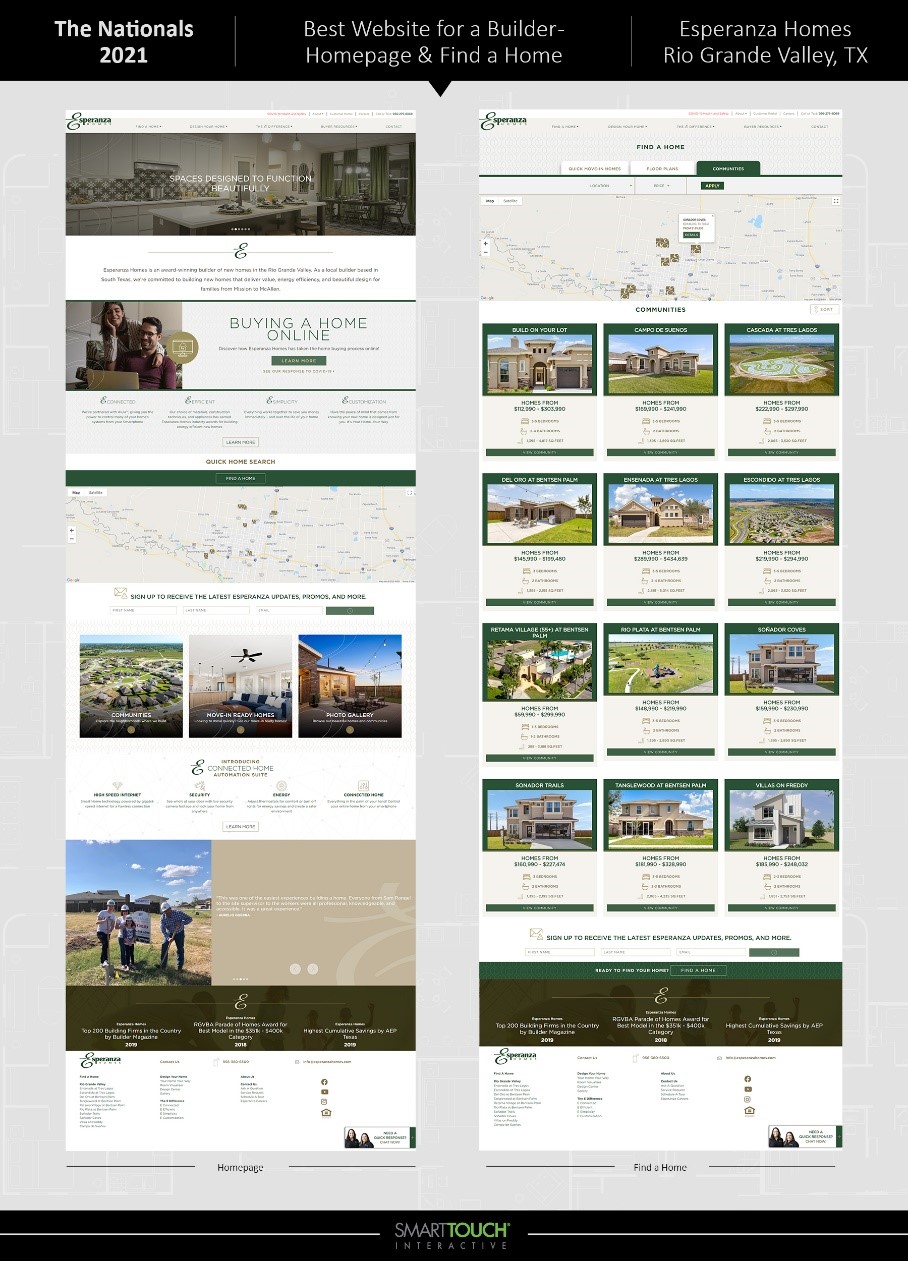 The Solution
SmartTouch® Interactive developed a new website that is easy to navigate and was strategically categorized with pages that were each carefully designed to follow the home buyer journey with specific objectives. The new virtual shopping experience provides the end‑user with "Home Depot" type choices (they can customize the floor plan, exterior, interior, select lots, price homes, virtually tour and begin the purchase process online). The site includes a number of high‑tech integrations that enhance the user experience, including the ability to virtually try different home exterior styles, plan interior rooms, and arrange the furniture as well as three financial calculators for estimating energy, savings, and mortgage. Every page and topic are designed to entice the user to ask for more, encouraging them to provide their contact information in order to chat, ask a question, or schedule a virtual or onsite appointment.
The Outcome
SmartTouch® Interactive successfully launched the Esperanza Homes new website that optimized the UI/UX and delivered an easily navigable, comprehensive home shopping experience in October 2019. The new website drove the traffic of 48,154 users and 105,812 sessions between Oct 1, 2019‑ Sept 30, 2020. Every page on the site was meticulously designed to optimize the UX/UI experience for buyers and agents and helped drive the conversions of 4241 leads during that same time period. Today we continue to improve and optimize the Esperanza website on a monthly basis.
Stay tuned for new success stories from 2021 in the coming weeks!