SmartTouch® Interactive Achieves Personal Best for 2017 Star Awards, Earns 17 Finalist Positions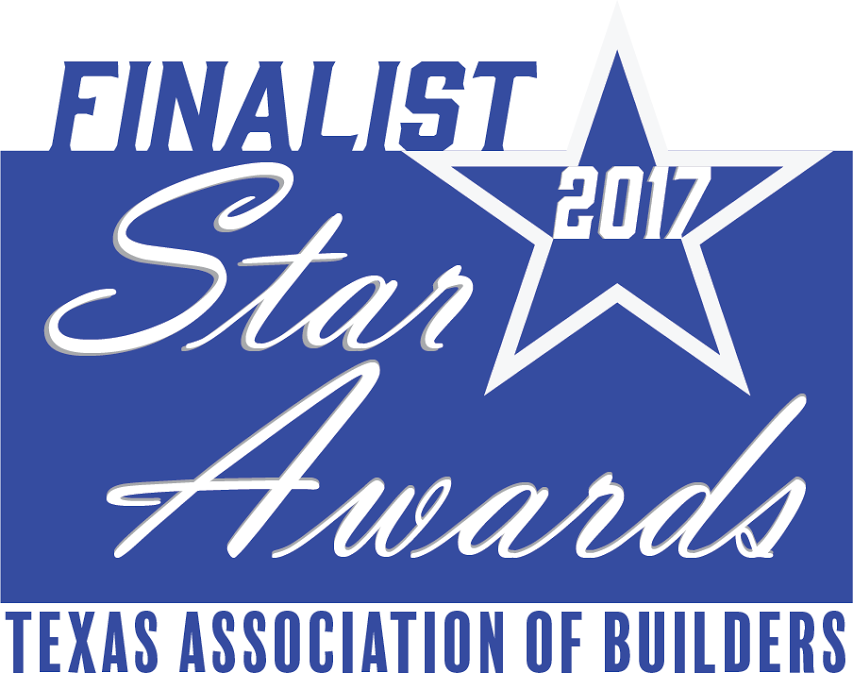 The Texas Association of Builders (TAB) has announced the finalists for the 2017 Star Awards! Out of the 19 submissions we presented, SmartTouch® Interactive has finalized in 17 positions. This record‑breaking number is a personal best and a win in itself for the SmartTouch® Team!
TAB initiated the Texas Star Awards to feature and recognize the exemplary work of home builders, realtors, sales professionals, remodelers, architects, marketing agencies, and other industry leaders across Texas and the Southwest. With more than 75 nomination categories and hundreds of entries, to finalize or win in just one category is a remarkable accomplishment.
Submission entries were judged by a panel of distinguished and experienced industry leaders. Winners will be announced at the awards celebration after the annual Sunbelt Builders Show on August 3, 2017, from 6:00 pm‑8:15 pm, at the Hilton Anatole in Dallas, Texas.
"We are extremely gratified to be up for consideration for 17 awards in 11 different categories this year. Working with a group of recognized builders and developers is a great pleasure for the SmartTouch® team, " said Robert Cowes, President, and Co‑founder, of SmartTouch® Interactive.

Finalist and attendees can learn more about the event on the TAB Star Awards website, see the full finalist list, and purchase tickets to the event.
SmartTouch® Interactive's was honored as a finalist for: 
This was an encore webinar presentation of the Building Knowledge Session we presented at IBS with Sales and Marketing NAHB Legend Dave Miles.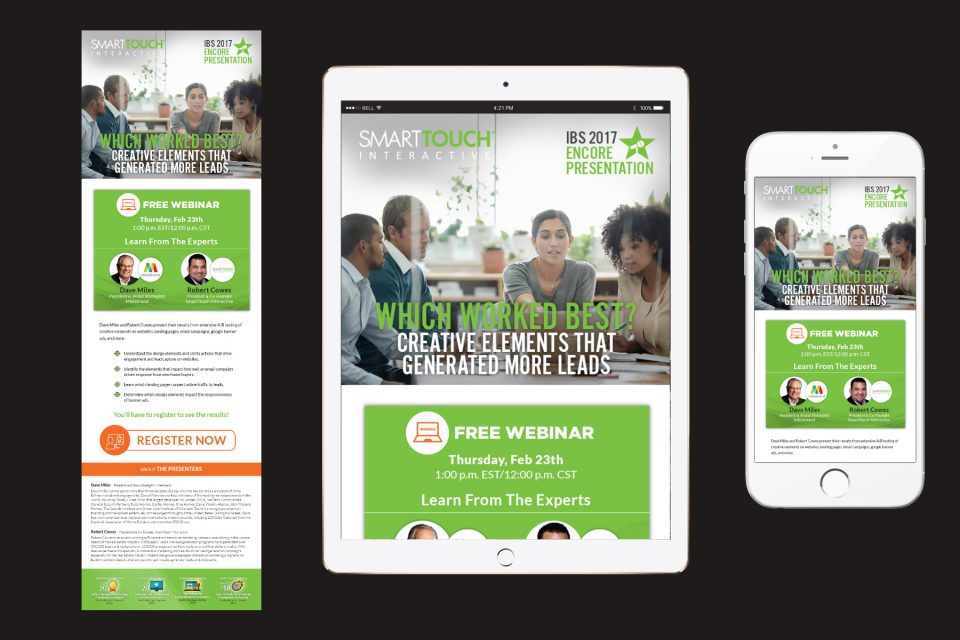 This was a Home for the Holidays campaign with the intent to provide inventory homes that could be bought and closed in time for the holidays. The campaign helped to generate sales appointments and was a factor in direct sales.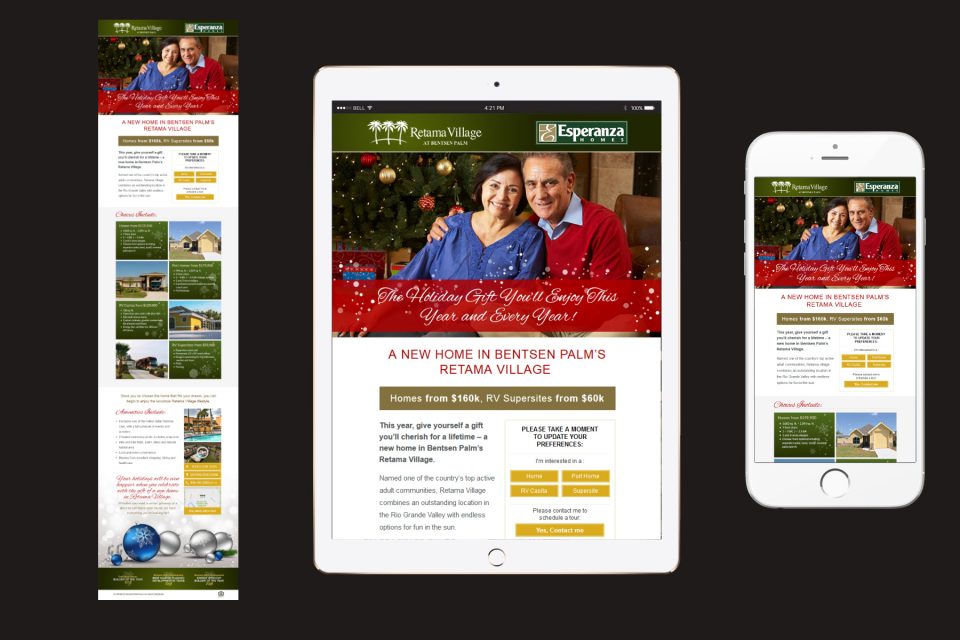 This was a custom design email and landing page where buyers could get the "cliff notes" of the Gardens at Verde Vista's current promotion as well as view photos, the site plan, get driving directions, download floor plans, or schedule a showing.

The email used high impact photography of the homes taken on‑site by the water and drove the user to a landing page where they could watch a video, view more photos, see available lots based on the plat map, and register to schedule a visit or download the community brochure.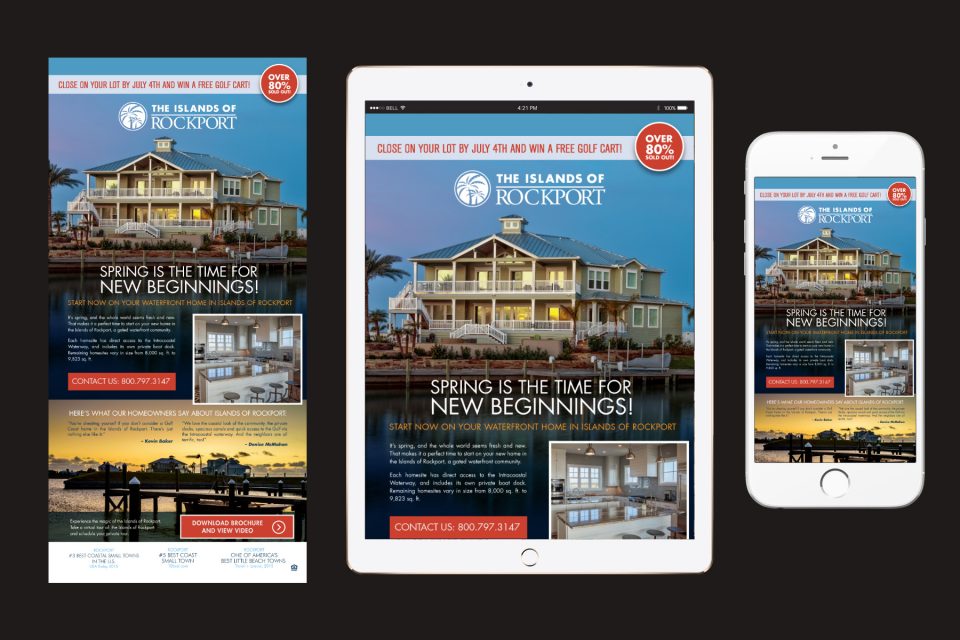 Best Email Message – Volume Builder – Saratoga Homes

This campaign was designed to engage users by capturing registrations and utilizing CTAs such as click‑to‑calls and driving directions.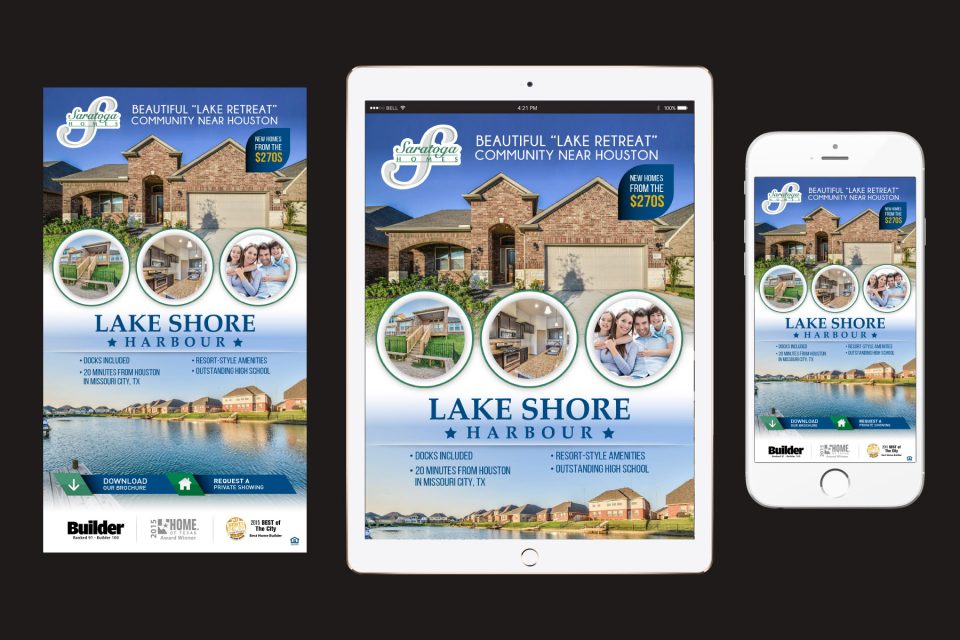 This email was designed to trigger end‑users to engage with the content by clicking on the CTAs strategically placed throughout the email. These call to actions recorded a prospect's preferences and sent notifications to Sales.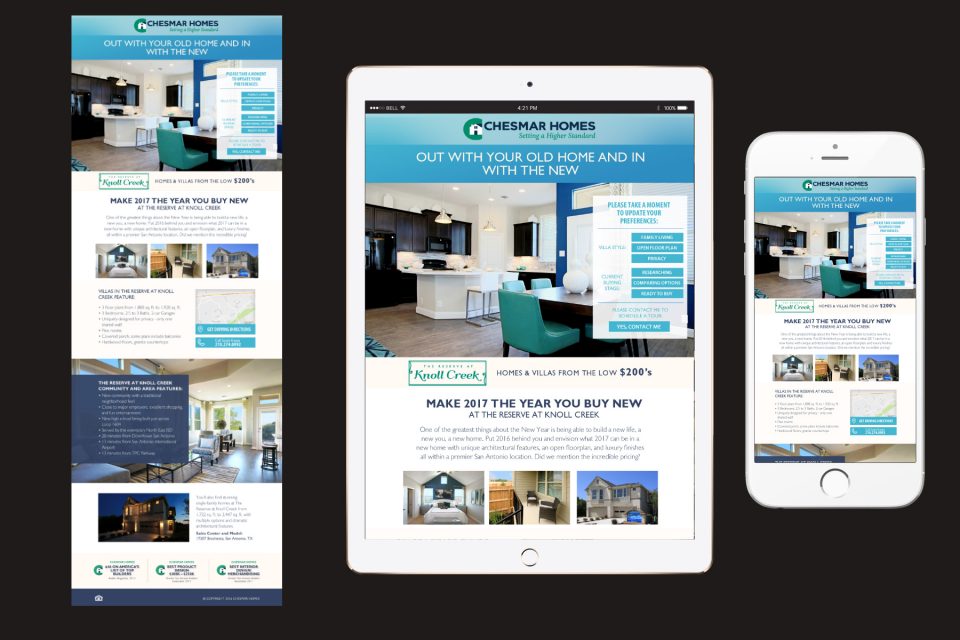 Best Email Message – Custom Builder – Loftech Homes

We created a contemporary email design with the call to actions to download an e‑brochure and get details on available homes in three communities. The email was designed to be device‑friendly and used sophisticated contemporary design and branding to appeal to the targeted demographic.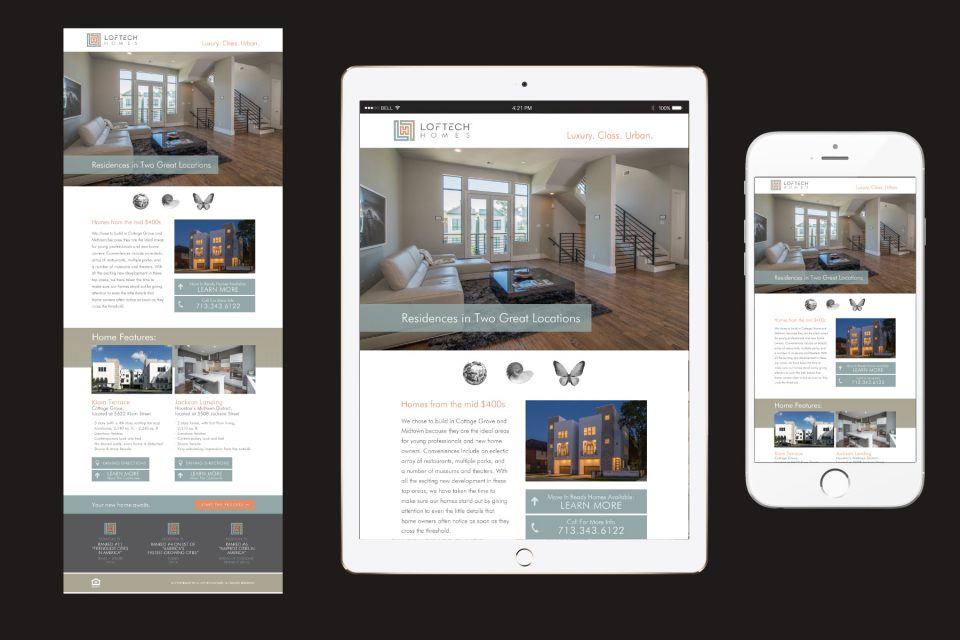 Our Facebook Ads Campaign Webinar targeted residential home builders, developers, and brokers featuring an education series for digital marketing on Facebook using a Thanksgiving theme: Fill your marketing plate with these Facebook sides to get the most out of your campaign.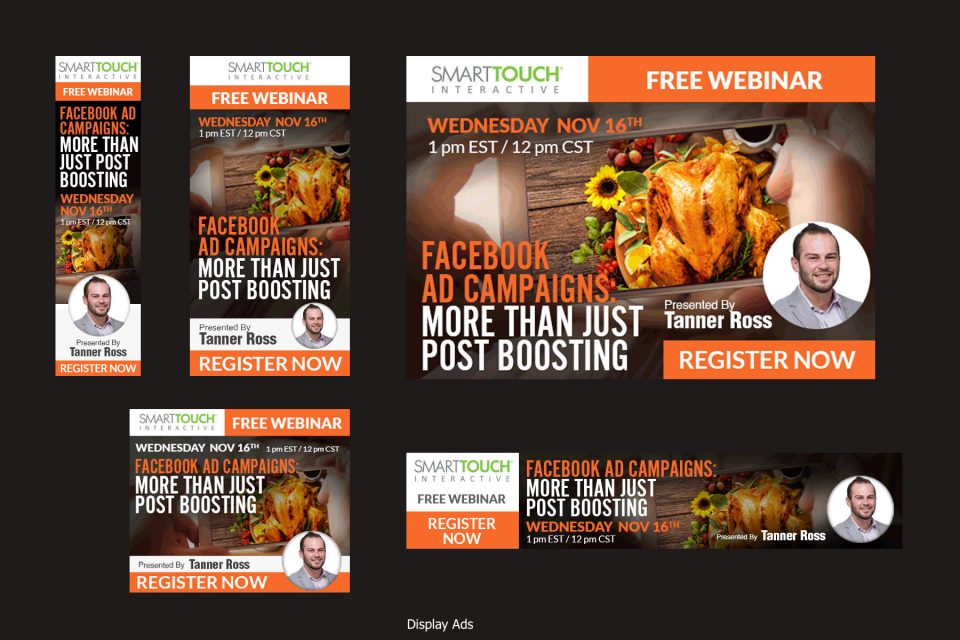 These Google banners were designed in 18 sizes with a primary call to action to drive potential buyers to visit a landing page in which they can view photos, floor plans, register to schedule a tour and download the e‑brochure, as well as see available home sites.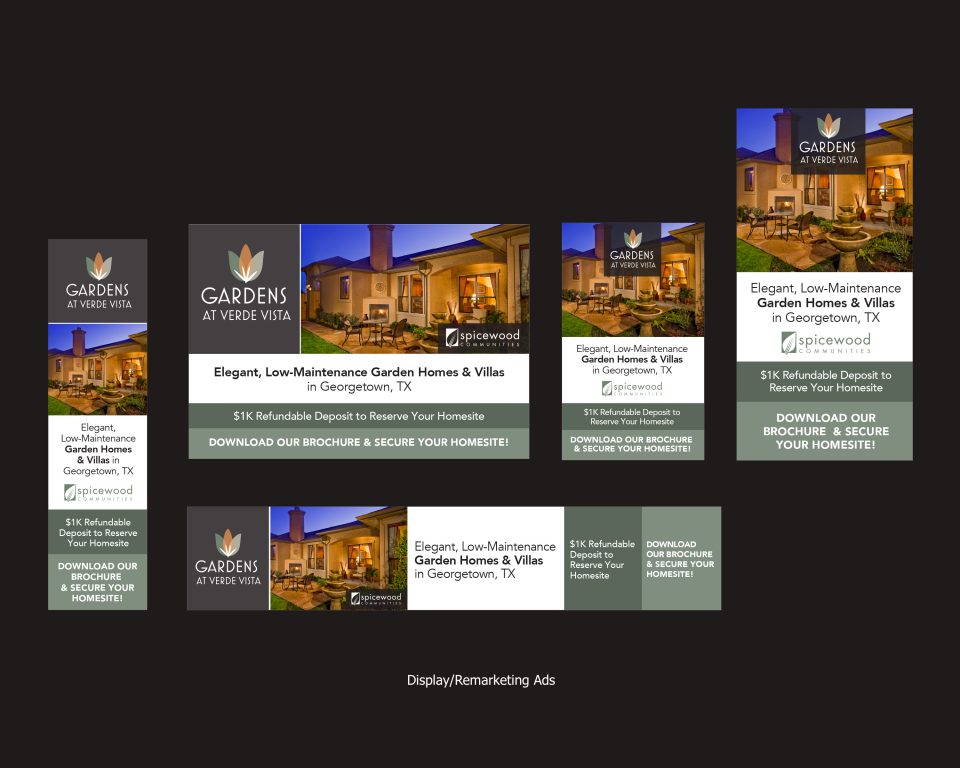 Best Online Advertisement – Volume Builder – Sitterle Homes

We created Google ad banners for all communities participating in the campaign and marketed across a variety of devices such as web, mobile, and tablet.
Best Online Advertisement – Custom Builder – Monticello Homes

This campaign consisted of display and remarketing ads for promoting the custom homes in the San Antonio MSA with 18 different ad sizes that pushed traffic to a mobile‑friendly landing page where buyers could find floor plans, community information, view photos and virtual galleries, set appointments, and download the buyer brochure from the builder.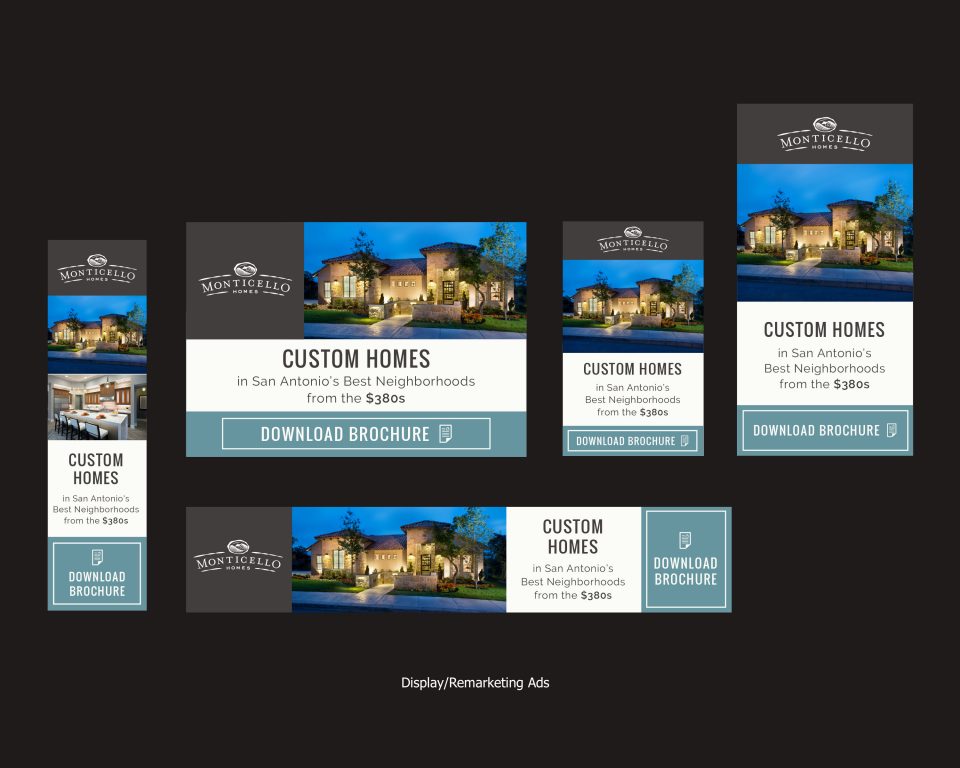 The SmartTouch® Interactive website has been instrumental in generating new and existing business which has led to a 30% increase in new business from Q3 16‑Q1 17.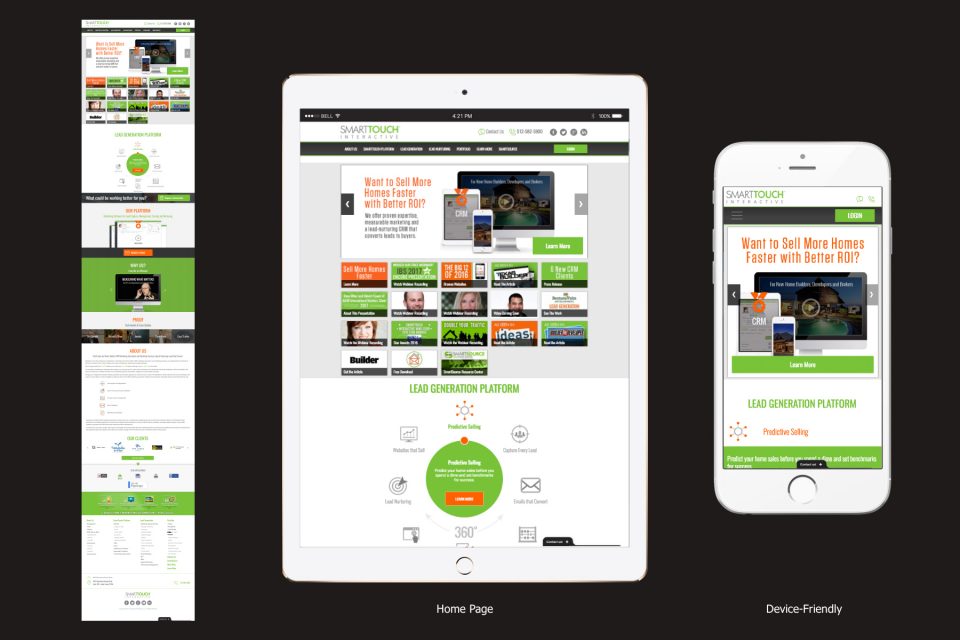 Best Website – Developer – Tres Lagos
The Tres Lagos Development website, Phase I, was launched 12 months ago with the objective of helping to put together a homebuyer prospect list from the publicity the community was getting as the largest new master‑planned community in the Rio Grande Valley.

This was a social media lead generation campaign on Facebook using a Canvas Ad. The objective was to target a specific demographic of Facebook users, homebuyers, and put a mobile ad in front of them that drove to a landing page where they could learn more about the community, available homes, and floor plans.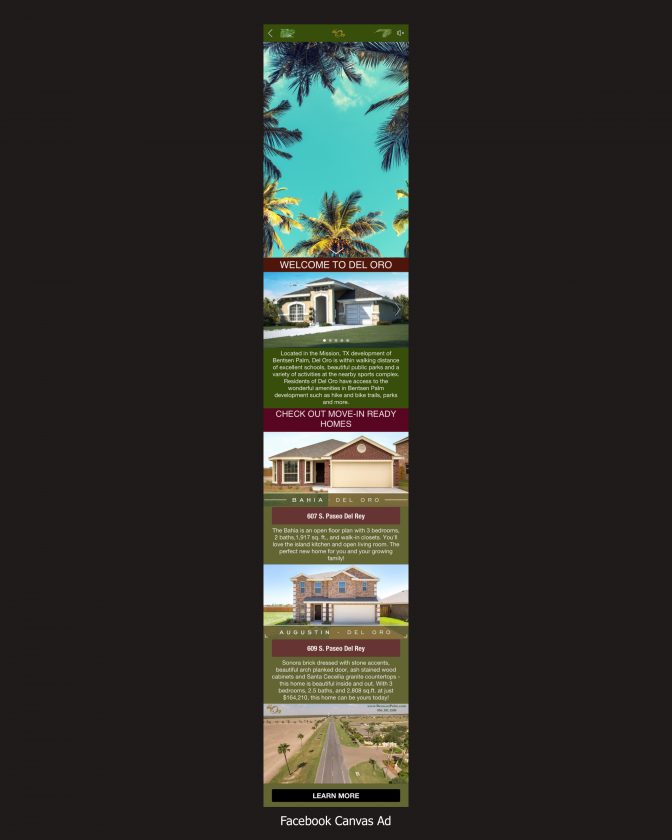 Best Social Media Marketing Prog. – Developer – Gardens at Verde Vista

The objective of this social media campaign was to generate leads by driving a click from a Facebook ad to a landing page where a prospective homebuyer could register to download a floor plan brochure, request a showing, or call a sales manager.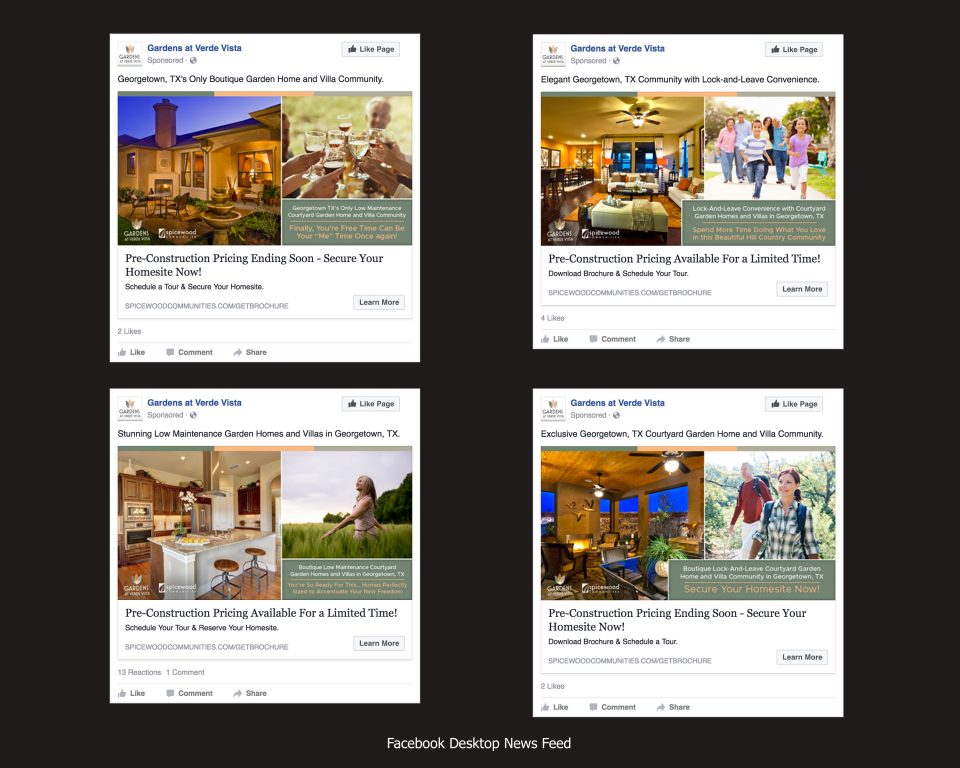 Best Social Media Marketing Prog. – Custom Builder – Monticello Homes

This Facebook lead generation social media campaign was targeted to help engage buyers through Facebook profiling. We targeted specific homebuyer attributes and pushed the traffic to landing pages.

Best Social Media Marketing Prog. – Volume Builder – Scott Felder Homes

This campaign included a total of 8 ads that rotated once per week using fresh copy and creative to run as an A/B test and specifically target the market.