SmartTouch Announces Preservation Ranch Official Brand Launch
Unique Luxury Conservation Ranch community minutes from Austin, leverages the expertise of award‑winning real estate marketing agency for comprehensive marketing strategy, market launch and ongoing lead generation and management. 
Austin, TX –  May 19, 2020 – SmartTouch® Interactive, an award‑winning interactive real estate marketing agency, real estate marketing automation and lead nurturing CRM solution company today announced the official brand launch and pre‑sales of Preservation Ranch, a new luxury ranch conservation ranch community in Bee Cave, TX. Preservation Ranch chose SmartTouch® Interactive to develop the community's new brand, design and launch their website, SEO, and for comprehensive digital marketing programs. The community is also leveraging the SmartTouch® NextGen CRM platform as a managed service to power sales and marketing workflows to capture, score, tag, and notify its sales team of home buyer interest and conversions.
"The SmartTouch team is a down to earth group with incredible expertise in local real estate development marketing. We were impressed with the highly skilled team of players they brought to the table from our very first discovery meeting," commented the Developer, PRNL Realty. "We have quite a unique product offering, as there are no other large acre ranch opportunities close to Austin or Lake Travis ISD. And with the help of the strategic lead generation programs and outstanding brand development provided by SmartTouch®, we have already seen strong demand for information and request for private tours as a result of our branding offer and advertising in the right channels at the right time."
Tucked away in beautiful Bee Cave, Texas just off Highway 71 and a few miles west of Austin, the 930‑ acre Preservation Ranch features conservation ranches for sale near Austin. The community is limited to just 33 ranches of 22+ acres with an array of stunning hilltop, canyon and creek views. As a new development, the Preservation Ranch team wanted to work with a marketing agency that understood real estate, the local market, and their unique needs as well as a proven track record of helping real estate developers launch luxury properties and communities. SmartTouch® Interactive was the only agency able to offer this.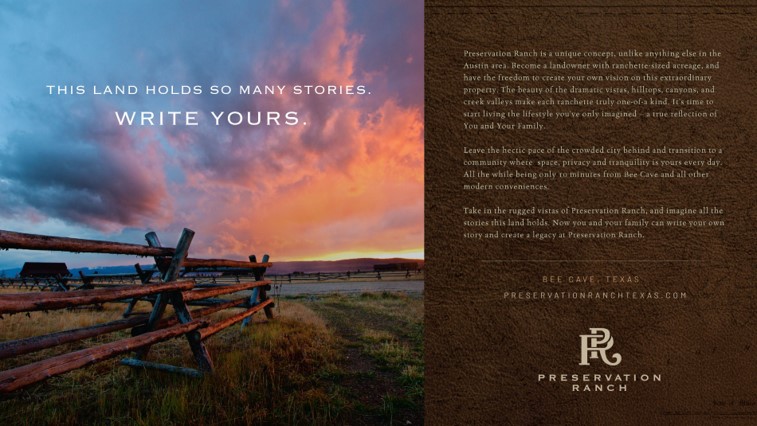 About SmartTouch® Interactive
SmartTouch® Interactive is the only marketing agency focused on real estate to offer: proven marketing and lead generation programs; a superior lead nurturing CRM and Marketing Automation platform, SmartTouch® NexGen; and a cutting‑edge homebuyer geofencing solution, SmartTouch® Geo, all driven by an award‑winning team of innovative marketing professionals. Our innovation in lead generation and digital marketing programs and proven accountable ROI methodology has helped hundreds of real estate developers and home builders generate more than 1 million leads and $2 billion in new home sales. https://smarttouchinteractive.com
###
Press Contact:
Leisha Richardson
lrichardson@smarttouchinteractive.com
512‑633‑2387