Don't Do That! Search & Display Marketing Tactics You're Currently Doing But Shouldn't Be
You may already be running a Search or Display campaign or a combination of both…Good.
You're right on track. Are you running Google/Bing text ads 24 hours a day? Bidding on your competitor's search terms? Showing your marketing banners on as many sites as possible to gain more awareness and lead? DON'T DO THAT.
If you answered yes to any of these questions, keep reading. We'll share why these marketing tactics sound great in theory but actually cost you more money, lower your conversion rate, and ultimately gain you FEWER quality leads.
Tanner Ross and Joel Cox just shared an amazing webinar (originally presented at the 2018 International Builders' Show in Orlando) covering common search and display marketing mistakes real estate marketers make every day that sound great in theory, but actually raise your cost per click and lower your conversion rate. Sounds backward, right?
Here's what our two experts covered:
NO‑NO #1 – Only Using Board Match Keywords
NO‑NO #2 – Not Using Negative Keywords
NO‑NO #3 – Bidding on Competitor Keywords
NO‑NO #4 – Set It and Forget It
NO‑NO #5 – Not A/B Testing
NO‑NO #6 – Not Innovating
From here, you have two choices: Learn how to fix these common mistakes by watching the full recording below (about 30‑minutes), or enjoy a 10 minute read where we've also provided the exact time you need to skip to on a specific marketing NO‑NO.
Watch the Webinar Recording:
NO‑NO #1 – Only Using Board Match Keywords
Solution: Use a Combination of Phrase & Exact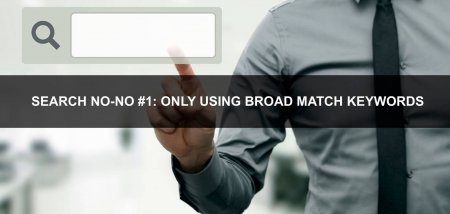 What's the difference?
There are actually 4 different types of keyword matches, but we'll only cover the two in our solution here:
Phrase Match Keywords are actually a phrase that includes close variations of that phrase. These types of keywords are great for an initial campaign launch and to discover additional keyword search variations you want to show your ads for.
 "home for sale orlando"
Exact Match Keywords are close variations of the exact keywords you're going for. These keywords offer a high level of bid control and ability to bid very competitively. You'll want to use Exact Match for smaller budget campaigns and for keywords that have shown a historical performance of driving results.
[new home for sale orlando]
How do you determine the right mix of keywords to use? What are your budget restraints? Watch the webinar recording for a more in‑depth look at the FOUR different keyword match types advertisers can use in most SEM campaigns.
Speed ahead to: 1:52
Tanner also answers a specific question about this at: 29:35
NO‑NO #2 – Not Using Negative Keywords
Solution: Use Negative Keywords & Keyword Lists (Yep, it's that easy.)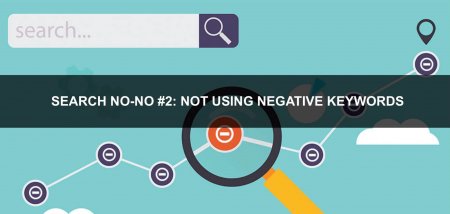 So what are Negative Keywords?
"A type of keyword that prevents your ad from being triggered by a certain word or phrase. Your ads aren't shown to anyone who is searching for that phrase." – Google Adwords Support
And why would you even want to remove your ads from showing in a search? Because, it will eliminate irrelevant click‑through traffic to your website and increase your keyword quality score.
Now, there are two levels of negative keywords: Campaign Level and Group Level. Campaign level keywords will help increase performance of the campaign as soon as it's turned live. Group level keywords will find common denominator keywords to add as a broad match keyword to the negative keyword list.
Campaign Negative Keyword Lists:
State Abbreviations
Common Negative Keywords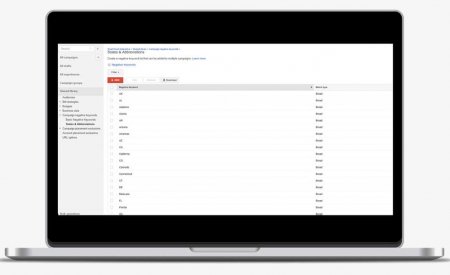 Group Negative Keyword Lists:
Negative keywords added in at the Ad Group level via the Search Terms tab.
However, there is also one no‑no you want to watch out for when using negative keywords. Speed ahead to 7:15 to make sure you don't make this mistake!
And Speed ahead to 31:00 to hear Tanner answer a question on how to determine your negative keywords.
NO‑NO #3 – Bidding on Competitor Keywords
Solution: Geofence Your Competitors Model Homes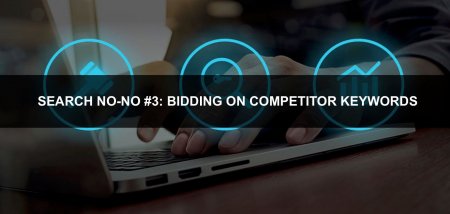 Bidding on competitor keywords is a no‑no for a number of reasons, but the two major ones that should scare away any marketer is a lower CTR, and you're not actually allowed to use your competitor name in your ad copy because it's misleading and Google will ping you for it. Both of which raise your cost per click.
And yet, there is still a way to target home shoppers by leveraging your competitors and their model homes. Geofencing captures home shoppers that travel through a set target zone (such as your competitor's model) and send your ads straight to the captured smartphone they had in their pocket.
Skip ahead to 11:16 for more on how geofencing works. Or visit the SmartTouch® Geo page for a quick breakdown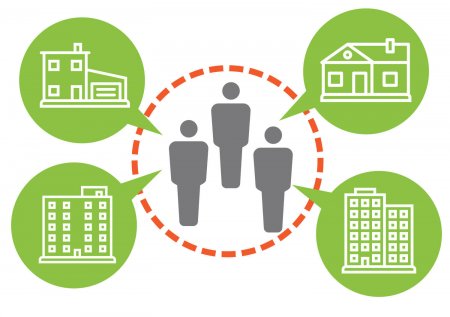 NO‑NO #4 – Set It and Forget It
Solution: Set up Real‑Time Analytics & Hold People Accountable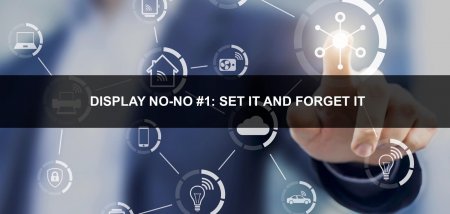 Don't begin any display marketing campaigns without first setting up your site Analytics (typically Google Analytics) and tracking of conversions/goals. You also want to use UTM tracking to separate your campaigns and get a clear review in Google Analytics. Skip ahead to: 14:26.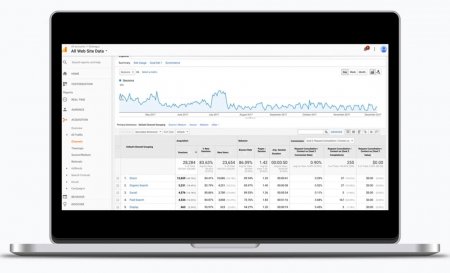 What do we mean by hold people accountable? Chances are you've teamed up with digital partners to help you with your digital marketing tactics. Just like you set up tracking and goals with Google Analytics for your website, you want to set performance expectations with your Digital Partners up front as well and hold them accountable to those said exceptions.
Skip ahead to: 18:11.
NO‑NO #5 – Not A/B Testing
Solution: Think Like a Scientist – Always Be Testing (ABT)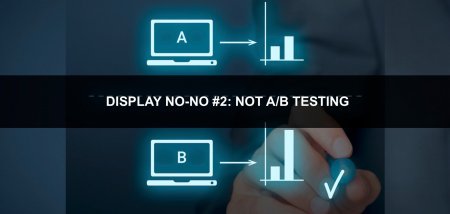 A/B Testing can get a bit tricky. When someone says, "We should A/B test," what exactly are they wanting to test?
In Display Marketing you want to ABT your Call to Actions, Imagery, Ad Size, File Type, and Audience Targeting.

 Calls to Actions
Ex: Learn More, Explore, Find Your New Home
Imagery
Ex: Exterior vs Interior/ Product vs Lifestyle
Ad Sizes
There are 18 different ad sizes for display and remarketing ads. There are tall, long, skinny, fat, square, and rectangle ad sizes to put it plainly. Which means space on each ad size will vary tremendously: cutting off your photography, giving you limited text space, and the resolution and quality of your ad can even change.
File Types
Static, Animated (GIF), Video – the answer isn't always what you think.
Audience Targeting
Make sure to find the right balance between precision and scale.
For a more in‑depth look at A/B testing, speed ahead to 18:43 in the webinar recording.
NO‑NO #6 – Not Innovating
Solution: Keep Pace With Evolutions in Digital Media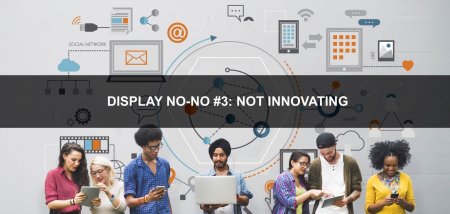 This solution sounds as simple as Do A/B Test. But it's not always easy. Especially, when we get comfortable with the results of one type of campaign. Unfortunately, that campaign may be showing great results today, but will it continue to show results tomorrow?
This is a section of the webinar you absolutely want to watch. Joel presents a wealth of information but also shares a look at the future and where Display Marketing is heading. Skip to 24:17.
Cross‑Device advertising is no longer optional.
Consumer browsing habits change rapidly.
Video: OTT Advertising. It didn't exist 5 years ago but is now the fastest‑growing medium in digital advertising.
The digital media landscape is shifting to video.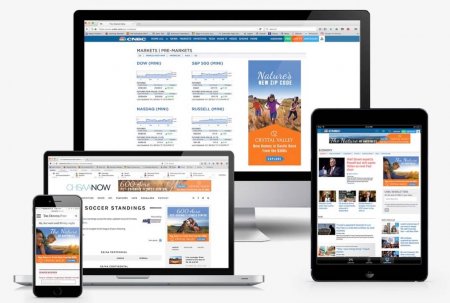 Still have questions about the NO‑NO's of Search and Display Marketing? Contact our two presenters with your questions.
Tanner Ross – Search Engine Marketing
Vice President of Digital Marketing
SmartTouch® Interactive
tross@smarttouchinteractive.com
Joel Cox – Display & OTT Advertising
Director of Digital Strategy and Partner
Strategus
Want to learn more about leveraging your competitors' model homes with geofencing? Contact us at geo@smarttouchinteractive.com with your questions.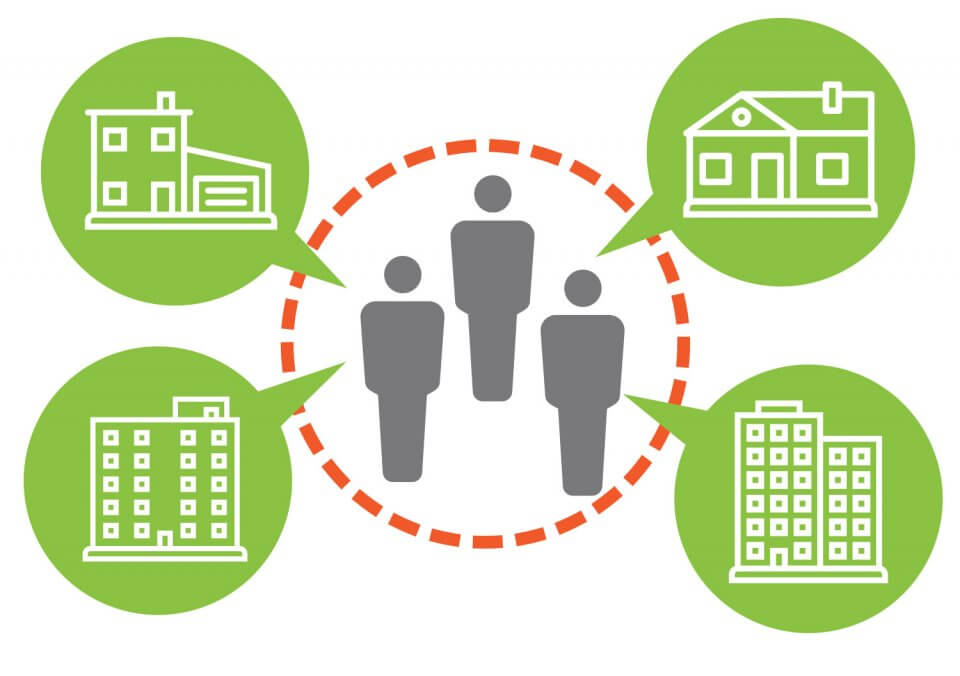 Are you very interested in OTT Advertising? The fastest‑growing medium in digital advertising that didn't exist five years ago? Reach out to Joel at Strategus. https://strategus.com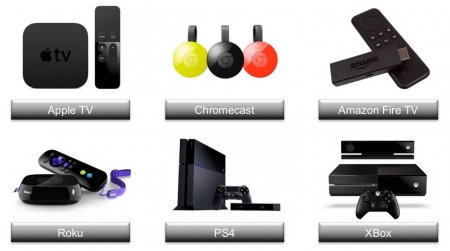 About Tanner Ross, Vice President of Digital Marketing
Tanner Ross, VP of Digital Marketing at SmartTouch® Interactive, drives the search engine marketing, search engine optimization, and social media marketing programs for more than 50 real estate clients. Certified in Google Adwords and Bing Ads, he has been with the SmartTouch® team for the past five years and has truly shaped the digital marketing department. He's mastered the ins and outs of SEO, SEM, Social Media, Analytic Integrations, and third‑party media placements and has grown SmartTouch®'s digital services into the next age of digital marketing with the ambition of making SmartTouch® Interactive the go‑to marketing agency for builders and developers.
About Joel Cox, Partner and Director of Digital Strategy for Strategus
Joel Cox is the Director of Digital Strategy and Co‑Founder of Strategus, a full‑stack programmatic platform that offers data‑driven audience identification and targeted delivery. Strategus' innovative ad tech and high touch campaign management drive custom, full‑funnel cross‑device solutions. Strategus pioneered programmatic OTT advertising and thrives on the relentless pursuit of what's 'What's Next in Data‑Driven Advertising'. Joel developed his first online business at the age of 20 and graduated from the University of Colorado at Boulder with a degree in marketing.  Joel's background began with search optimization and after having been a member of the core team that developed and rolled out the nation's first publisher‑owned ad network for Media News Group, Joel co‑founded Strategus. Joel is Google Certified and fluent in all facets of digital advertising with a passion and emphasis on cutting‑edge & innovative digital display and video tactics.