Reeling in the Second Home or Resort Real Estate Buyer with the "Fish Finder" CRM
Resort community development sales teams know all too well that capturing and keeping a buyer interested takes persistence, much like casting your line with just the right bait, again and again, to catch an elusive fish. The second home or resort real estate shopper is an experienced buyer and not easily converted due to the lack of urgency in purchasing a second home. This also makes the buying cycle much longer, requiring multiple communication touchpoints and repeat visits from the buyer, including emails, Zoom calls, and more. Managing this type of relationship sale efficiently and effectively requires a tackle box with all the right lures and hooks, a CRM that operates as a "Fish Finder" and can automate tasks and alerts, centrally aggregate key data, and empower the salesperson to engage the buyer at the right time with the exact right lure.
Hear Robert Cowes talk about the importance of a Real Estate CRM below
Schedule Your Free NexGen Real Estate CRM Demo!
Contact our President and CEO Robert Today!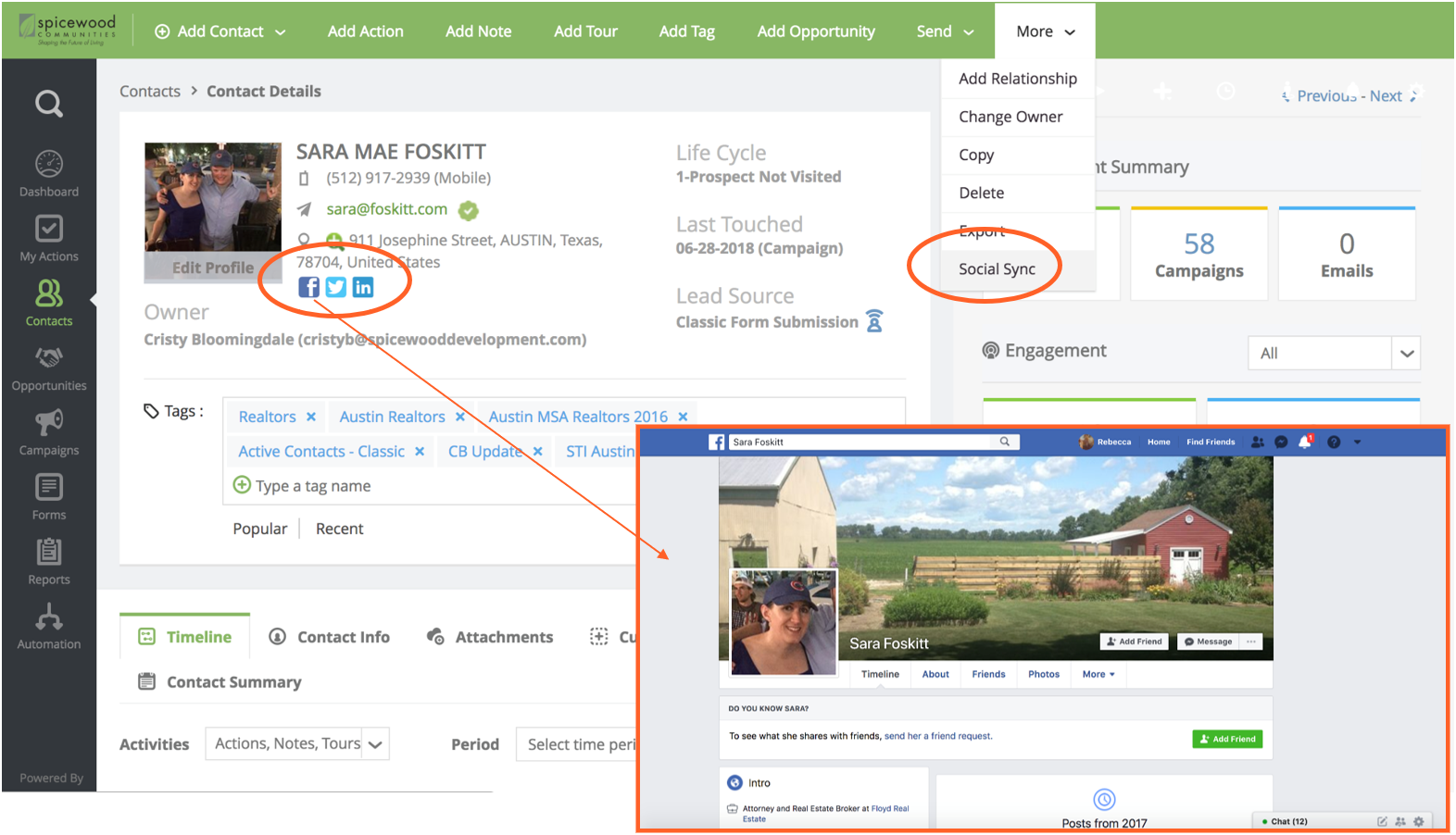 So, How Does a Real Estate CRM Help Land the Second Home or Resort Real Estate Buyer? 
Barring any impulse buys, the second home or resort real estate property buying cycle can take as long as a year, which means the sales representative will have regular follow‑up tasks and need to set and manage appointments to bring buyers back in, often with additional family members. Automating these tasks and reminders via a CRM solution allows sales team members to manage the relationship and provides additional important features like alerts when buyers have clicked on an email or viewed pages on the website.
Automating reminders, alerts, and follow‑up tasks are just some of the beneficial aspects of lead management. Another significant benefit is the ability to do lead scoring, which ensures sales teams are alerted to key prospects based on lead activity. For example, a real estate CRM tool designed specifically for real estate developer sales teams, SmartTouch®, offers a unique feature called Hot List management, which exposes the hottest prospects based on lead activity such as website visits, email and social engagement, content downloads, and more, over specific time ranges. Access to this type of data creates a competitive advantage as it allows the sales teams to spend their time on the most engaged leads vs. casting a line out to every single buyer regardless of their engagement level.
Today's second home and resort real estate buyers also expect to view the property and book time with a sales representative at their convenience. Online appointment setting that lets buyers book meetings either natively in the real estate CRM or directly via solutions like Calendly integrated with your CRM is critical to seamless relationship management throughout the buyer lifecycle.
One of the most significant benefits for resort real estate community development teams is integrating their CRM and other marketing tools and third‑party sites. Integrating these solutions allows sales teams to gain visibility into a buyer's engagement with email marketing, social channels, and listing sites, aggregating all lead data into one central place. Features like list building and filtering by contacts and communities, text messaging and email marketing coupled with access to comprehensive data throughout the second home buyer lifecycle affords an essential competitive advantage in a relationship sale. And with pipeline and sales reporting tools, resort real estate developer management teams gain the insights they need to understand their overall business better.
Want More Real Estate Leads?
Schedule a NexGen Demo with Robert Today!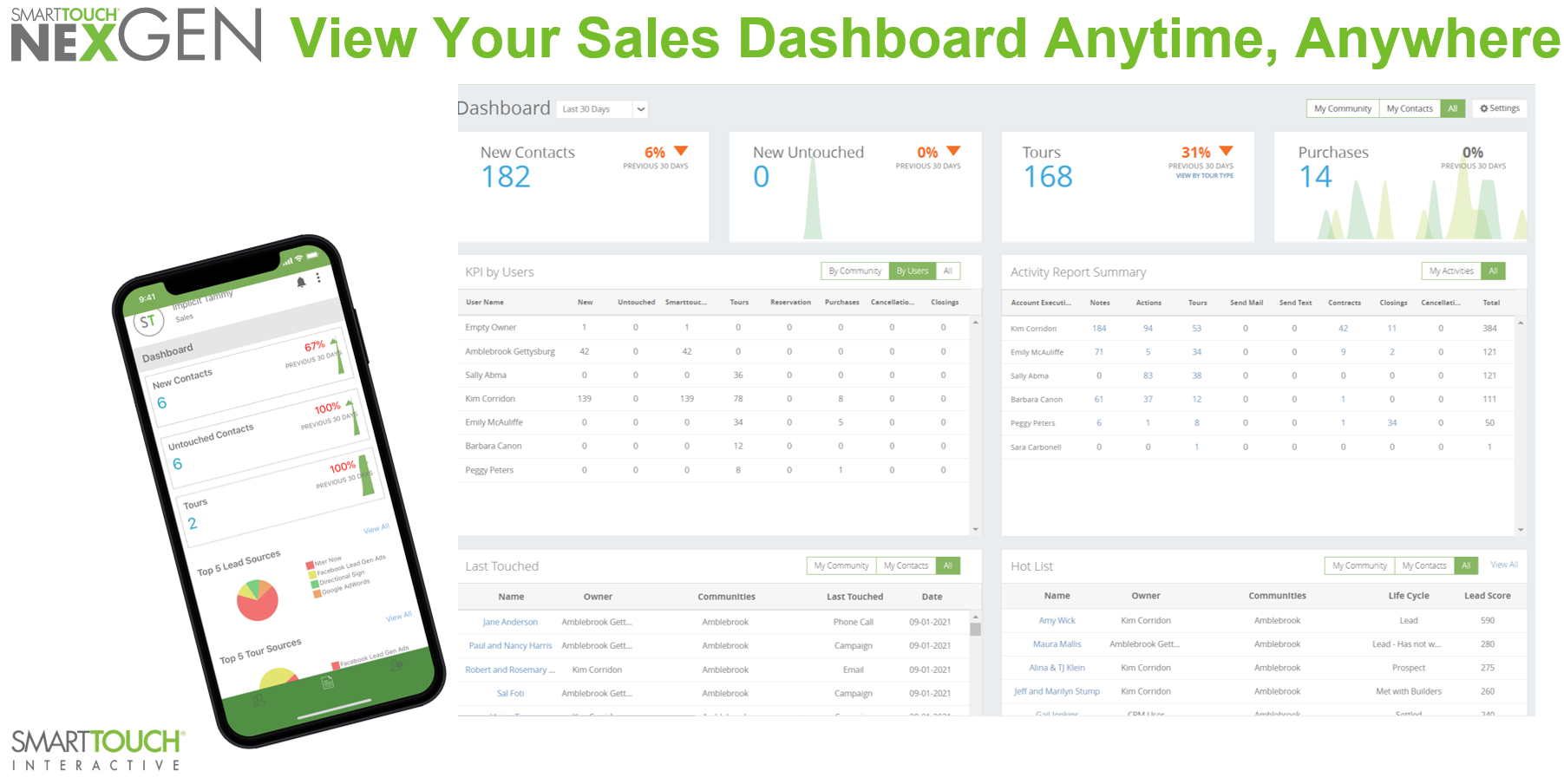 What Essential Workflows Should a Robust Real Estate CRM Solution Offer?
While sometimes thought of as simply a database warehouse or a contact management system, an effective real estate CRM tool will include built‑in workflows designed for the way you operate your business and tailored to how your buyers flow through the lifecycle. When looking for the right CRM for your resort real estate development, there are several key workflows you'll want to ensure the tool includes.
First and foremost, are the lead workflows starting with the automation of digital lead capture across all sources, including your website, home listing websites, digital ads, and social media platforms. Following on lead capture, the CRM designed for resort real estate developments must include automated lead distribution to corresponding assignments, sales agents, communities, and product types. Lead management workflows should also include lead scoring alerts for hot leads, website alerts for buyer visits to specific pages, auto‑replies with relevant information that increases the lead score, and triggers for sales actions based on activity and scores.
With online calendar tools at everyone's digital fingertips, a comprehensive CRM solution will also provide appointment management workflows, that allow the sales representative to share availability and for the buyer to book a tour or meet directly on his or her calendar. Enabling sales personnel to manage appointment settings, all from a single place, with the ability to send confirmation emails and texts helps ensure meetings and tours are never double‑booked or missed.
Most critically, a real estate CRM should incorporate workflows that capture and record every transaction, from zoom calls to tours, to email and text follow‑ups. All engagement data needs to be tracked directly in the contact record, ensuring easy access to every past interaction with the buyer. Having all buyer transactions available in a single location gives sales representatives the valuable insights they need to better craft communications and ensure they use the right lures at the right time.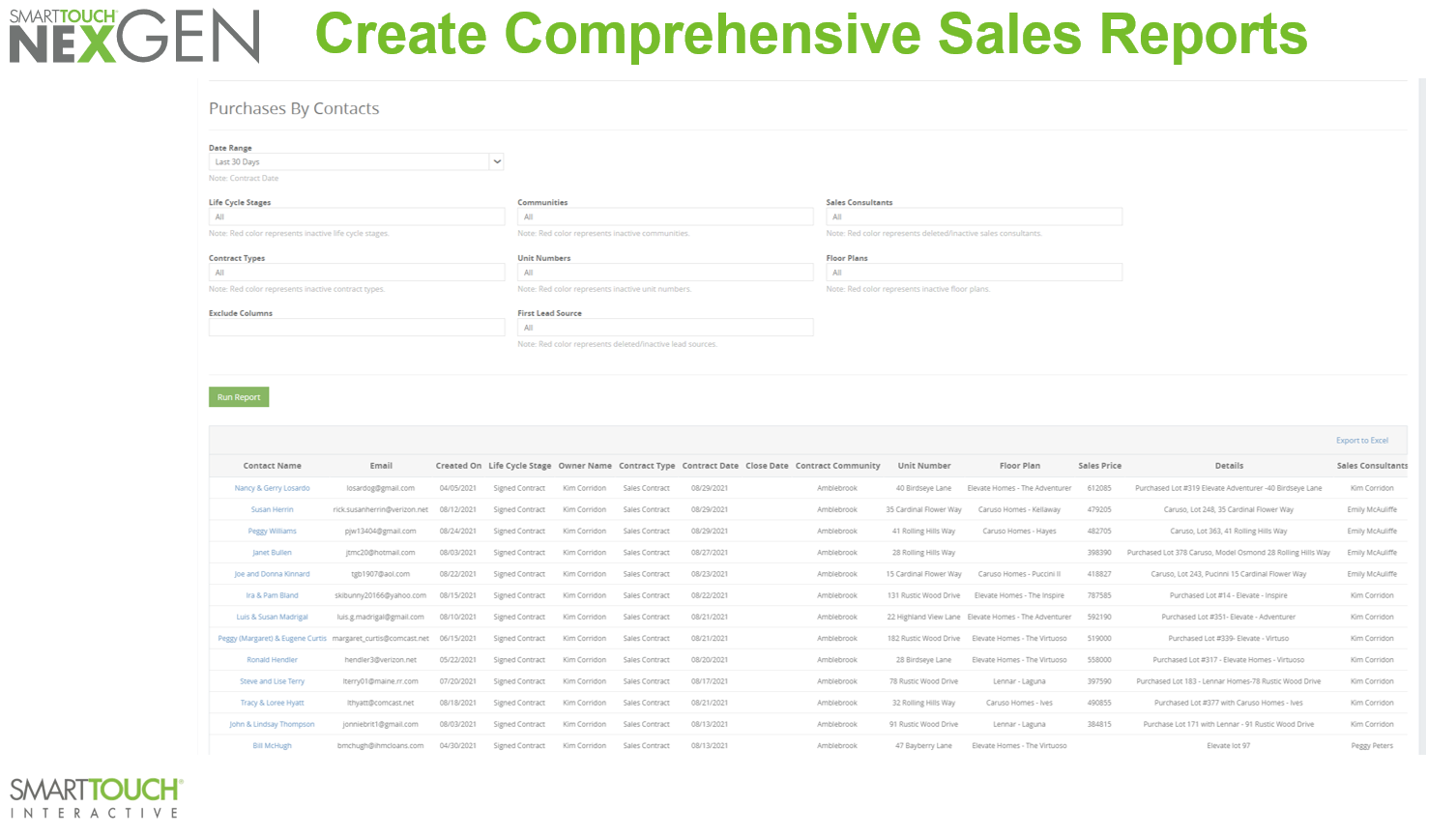 The Key to Success: Embracing a Real Estate CRM as Standard Operating Procedure
Resort real estate developers who want to get the most from their investment must make using the CRM a requirement and fully integrate the workflows into the daily routines of their teams. Sales and marketing teams that commit to using the real estate CRM optimally will enable management teams with greater visibility into the sales pipeline as well as access to critical insights like sales conversion data. Armed with important data, development management teams make better data‑driven decisions for sales and marketing investments and build a more predictable business model. Ultimately, if used to its full potential, a well‑designed real estate CRM solution enables consistent, timely communication provides a better client experience to reel in more buyers, and achieves the big payoff, landing more second‑home sales.
View the video below to learn more about SmartTouch NexGen
Claim Your Free NexGen Real Estate CRM Demo!
Contact our President and CEO Robert Today!
What CRM Solutions Are Best Suited to Resort Community Developer Sales?  
Several options exist in the marketplace that offers general CRM and marketing automation capabilities. However, of the available marketplace options, SmartTouch® NexGen is the only CRM 100% dedicated to new home sales and the only real estate CRM solution with a mobile app.
SmartTouch® offers comprehensive service and flexible interoperability with third‑party platforms for a complete buying cycle, from lead capture to the moment of final transaction and through integrations with sales contracting platforms, even the final contract phase is available via NexGen. SmartTouch provides 90% of what resort real estate developers need out of the box, and the other 10% is customized during the onboarding process to deliver a CRM that helps reel in the big second home fish every time.