The President of SmartTouch® Interactive and VP of Strategy at McOuat Partnership Team Up to Present at the NAHB International Builders' Show®
The President of SmartTouch® Interactive and VP of Strategy at McOuat Partnership Team Up to Present at the NAHB International Builders' Show®
"The Good, The Bad & The Staples of Email Marketing" presented by Robert Cowes and Lianne McOuat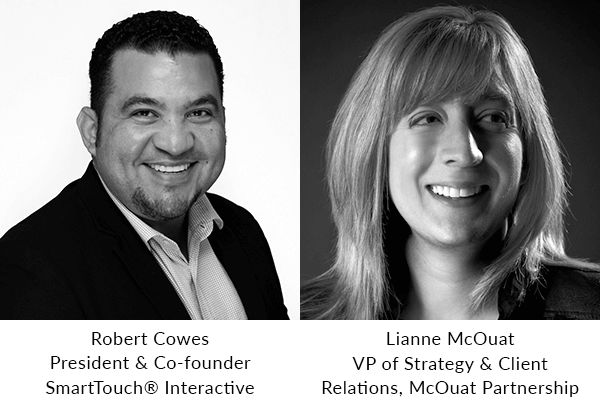 Austin, TX –  December 20, 2017 – SmartTouch® Interactive, an interactive real estate marketing agency, real estate marketing automation and lead nurturing CRM solution company, and McOuat Partnership, Canada's most experienced real estate marketing firm, today announced that SmartTouch®'s Co‑founder and President, Robert Cowes, and Vice President of Strategy & Client Services, Lianne McOuat, will be presenting "The Good, The Bad & The Staples of Email Marketing" at the 2018 International Builders' Show® in Orlando, FL, January 9‑11, 2018.
The NAHB International Builders' Show® brings together over 50,000 industry professionals from around the world to showcase and exhibit their most in‑demand products and services, but it is also an opportunity for education and staying up‑to‑date on innovation and strategy in the real estate industry split up into eight session tracks.
Robert and Lianne will be participating in a Tech Byte track featuring a more hands‑on approach in a 30‑minute presentation on what email marketing looks like today, the staples of email marketing that continue to work even as technology evolves, and how to make sure your emails are reaching the inbox.
Learning Objectives:
Identify what types of emails to use to achieve a specific purpose.
Identify the different types of marketing emails for different audiences.
Learn the different types of CTAs and where to place them to gain more engagement.
Be confident your emails and your content are reaching your audience.
"If you google, "Is email marketing dead?" you'll get the same answer from every source you read: no. There are billions of active email accounts around the world, so if you're not seeing a return on email marketing than you could be targeting the wrong audience, not implementing the proper staples and best practices, or your emails may not be reaching your audience at all," said Robert Cowes.
"The Good, The Bad & The Staples of Email Marketing" will be held Wednesday, January 10, at 12:30 p.m. Directly after the Tech Byte, Robert and Lianne will hold Office Hours where attendees will have a chance to meet with the two email experts on a one‑on‑one basis to review their current email campaigns and evaluate what and to whom they are sending campaigns and advise them on what's worked historically and what's trending now.
"Email marketing is evolving just as fast as the rest of the digital marketing realm and still remains one of the top and most cost‑effective ways to market. The challenge is being aware that what's trending isn't always effective and to never lose sight of your audience. Especially, with the advent of smartphones and the audience now skewing more heavily to mobile viewing," said Lianne McOuat.
Session details and more about the speakers can be found on the NAHB International Builders' Show® website.

###
Press Contact:
Rebecca Eddleman
reddleman@smarttouchinteractive.com
512‑582‑5900