POMONA BY HILLWOOD HONORED WITH TWO GHBA HOUSTON'S BEST PRISM AWARDS 2021
SmartTouch Interactive Award‑Winning Creative Cinches New Marketing Campaign Awards for Houston Client, Pomona by Hillwood.
Austin, TX – October 20th, 2021 – SmartTouch® Interactive, an award‑winning interactive real estate marketing agency, real estate marketing automation, and lead nurturing CRM solution company announced today that Pomona by Hillwood was awarded two Houston's Best Prism Awards from the Sales and Marketing Council of the Greater Houston Builders Association for marketing campaign of the year.  The GHBA Best PRISM Awards is the premier annual Houston area builder event of the year recognizing the industry's finest in more than 100 categories spanning from People to Product and Promotion. Pomona was recognized at the annual GHBA Houston's Best Prism Awards Ceremony, Saturday, October 2, 2021, at the Hilton Americas in Houston, TX.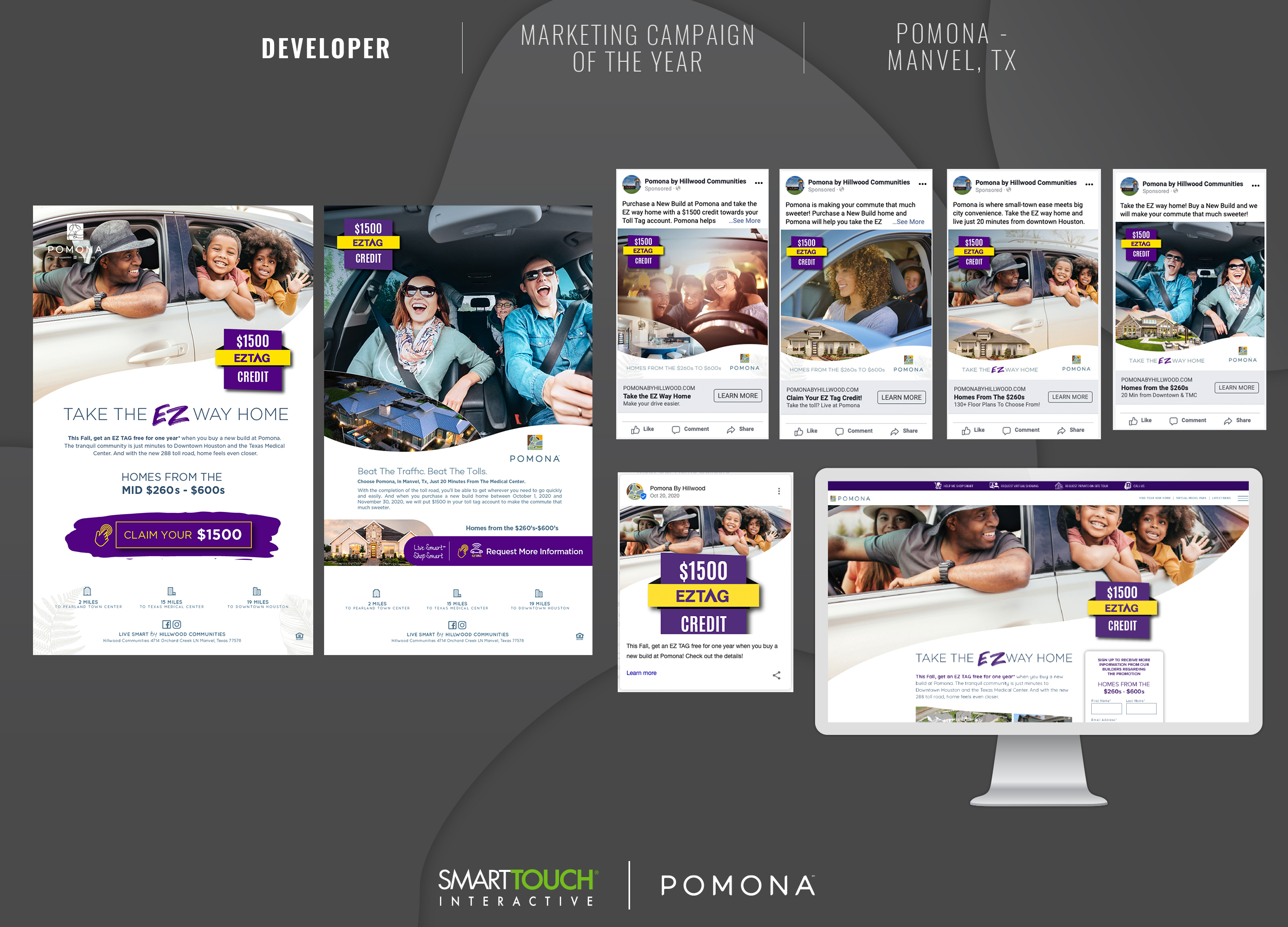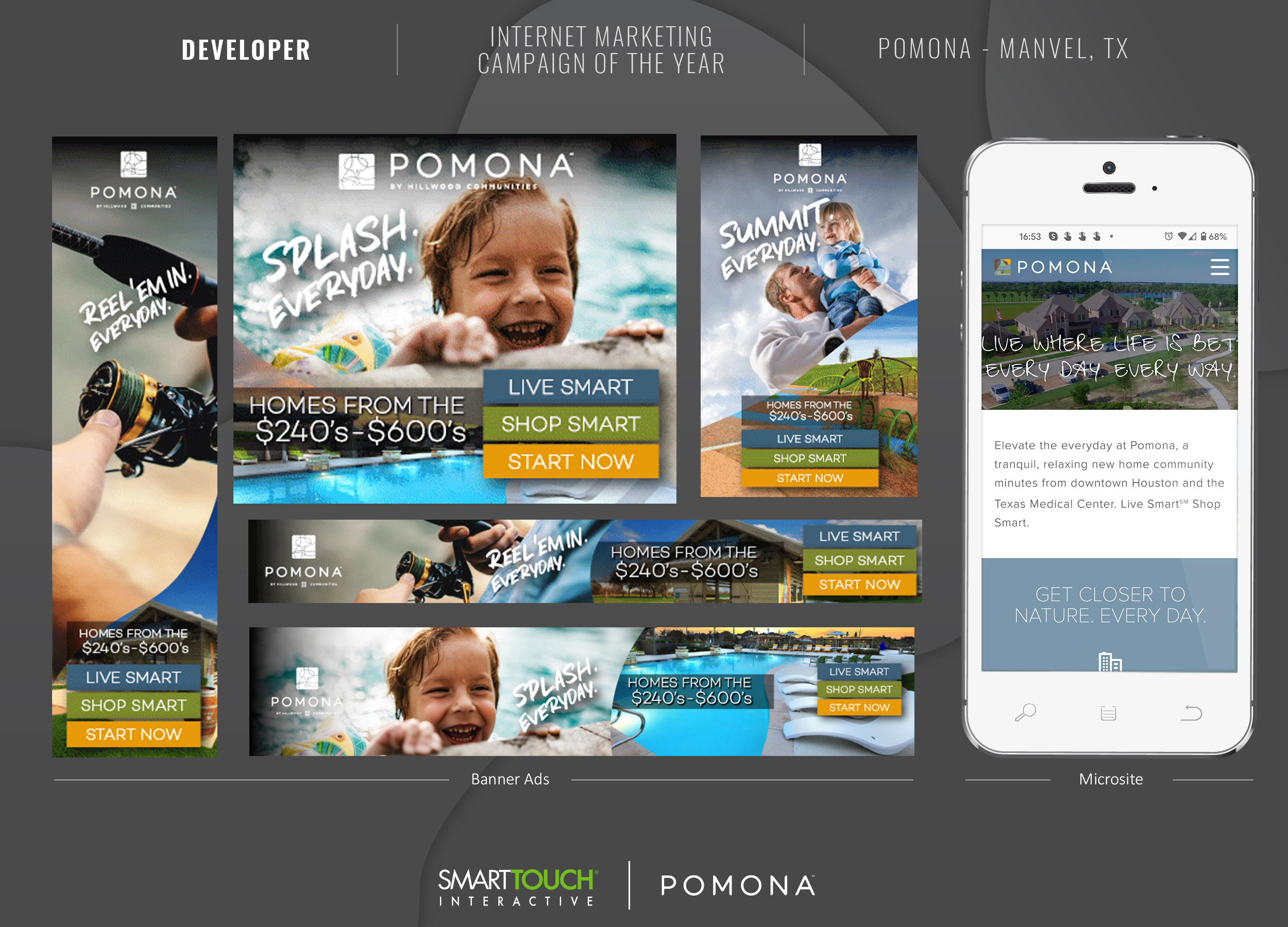 Pomona is a beautiful new 1,100 acres and 2,200 single‑family homes master‑planned community in Manvel, TX, located in the Highway 288 corridor on the Mustang Bayou. The master‑planned community received GHBA PRISM 2021 Awards for:
Developer Marketing Campaign of the Year – Take the EZ Way Home designed by SmartTouch® Interactive
Developer Internet Marketing Campaign of the Year – Everyway. Everyday. designed by SmartTouch® Interactive
"We extend our heartfelt thanks to the SmartTouch® team supporting Pomona by Hillwood," said Russell Bynum, General Manager, Hillwood‑Houston. "We have been impressed from the outset with the award‑winning work and commitment to Pomona and Hillwood. These awards are made possible by the incredibly talented team at SmartTouch® who work hard to ensure our marketing programs deliver optimal results for our community and builders."
Pomona was also a finalist in the following categories for this year's GHBA PRISM:
Master Planned Community Rec Center of The Year
Developer Sales Brochure of the Year designed by SmartTouch® Interactive
Developer Digital Community Tour Experience designed by SmartTouch® Interactive
"We are thrilled to share this news and recognition with the amazing Pomona by Hillwood team," added Robert Cowes, President, and CEO of SmartTouch® Interactive. "It is incredibly rewarding to help our clients achieve outstanding results. I am proud of our team and their continued commitment to go above and beyond to deliver the award‑winning works that help our clients succeed."
This event marks the first two Greater Houston Builder Association PRISM Awards for SmartTouch Interactive creative work.  SmartTouch® Interactive has been awarded more than 50 awards for top recognition from numerous builders associations, including MAX Awards from the Home Builders Association of Greater Austin and The Nationals held by the National Association of Home Builders.
More information on the awards ceremony and finalists can be found on the PRISM Awards Ceremony program. And examples of the campaigns that won these two 2021 GHBA Houston's Best PRISM Awards can be found on the SmartTouch® Interactive blog. More on the company's past recognition and awards can also be found on the SmartTouch® website.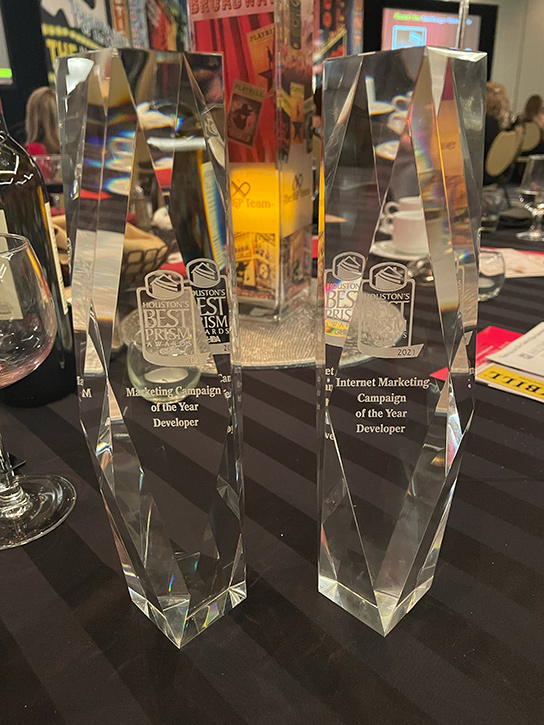 About SmartTouch® Interactive
SmartTouch® Interactive is the only marketing agency focused on real estate to offer: proven marketing and lead generation programs; a superior lead nurturing CRM and Marketing Automation platform, SmartTouch® NexGen; and a cutting‑edge homebuyer geofencing solution, SmartTouch® Geo, all driven by an award‑winning team of innovative marketing professionals. Our innovation in lead generation and digital marketing programs and proven accountable ROI methodology has helped hundreds of real estate developers and home builders generate more than 1 million leads and $2 billion in new home sales.
Press Contact:
Leisha Richardson
lrichardson@smarttouchinteractive.com