International Builders' Show 2019 – Education Sessions that Will Change Your Builder Marketing Strategy
Over 50,000 real estate professionals come together each year at the International Builders' Show to tour the exhibits and stay ahead of industry trends. The NAHB's 2019 International Builders' Show featured a number of education sessions from home design updates to innovative marketing and sales tactics.
Robert Cowes, President and CEO of SmartTouch® Interactive, and Tanner Ross, VP of Client Services, participated in teaching home industry professionals at their own marketing education sessions:
The Essential Elements of a Comprehensive Right Brain/Left Brain Marketing Plan
No Data Left Behind: Leveraging Big Data to Target Buyers
Both partnered with other industry‑leading marketers to bring the best information possible to attending builders, developers, and remodelers, covering beginning‑to‑end marketing strategy, utilizing data in the midsts of Google and Facebook changes, and new techniques and technologies such as Google My Business and Homebuyer Geofencing.
International Builders' Show Building Knowledge Session:
The Essential Elements of a Comprehensive
Right Brain/Left Brain Marketing Plan
Presented by:
Robert Cowes, President & CEO, SmartTouch® Interactive 
Dave Miles, President & Brand Strategist, Milesbrand
In psychology, we're taught that the "left‑brained" personalities are more analytical and organized while "right‑brained" personalities are more creative and imaginative. Marketing professionals must bring both personality types, the logical and the emotional, together in order to build a foolproof marketing program.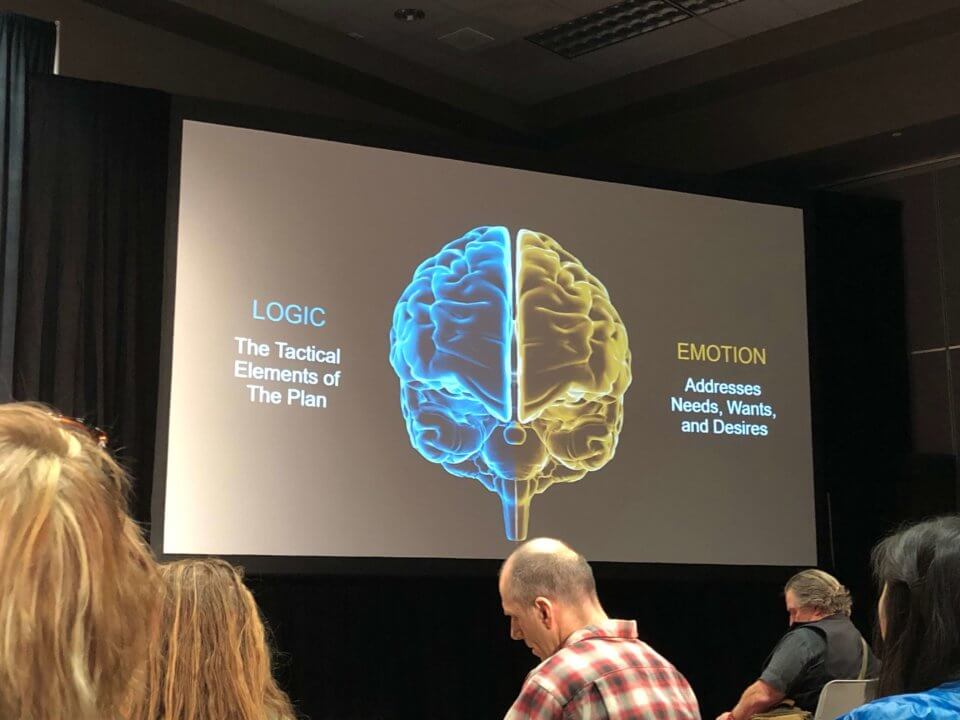 The first component of this session started off with left brain logic as Robert explained the formula behind building a predictive marketing plan to predict ROI before you ever spend a single marketing dollar:
Mapping out what marketing tactics actually go into a plan, what you need to spend and where, and a proven formula for how to get from engagements to tours to sales.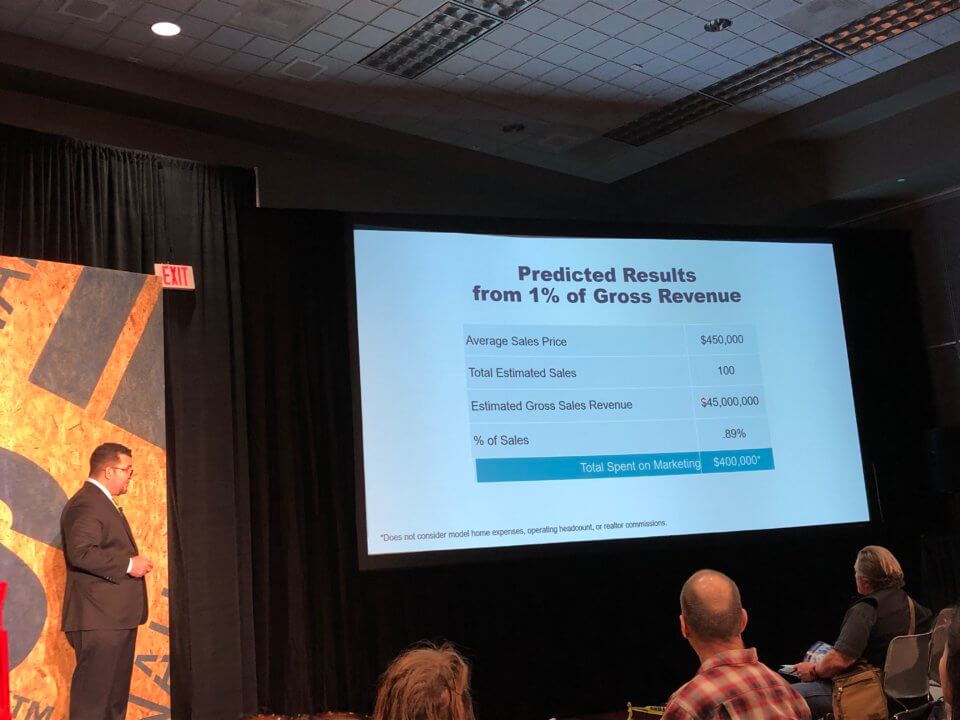 Dave Miles, an NAHB National Housing Hall of Fame recipient, followed up with the right brain emotional part of marketing and how to build out a marketing strategy through emotional brand messaging. People shop for goods and services to satisfy a need, want, or desire and a home satisfies an emotional bond between family, safety, and security. This part of the presentation covered:
How to meet buyers at their needs and desires in your messaging at different stages in the customer journey.
Before the two speakers gave their final case histories on how "an idea without a plan is just a wish" and how deviating from brand message can have catastrophic effects, Robert covered the importance of tracking your performance and what tools to use to help you do it.
The 3 Types of KPIs covered…
KPIs for Your Overall Plan
KPIs for Marketing
KPIs for Sales
Enabling Tracking of KPIs covered…
Google Analytics
The Rise of Google My Business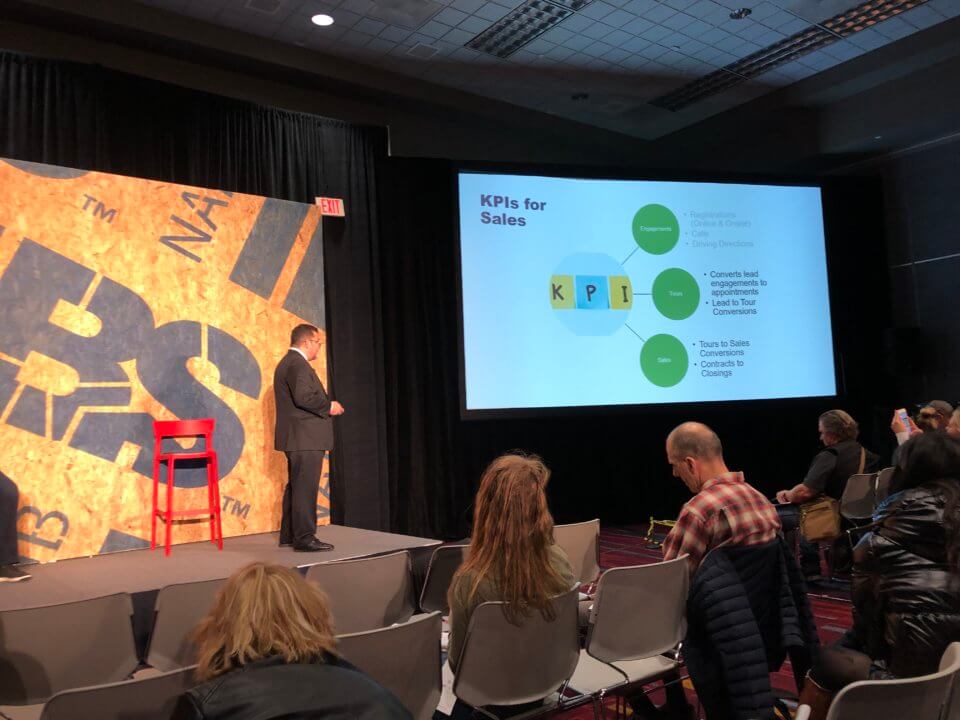 International Builders' Show Tech Byte:
No Data Left Behind: Leveraging Big Data to Target Buyers
Presented by
Tanner Ross, Vice President of Digital Marketing, SmartTouch® Interactive
Joel Cox, Founding Partner & SVP of Strategy & Innovation, Strategus
Tanner and Joel received raving reviews from this presentation.
"Best session yet!"
The topic of Big Data in any industry can be very confusing, but Tanner and Joel broke it down into content both marketers and non‑marketers could understand while also providing actionable steps to take in Google and Facebook to leverage the data most builders and developers already have at their disposal.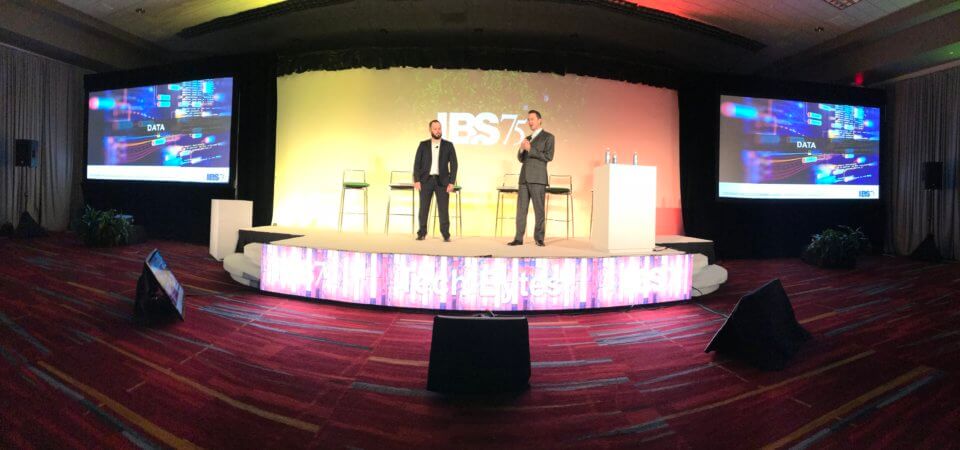 Particularly with data goliaths like Google and Facebook, marketers are able to target specific buyer demographics. They just have to keep up with the changes these two tycoons make in targeting parameters in order to build the most effective campaigns.
Tanner on Facebook targeting:
"Big Data isn't going anywhere," said Joel. So, what are we as marketers, builders, and developers going to do about it? The information is already out there, so we might as well use it to make a more targeted and custom buyer experience.
Joel on consumer purchase targeting:
Location‑based marketing is another channel that's recently arisen as one of the most effective in the real estate industry and uses mobile data and devices to track buyers. Specifically, homebuyer geofencing can capture buyer device IDs from competitor model homes in order to send ads to that device and compel buyers to visit your model home next.
This type of data collection, won't give you a buyer's name and email, but it will send your message straight to their hand.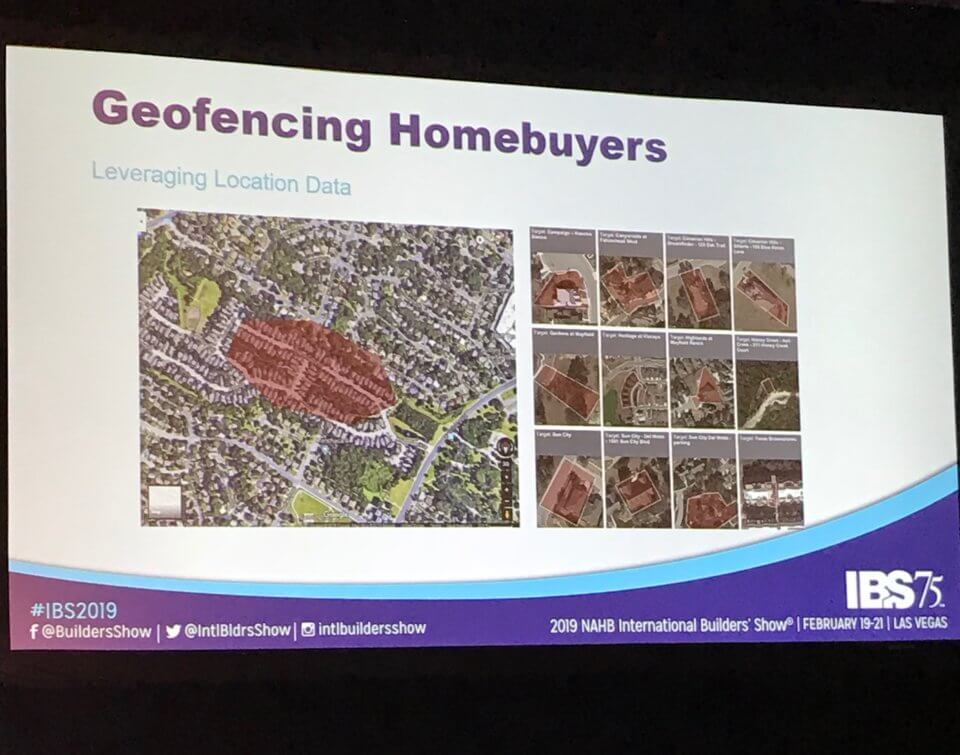 A Real Estate Marketing Agency That Doesn't Take "Flight Canceled" For an Answer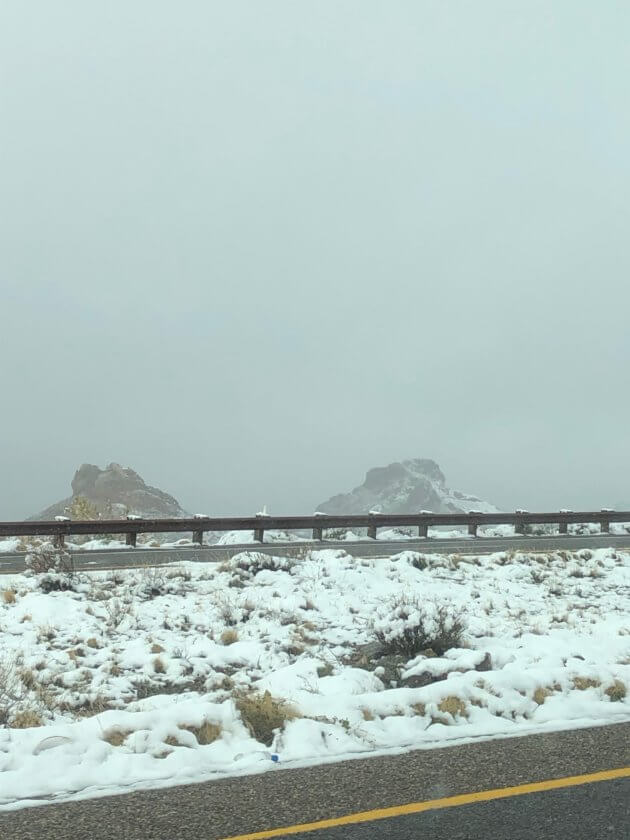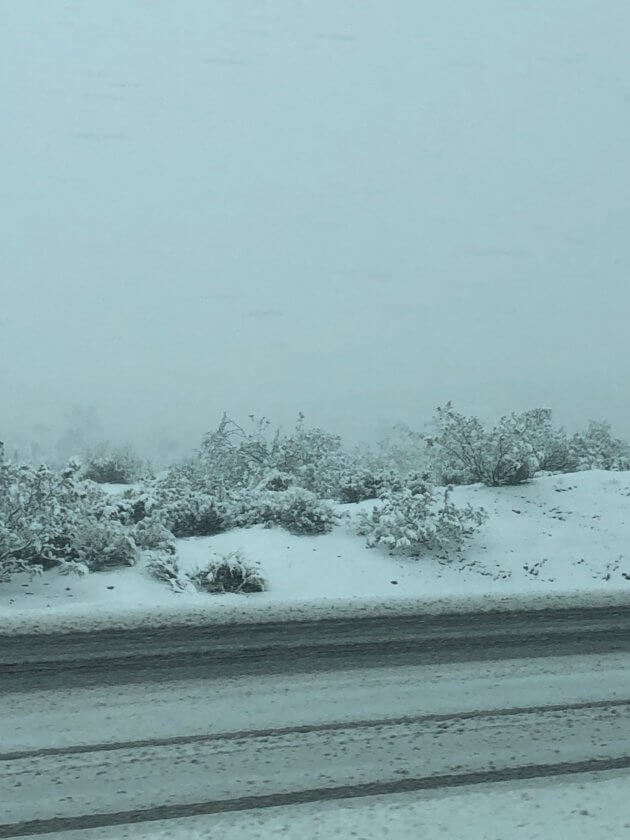 SmartTouch® Interactive is a real estate digital marketing agency that finds solutions. We work with builders and developers every day that have unique business and unique buyers, so our strategies have to be flexible, innovative, and prompt.
The same goes for when our team gets stuck in Vegas at this year's Builders' Show because it snowed!
Aside from giving two International Builders' Show Education Sessions that will change your builder marketing strategy and landscape, our team showed their determination and problem‑solving skills by deciding if the Las Vegas airport wasn't going to have any flights until two days later, then they'd have to drive to an airport that would have flights.
Therefore, the team packed it into a rental car and made their way through the snow, fog, and rain to Phoenix, Arizona for a 10:00 p.m. Thursday flight home to Austin and were back in the office by Friday!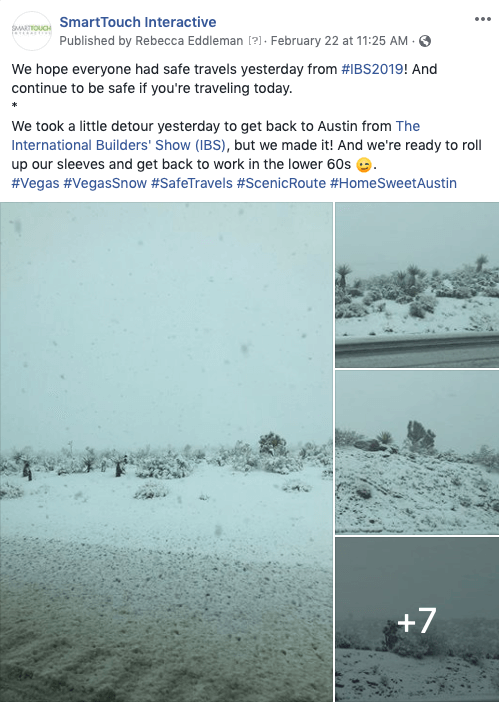 https://www.facebook.com/smarttouchint/
Doesn't that sound like a group of people you want on behind your marketing?