October Webinar – How To Give Your Remarketing Strategy A Dynamic Advantage
Awesome! You're retargeting your website visitors. If it's not dynamic, you're likely missing out on valuable performance.
Free Webinar: How To Give Your Remarketing Campaign A Dynamic Advantage
Presented By: Joel Cox, Director of Digital Strategy & Co‑Founder, Strategus
Date: Wednesday, Oct. 18
Time: 1 p.m. EST/12 p.m. CST
Duration: 45 minutes including Q/A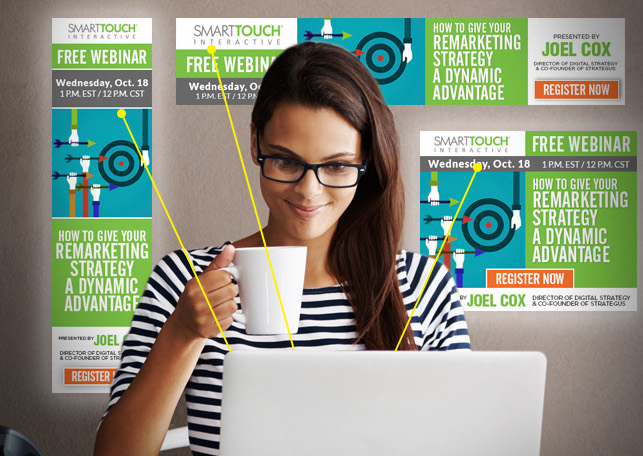 Dynamic Remarketing is part of a cutting‑edge user experience that can personally tailor what content a buyer is served by what they viewed and engaged with on your website. And a personalized experience is definitely where the home builder marketing industry is heading.
Picture this: A buyer looks at Community A on your website and then gets served a remarketing banner for Community B. They are now 3x less likely to convert than if they were served a banner for Community A. So how can you kick off a dynamic remarketing campaign to drive conversions? Join us for this live webinar and find out!
In this webinar, you will learn:
Exactly what is Dynamic Retargeting, and how does it engage prospects better than non‑Dynamic Retargeting
What you'll need to execute a successful Dynamic Retargeting Campaign
Best Practices for running a powerful Dynamic Retargeting Campaign to improve the user experience and drive conversions
Dynamic Remarketing creates a personalized experience for online buyers and increases conversions by 190% compared to standard/non‑dynamic remarketing ads (a less than half 70% increase).
Register by October 18 to also learn more about how Strategus increased performance for a large multi‑market homebuilder with Dynamic Retargeting.

About Joel Cox, Director of Digital Strategy & Co‑Founder of Strategus
Joel Cox is the Director of Digital Strategy and Co‑Founder of Strategus, a full‑stack programmatic platform that offers data‑driven audience identification and targeted delivery. Strategus' innovative ad tech and high touch campaign management drive custom, full‑funnel cross‑device solutions. Strategus pioneered programmatic OTT advertising and thrives on the relentless pursuit of what's 'What's Next in Data‑Driven Advertising'. Joel developed his first online business at the age of 20 and graduated from the University of Colorado at Boulder with a degree in marketing.  Joel's background began with search optimization and after having been a member of the core team that developed and rolled out the nation's first publisher‑owned ad network for Media News Group, Joel co‑founded Strategus. Joel is Google Certified and fluent in all facets of digital advertising with a passion and emphasis on cutting‑edge & innovative digital display and video tactics.