Hillwood Communities, a Perot Company, Engages SmartTouch® Interactive for Strategic Marketing Services and SmartTouch NexGen CRM for Two Key Properties
Leading residential developer, Hillwood Communities selects SmartTouch® Interactive for comprehensive marketing strategy, planning and execution and managed CRM services for two of its' master planned communities, Pomona in Houston, TX, and Wolf Ranch in Georgetown, TX.
Austin, TX –  July 21, 2020 – SmartTouch® Interactive, an award‑winning interactive real estate marketing agency, real estate marketing automation and lead nurturing CRM solution company announced today that one of the most‑respected residential developers in the industry, Dallas‑based Hillwood Communities, has selected SmartTouch® Interactive to provide strategic marketing services and managed CRM services for two new Texas communities, Pomona and Wolf Ranch. Each of the communities is engaging the award‑winning SmartTouch for the company's proven real estate marketing expertise and industry‑leading technology solutions.
"From the outset we were highly impressed with the SmartTouch team and their NexGen CRM managed services. They are experienced professionals with deep domain expertise in real estate marketing and across all disciplines of marketing," commented Duke Kerrigan, Austin General Manager, Hillwood Communities. "This has proven to be exceptional partnership for us on numerous levels. We were well into the development and execution of our plan earlier this year when the pandemic hit. SmartTouch was able to quickly pivot and develop a new strategy that enabled us to continue to generate leads and sell homes in a mostly virtual environment. Plus, with the CRM managed services we are able to automateour digital marketing and manage our lead generation, distribution, nurturing and reporting efficiently and effectively."
Both Pomona and Wolf Ranch have been developed under the Hillwood Communities Live Smart principles, which center around connection, well‑being, enrichment, stewardship, and convenience. Pomona is a beautiful new 1,000 acres and 2,000 single‑family homes master‑planned community in Manvel, TX, located in the Highway 288 corridor on the Mustang Bayou.  Wolf Ranch is a unique master‑planned community in Georgetown, TX tucked into the stunning Hill Country landscape alongside the San Gabriel River.
"It has been an incredible opportunity to work with one of the country's foremost residential real estate developers," added Robert Cowes, President and CEO of SmartTouch® Interactive. "We fully understand that marketing in this new world has changed the home buyer experience and with our accountable marketing approach and commitment to partnership, we are able to help our clients implement the most effective marketing strategies and highest performing marketing tactics.
SmartTouch® Interactive was selected by the leadership teams for Pomona and Wolf Ranch to develop a strategic marketing plan for each community as well as manage the entire tactical execution, which included: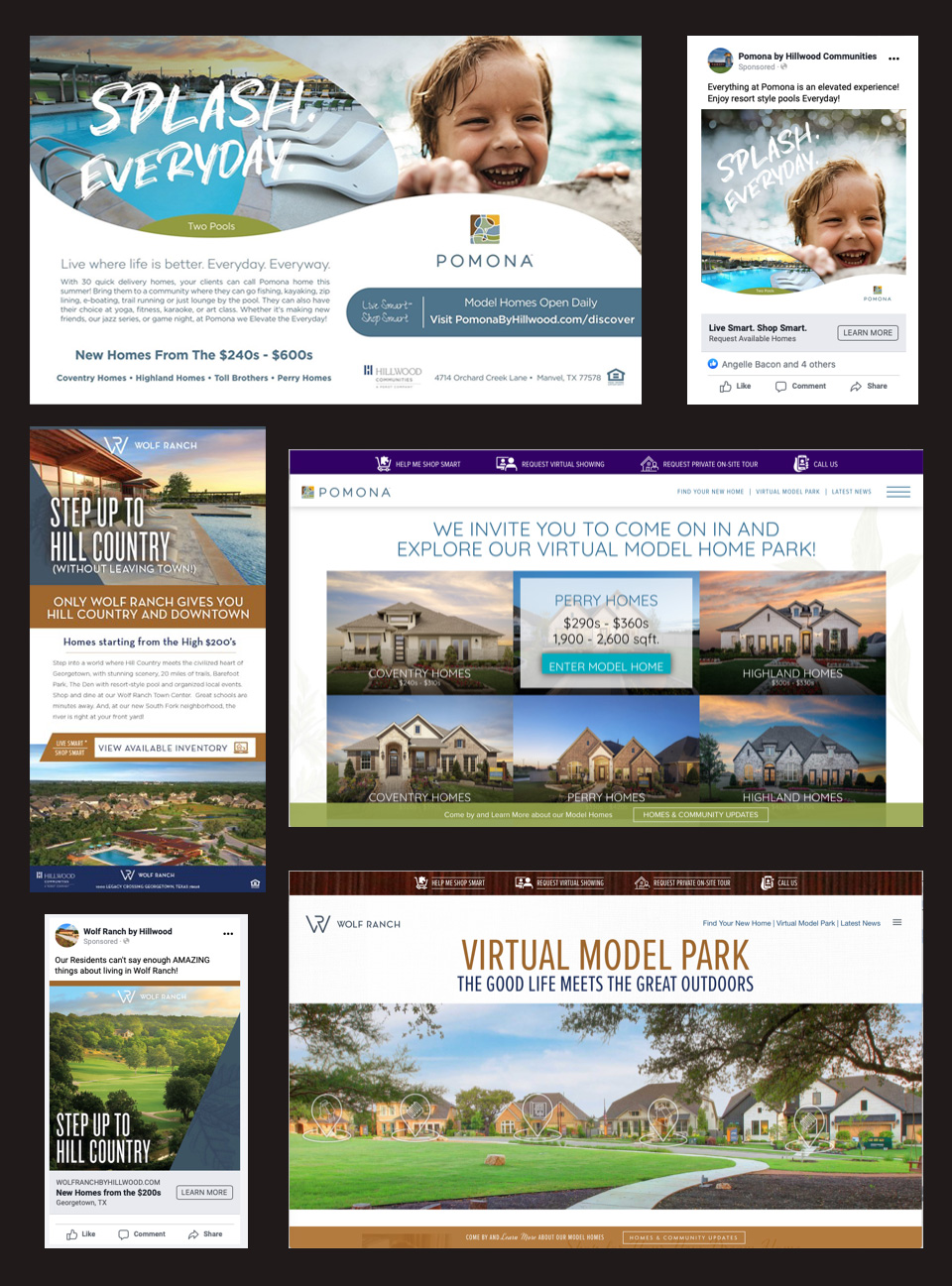 Ad Campaigns
Website Content Development, which included the development of a Virtual Model Park and new Interactive Builder experience to address virtual shopping needs
Drip & Event Driven Email Marketing
Social Media Presence & Advertising
Creative Collateral
Media Management
SEO and SEM
GEO Fencing
CRM Managed Services
Reporting & Analysis
About Hillwood Communities, a Perot Company
Hillwood Communities is backed by the financial strength and business acumen of Ross Perot Jr. and is proud to celebrate over 30 years of creating community. What began as a vision to develop a premier regional economic and trade hub in North Texas, has grown and diversified to become one of the nation's largest independent real estate development firms—with a proven history of delivering long‑term results for customers, partners and investors. The company has delivered more than 28,000 single‑family lots in 90 master‑planned communities across 13 states and two countries. These communities continue to raise the bar in terms of quality, innovation, and the unmistakable sense of community that sets each property apart.
About SmartTouch® Interactive
SmartTouch® Interactive is the only marketing agency focused on real estate to offer: proven marketing and lead generation programs; a superior lead nurturing CRM and Marketing Automation platform, SmartTouch® NexGen; and a cutting‑edge homebuyer geofencing solution, SmartTouch® Geo, all driven by an award‑winning team of innovative marketing professionals. Our innovation in lead generation and digital marketing programs and proven accountable ROI methodology has helped hundreds of real estate developers and home builders generate more than 1 million leads and $2 billion in new home sales. https://smarttouchinteractive.com