"Don't Do That! Search & Display Marketing Tactics You're Currently Doing, But Shouldn't Be" – IBS Tech Byte
SmartTouch®'s Tanner Ross & Strategus' Joel Cox to Present at NAHB International Builders' Show® 2018
"Don't Do That! Search & Display Marketing Tactics You're Currently Doing, But Shouldn't Be"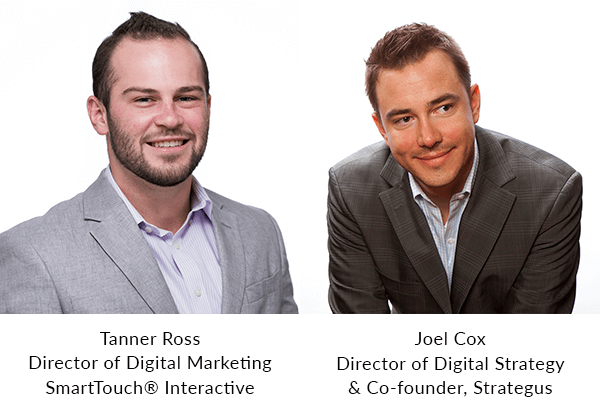 Austin, TX –  December 13, 2017 – SmartTouch® Interactive, an interactive real estate marketing agency, real estate marketing automation and lead nurturing CRM solution company, and Strategus, a full‑stack programmatic platform that offers data‑driven audience identification, and targeted delivery, today announced that SmartTouch®'s Director of Digital Marketing, Tanner Ross, and Strategus's Co‑founder & Director of Digital Strategy, Joel Cox, will be presenting "Don't Do That! Search & Display Marketing Tactics You're Currently Doing, But Shouldn't Be" at the 2018 International Builders' Show® in Orlando, FL, January 9‑11, 2018.
The NAHB International Builders' Show® included Tech Bytes into their program the previous year – offering quick 30‑minute sessions where attendees can learn about the latest products, applications, and tech/digital platforms. These Bytes were designed for a more practical education session followed by "office hours" with the speakers in a smaller more personable setting.
In this joint presentation, Tanner will speak to the search engine marketing tactics that real estate marketers commonly, mistakenly use, and Joel will speak to what's next in data‑driven display advertising, both with the goal to gain maximum exposure and drive quality traffic. Both presenters bring a wealth of knowledge in their fields and will use real examples and cases for a more experiential presentation.
"There are many common mistakes and tactics currently being used in search and display marketing that marketers have been doing for years, but since digital marketing is fast and constantly changing, the rules of the game change as well. Tanner and I will cover some of these top strategies in this quick and engaging 30‑minute session," said Joel Cox
"Don't Do That! Search & Display Marketing Tactics You're Currently Doing, But Shouldn't Be" will be held January 11 from 9:00 a.m. – 9:30 a.m., followed by the office hours where Joel and Tanner will work with attendees one‑on‑one and review their current campaigns for tactics they are currently doing, but shouldn't be; following the theme of the presentation.
"We're really looking forward to this new type of session at the International Builders' Show®. It's a better and easier way to interact with the audience, and we feel attendees will get more out of the presentation and feel more comfortable with being able to ask questions individually after the session and benefit from getting real feedback on their campaigns," said Tanner Ross.
Session details and more about the speakers can be found on the NAHB International Builders' Show® website.

###
Press Contact:
Rebecca Eddleman
reddleman@smarttouchinteractive.com
512‑582‑5900