Best of Home Building Marketing Tactics, Creative, and Tips in 2018
Home Building Marketing That Worked in 2018
As a tribute to the many challenges, successes, and failures of 2018 home building marketing, we've put together a short Best Of list…
Marketing Tactics – digital marketing strategies that changed the game.
Creative – award‑winning campaigns we can learn from.
Tips – home building marketing automation, websites development, organic Facebook, and unique marketing ideas you never thought of (and should try out in 2019!)
Best Home Building Marketing Tactics of 2018
There are three marketing tactics we've named Best of 2018 for home builders and residential developers: homebuyer geofencing (SmartTouch® Geo), Facebook audience marketing, and of course, email. The first changed the game in targeting bottom‑of‑the‑funnel leads. The second created a more dynamic approach on Facebook serving ads that pushed buyers through the funnel And the third remains one of the top lead drivers but has evolved to fit buyer's needs.
Homebuyer Geofencing | SmartTouch® Geo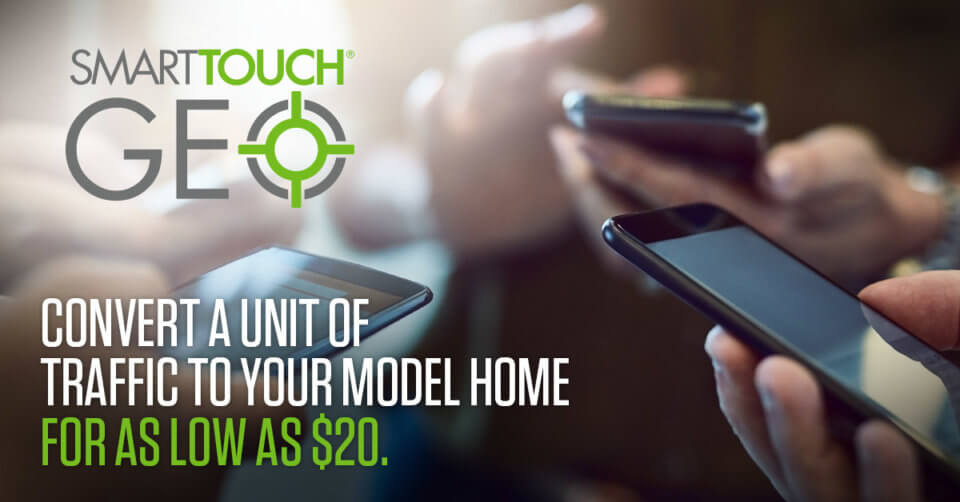 We've never seen a cost per tour as low as $20 in the home building industry until homebuyer geofencing. SmartTouch® Geo targets buyers where they shop and immediately starts sending relevant ads to their smartphones.
Geo is a powerful platform that can target anything from events to employment buildings and, where we've seen our most success, your competitor's model home.
It's as simple as setting up a geofence around your competitor's model (the target zone) where Geo can capture a buyer's smartphone device as they're touring your competitor.
The genius is…
Step one: a buyer is already out touring,
Step two: opens up an app,
Step three: sees your ad,
Step four: and is more likely to stop by your model home next while they're out!
Facebook Audience Targeting
Facebook Marketing has gone neck and neck with Google in terms of leads this past year. In some cases, it's generated even more leads the Google by over double.
For example, a new master‑planned development in McAllen, Texas, launched a full Facebook Marketing program that utilized audience targeting and hit buyers with different types of ads depending on where they were in the process and their previous interest in the community. This campaign resulted in 197 total leads for Q3/2018.
Total Facebook Leads broken down by ad:
2 – Video Ads
2 – Canvas Ads
32 – Sponsored Ads
161 – Lead Gen Ads
The Google Search campaign for this same community produced 23 leads with Online Search leads at 49.

The effectiveness of a Facebook Ad campaign will be dependent upon your homebuyer demographic, of course. If your target buyer is not a frequent Facebook user, this type of campaign will not surpass your Google Search conversion. The fruitfulness of your ads on Facebook will also depend if you're using relevant audience targeting and providing the right ad type in the right stage of the sales cycle.
A Brief Breakdown of Ad Types and Audience Targeting
Contact SmartTouch® to Learn More
Email Marketing… still
Email is a top performing marketing tactic in almost every industry. You'll frequently hear the debate "Is email dead?" or hear people complain about spam. But email is not dead. It's evolving to fit the consumer. Segmentation, personalization, drip sequences, and relevant content are a few strategies that have evolved in email marketing over the past decade to fit the needs of buyers and further engage them.
Research shows consumers and buyers still buy products advertised to them through emails. The same report also shows people are still reading most of their emails.
For home builders and residential developers, email marketing helps you stay top of mind with personalization and drip sequences, and email is one of the few marketing tactics that reaches across every demographic of buyer, even millennials.  



Best Home Building Marketing Creative of 2018
HBA Austin MAX Awards 2018
Best Overall Ad Campaign – Builder and Best Digital Ad – Builder
Saratoga Homes, "There's More Inside"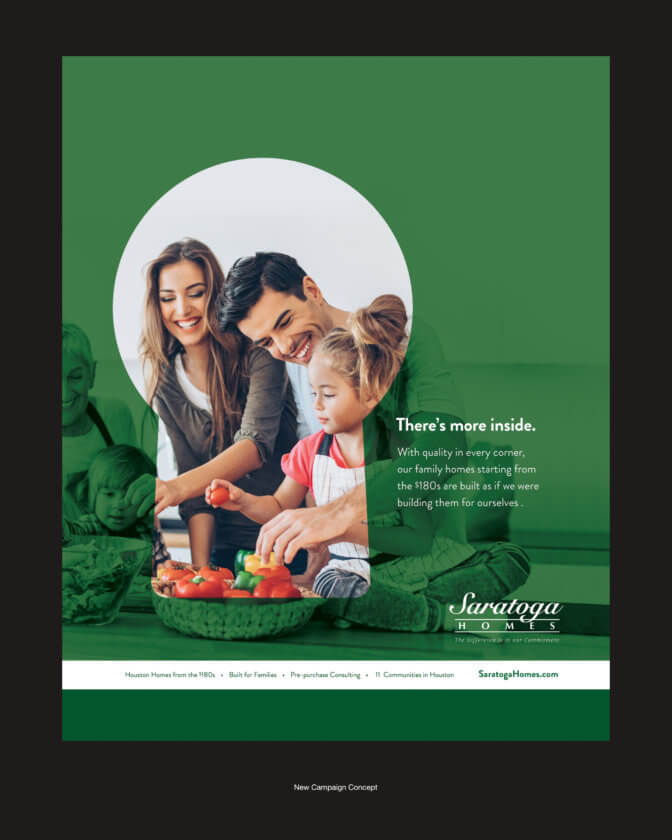 Developed to hit the hearts of first‑time and move‑up buyers in Central Texas, There's More Inside was a cross‑platform campaign that connected with buyers on an emotional level with the symbolization of a keyhole signifying homeownership.
TAB Star Awards 2018
Best Email Message – Developer – Bentsen Palm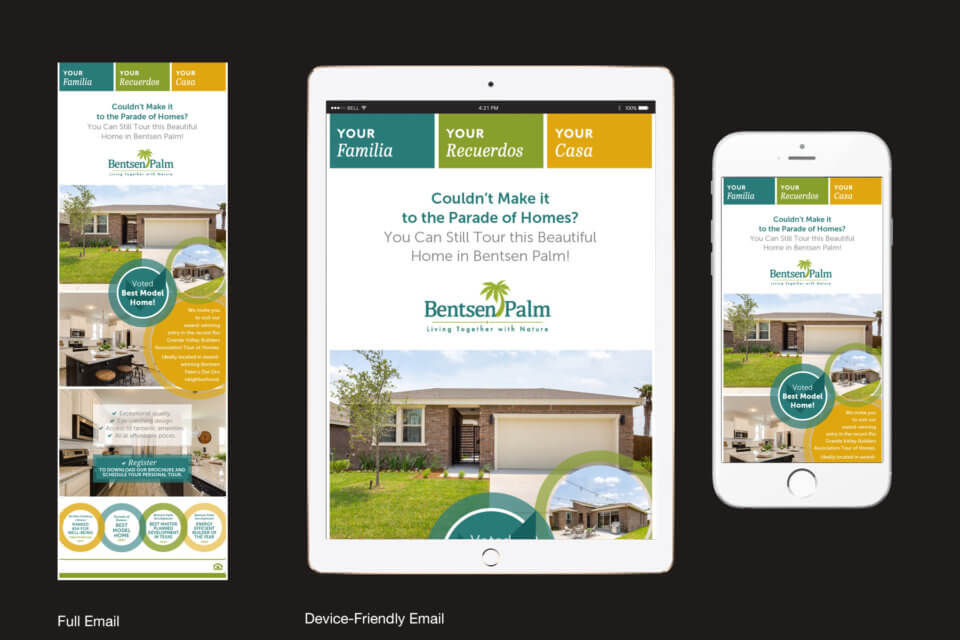 The Bentsen Palm Your Familia, Your Recuerdos, Your Casa ad concept is a great example of branding for a builder's specific demographic area. Bentsen Palm is a development in the Rio Grande Valley, which is about 90% Hispanic and Spanish speaking. The campaign surpassed industry expectations (5%) with a 12% response rate for a prospecting campaign.
Best Online Advertisement and Best Social Media Marketing Program – Custom Builder – Novak Brothers, Twin Springs Preserve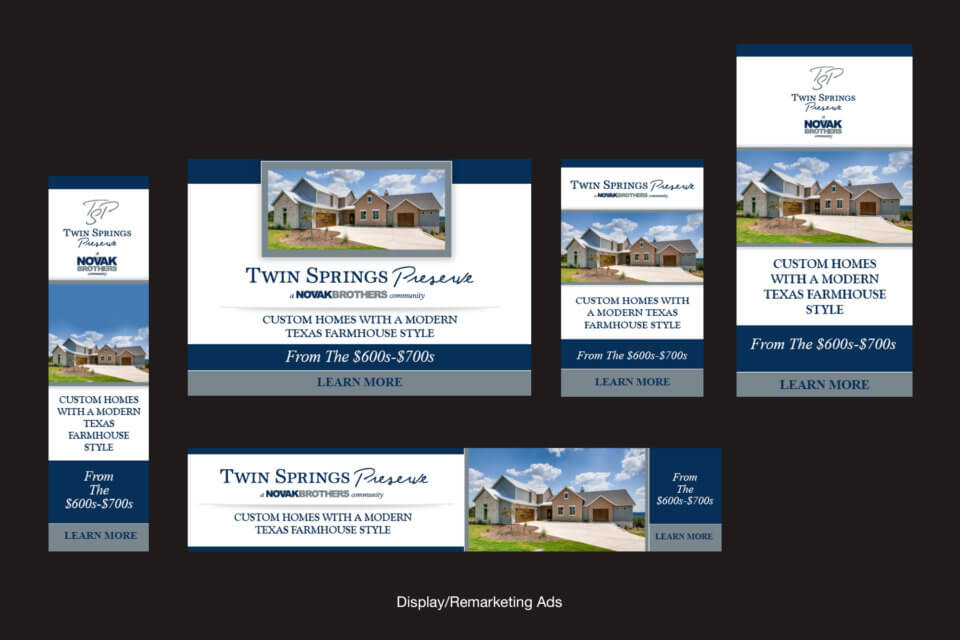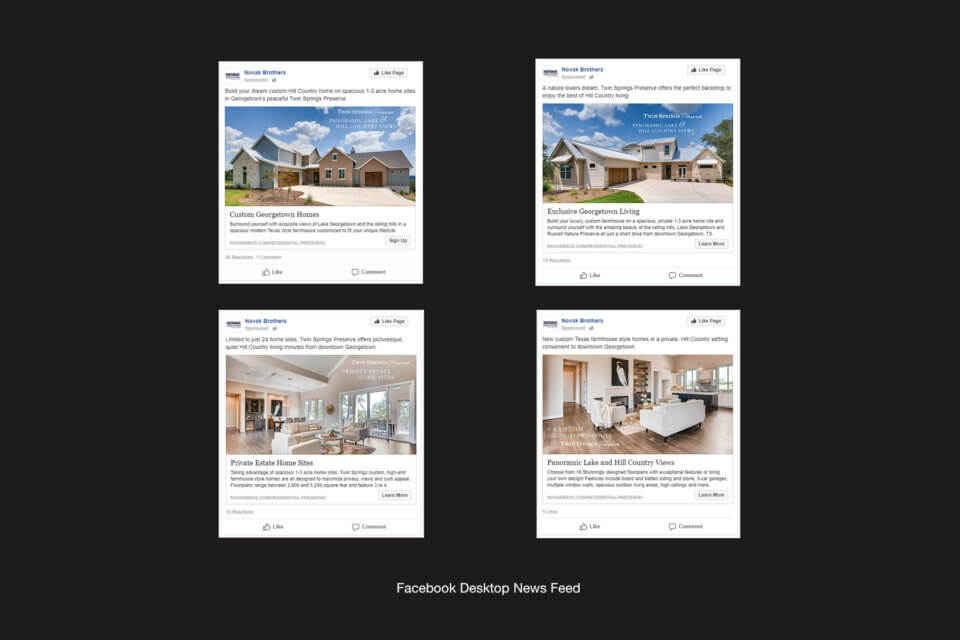 From just a 90‑day runtime, the Novak online ad campaign was attributed 2 confirmed sales. Typically, with homes in a $600‑700,000 price range, we don't see such a high level of interest and click‑through rate. However, we believe the above average click‑through rate was from featuring the unique Texas Farmhouse design as a key image in both the online and social media campaigns.
Best Special Promotion – Developer – Tres Lagos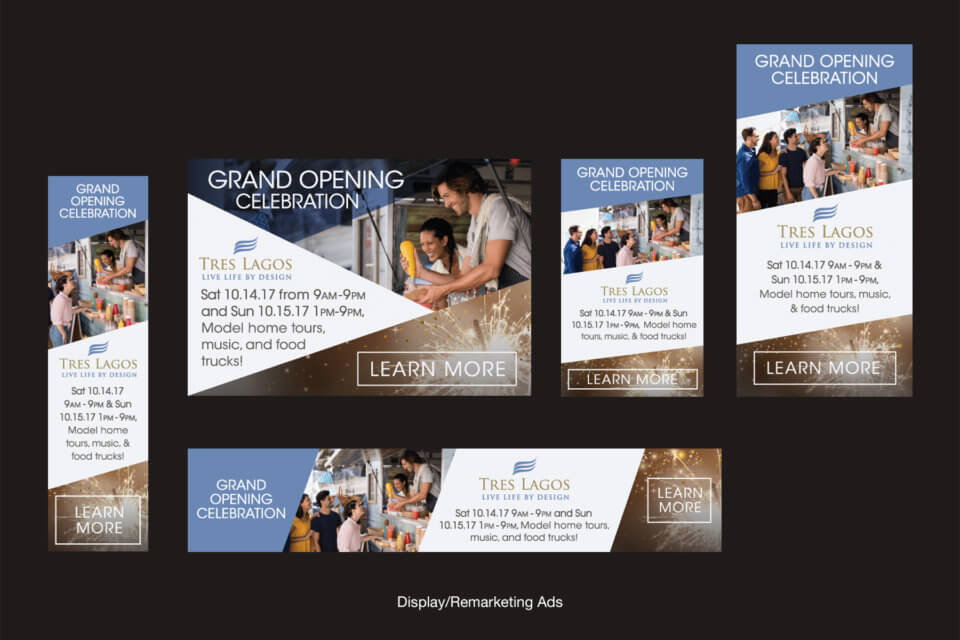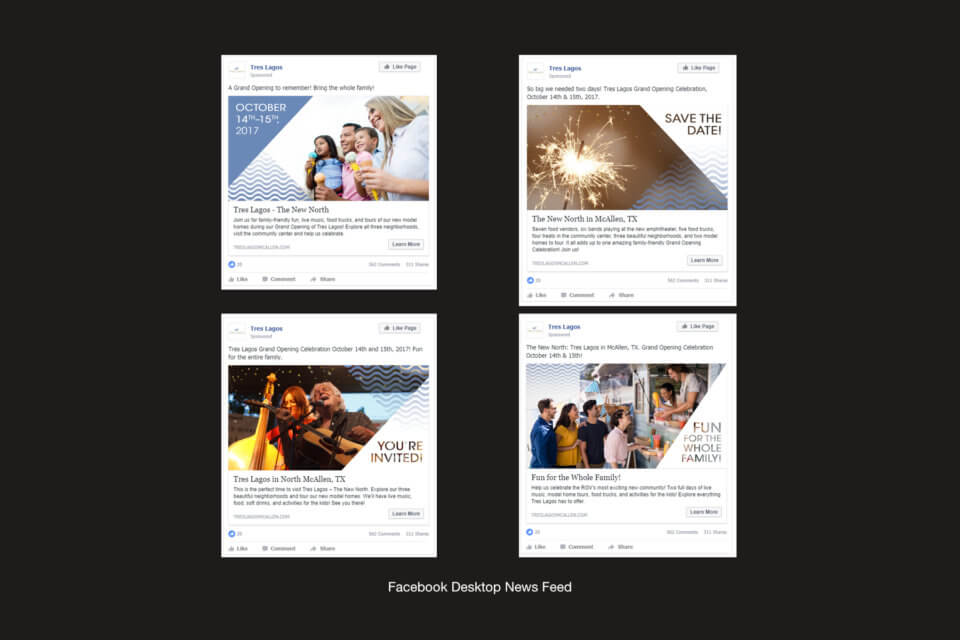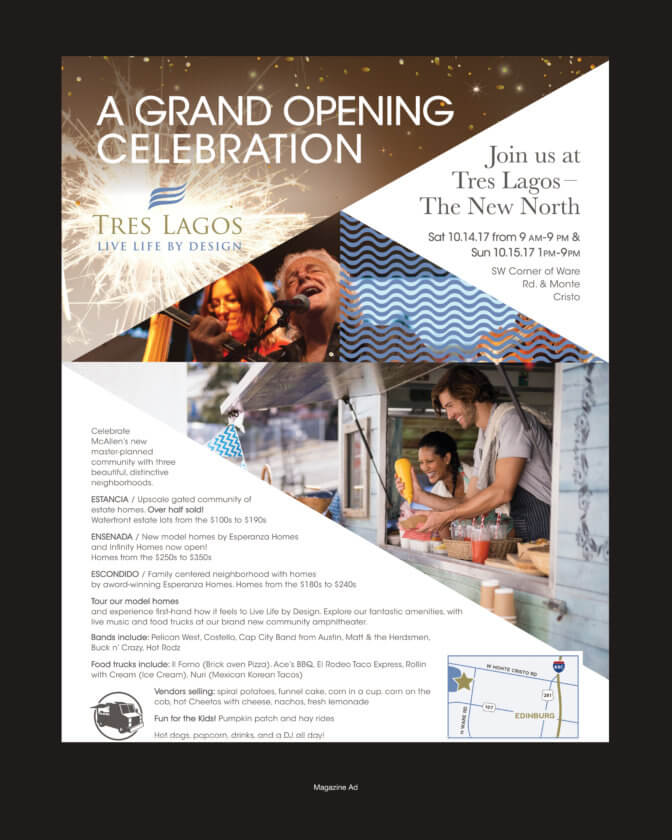 Grand Opening campaigns can be some of the most creative and nerve‑wracking marketing campaigns for home builders and residential developers because expectations are high and a successful grand opening can set the stage for years of sales to come. This particular developer grand opening celebration had 3000+ attendees. We targeted through multiple channels and used fun and inviting messaging as well as "soft" and more direct invitations.
Best Home Building Marketing Tips of 2018
Real Estate Marketing Automation: Our Guide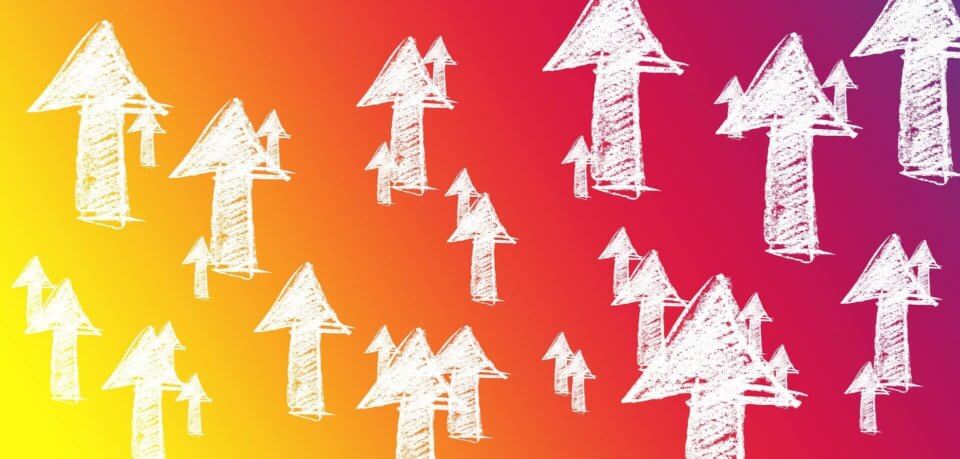 There is absolutely no way to keep up with leads and scale your business in 2019 without a lead‑nurturing CRM and marketing automation software. Automating follow up, workflows, and emails to buyers are key to sending them the information they need in a timely manner and within their interest window.
An Answer to the Age‑Old Question: How Often Should I Update My Real Estate Website?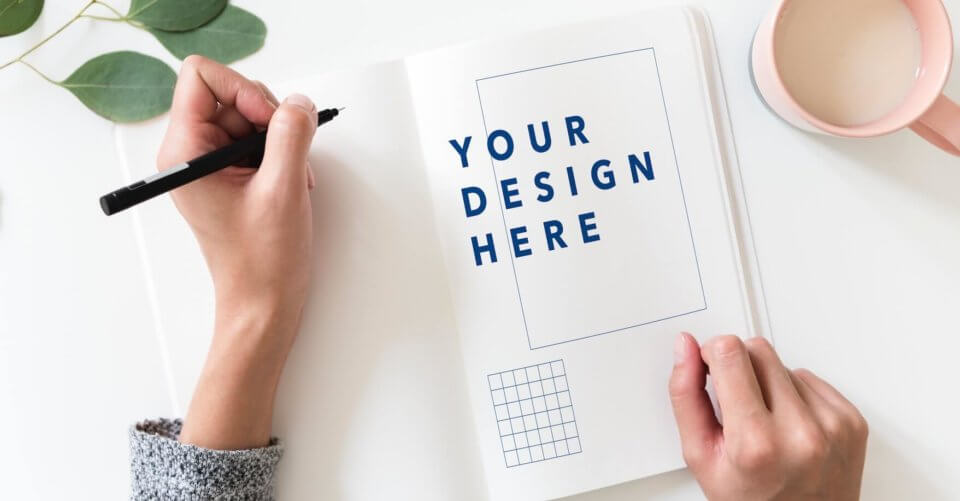 Check out top trends in website design for home builders and residential developers. This article covers the design features of websites that were trending in 2018 and enticed buyers.
10 Facebook Post Ideas for Home Builders & Developers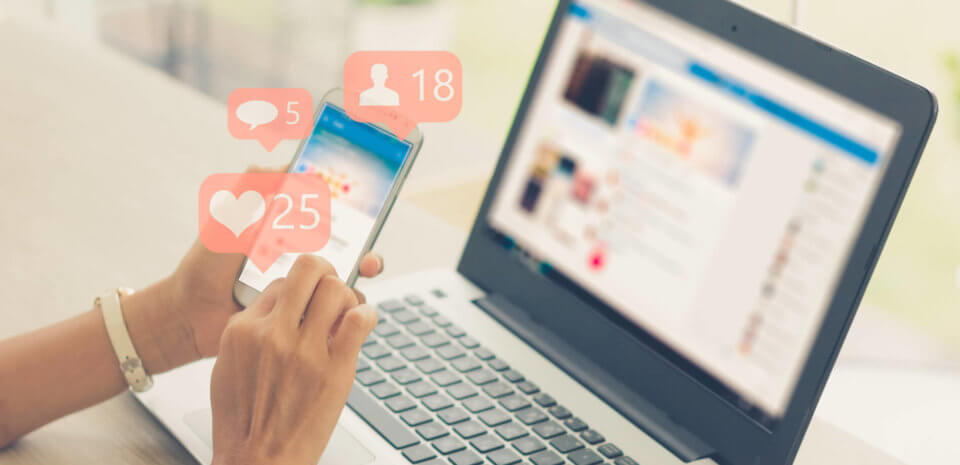 10 Facebook Post Ideas for Home Builders & Developers is a great article to help spice up your Facebook page with interesting content that buyers engage with and helps them learn more about your homes and community without sounding salesy.
Unique Real Estate Marketing Ideas You Never Thought Of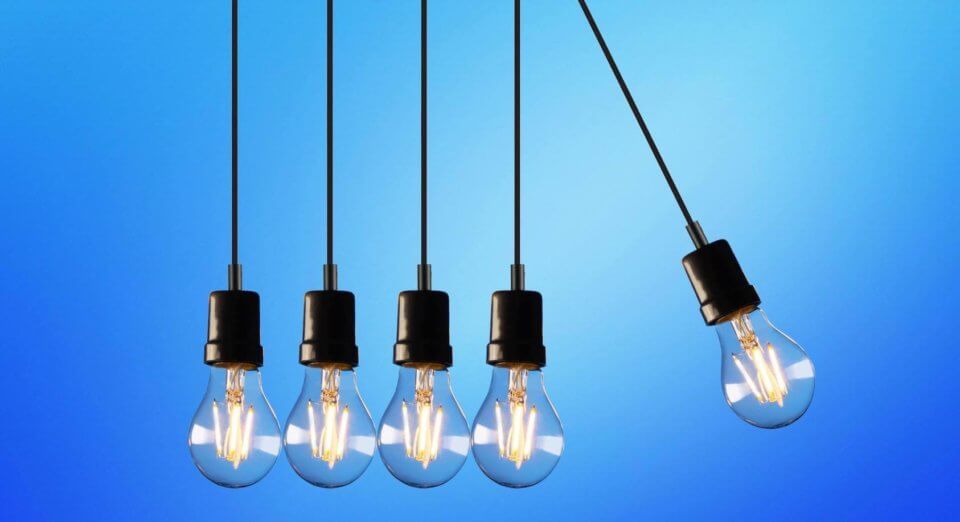 2 of these 5 unique ideas, you're probably already doing by now, but this is still a great source to gain some new ideas for home building marketing in 2019.
Best Home Building Real Estate Marketing Agency for 2019
SmartTouch® Interactive is a  real estate dedicated marketing agency that knows the home building industry and knows what your buyers are looking for. We have a collective experience of over 20 years in the industry and have been serving home builders and developers since 2010.