Affordable Home Builder Websites: The Microsite Explained
Developing a new home builder website can be expensive, but you need conversions now. So what are your options?
Make small updates to your current website like patches on a leaky pipe.
Invest in a new website despite the expense. This can take up to a year to develop and means you're still missing out on leads for 12 months.
Direct your ads to a microsite that takes about 6 weeks to design and program and houses all of the information buyers are looking for.
What is a Home Builder Microsite?
A microsite is basically what its name entails: a miniature website. However, just because your main company website is only a few pages doesn't mean it's a "microsite". Microsites accomplish specific purposes for marketers and are used to highlight campaigns, target specific buyer personas, and most importantly–drive buyer actions.
But as a general definition, we think Hubspot is pretty spot‑on:
"A microsite is an individual web page or small cluster of web pages that act as a separate entity for a brand. A microsite typically lives on its own domain, but some exist as a subdomain." 
As a home builder, you probably build in multiple communities in multiple cities. An example of effectively executed microsites for builders would be to build out specific microsites per community, so you can send traffic directly to the relevant information searched for.
You may think that sending your ads to specific pages of your website and is the same basic concept.
However, two pros of a microsite are they give you (1) greater design control and (2) a more focused experience. It takes significantly less time to build out an appealing and creatively unique microsite, and it eliminates the complications and distractions of moving off‑page that buyers face on an overall corporate website.
Microsite vs landing page
The differences between a microsite and a single page landing page can sometimes overlap and contradict each other as microsites are also often a single page and located on a subdomain.
The latter contradiction can be found in the URL. A single page landing page is always published on the parent website's domain such as www.greenhomes.com/lp/woodhearth, whereas a microsite can either be published on the parent websites' domain or on its own domain such as www.woodhearth.com, if it's available, or www.woodhearthbygreenhomes.com.
The former main difference is a microsite can be a cluster of pages or a single page with a navigation bar anchored to different sections of the page.
Without setting a strict definition,  the way you can truly identify a microsite vs a landing page comes in the design.
A landing page will be a single page with a single message, have a form front and center, and is typically static.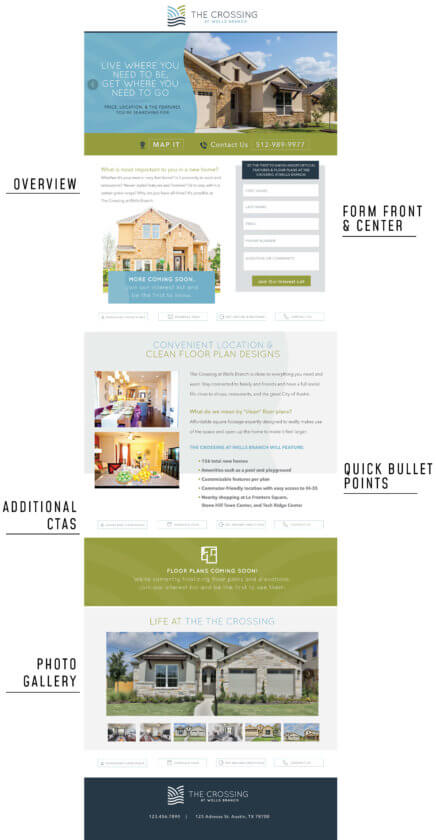 A microsite will include elements like a navigation bar; sections on a community's floor plans, available homes, community details, a photo gallery, etc.; include movement such as parallax scrolling, animations, transitions, or automatic scrolling and popups.
Benefits of a Home Builder Microsite
1. Cost Effective
Microsites allow you to create multiple community‑focused websites for less than the cost of a full‑on new website. And if they are executed correctly, generate more leads and ultimately increase your ROI.
2. Lead Generating
Microsites allow you to get highly targeted and be highly focused on buyer personas. You're not only advertising different floor plans and locations when you split out your communities into different microsites but different types of homebuyers and lifestyles. Personalizing the experience is one of the top buzz phrases in marketing, and microsites are another tool that help marketers and builders do so.
3. Greater Design Control
Since a microsite is often its own entity, designers and programmers don't have to worry about restrictions from the overall parent website. A microsite can cater to its own subset audience and more clearly communicate the message of the particular campaign it's associated with.
In terms of movement and new features, programmers also don't have to worry about friction in the code that can occur when trying to update a portion of a website not originally built for the design it's being updated to.
4. More Focused Experience
Aside from assuaging the buzz phrase "personalized user experience," microsites wipe away all of the distractions of a full, multi‑leveled website that can be cumbersome to navigate and all‑together distracting from the action you want a homebuyer to take. Focusing in on a single story and purpose helps buyers find the information they need in one place and helps builders capture leads.
Developing a Home Builder Microsite
As mentioned, developing a home builder microsite can take about 6 weeks. If you already have your basic template, it can take even less time to get it up and generating leads.
Phase 1: Identifying Your Community & Target Market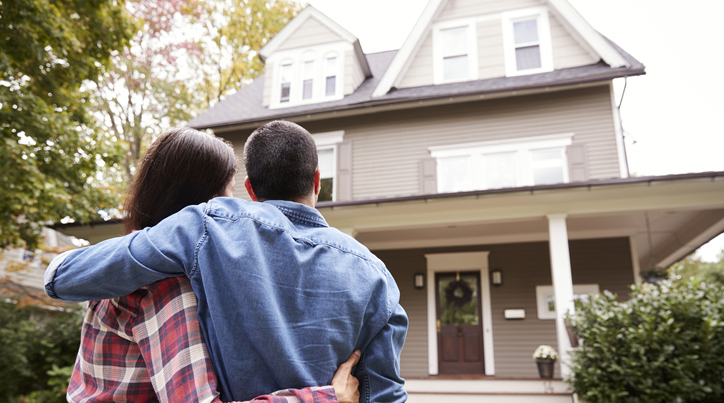 The first step is identifying the specific campaign and audience you're going to be sending to the microsite. For the purposes of walking through the development of a home builder microsite, we'll extend the Green Homes' Woodhearth community example. 
Example
Green Homes is a builder in multiple communities in the central Austin area who is looking to split out their campaigns to better target specific types of homeowners from the first‑time homebuyer to the low‑maintenance townhome buyer.

In order to do this, Green Homes has decided to develop specific microsites per community, based on their target buyer. Woodhearth is a first‑time buyer community with walking trails and an onsite elementary school.
Phase 2: Writing Copy for Your Buyer & Your Design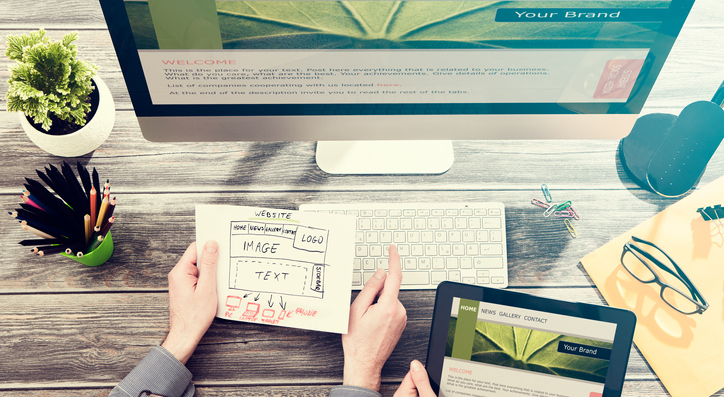 The next step is copy. Well executed copy not only educates, entertains, and drives buyer actions but can also drive your design.
The copy stage will identify what sections to include in your microsite; inspire creative elements like call outs, relevant imagery, and determine style based on language such as cool minimalist colors or warm and welcoming hues.
Example
Since Woodhearth is a first‑time buyer community, this microsite will opt to include an on‑page mortgage calculater to help first‑time homebuyers calculate their monthly mortgage. The onsite elementary school is also a big selling point for this neighborhood and should have its own section called out under Neighborhood Amenities.
Phase 3: Designing for Mobile & The User Experience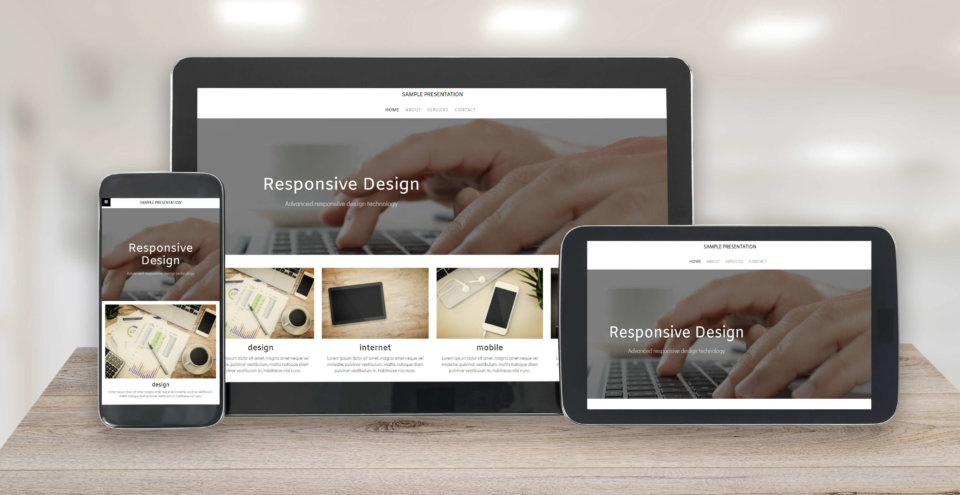 Microsites can give designers and programmers much more creative freedom as they're not directly attached to your main website. Without having to completely redesign your website or make structural changes, microsites can be freshly designed for current trends and better user experiences.
Since microsites are smaller units of your brand website they can be more consistently updated, have their own domain, and even have significantly decreased load time because they aren't as massive.
Speed, usability, and mobile‑friendliness are some of the number one reasons why buyers don't convert on your website and bounce in seconds.
Example
The Woodhearth microsite will be centered around the trails and family friendliness of the community. The soft greens, modern fonts, and vertical structure will guide the user organically through the story depicted in the copy–from stepping into the open floor plans, to taking a walk around the community, playing and growing at the onsite elementary, and even spending weekends at closeby shopping centers, restaurants, and movie theaters.
Phase 4: Development and Programming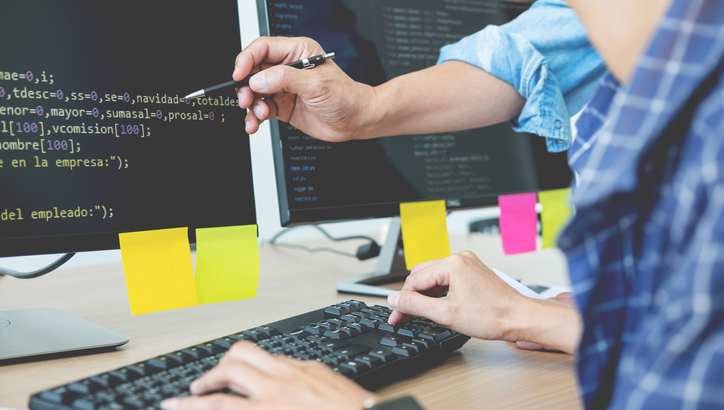 After design, the programming of a website is what takes the most time. Since a microsite is a much smaller project, you're also going to save a lot of time programming a microsite vs a full website and get it live to start capturing leads faster. One thing to keep in mind when developing the features and movement of a microsite is simplicity. A more focused experience is one of its main goals. Therefore, you don't want to go overboard.
Example
The Woodhearth microsite will include simple GIF images in the hero of kids walking to school and familes exploring the neighborhood and other highlighted home features. As the user scrolls down the page their greeted with interior images of the homes, blowing leaves, and smooth transitions into each section. The navigation bar moves down the right side of the page per section as the user reads through the Community Overview, Available Floor Plans, Neighborhood Amenities, Photo Gallery, Entertainment, and Contact Us sections.
---
Contact Home Builder Microsite Experts
A website update could be a project you're looking at in the future, but if you can't wait a year to start generating leads, get started with targeted microsites today! SmartTouch® Interactive is a real estate marketing agency who specializes in home builder microsites and digital marketing campaigns.