10 Facebook Post Ideas For Home Builders & Developers
There are two reasons why you may have chosen to read up on
home builder Facebook post ideas:
1. Your Facebook posts are getting stale and followers are engaging less and less.
2. You were under the impression that your Facebook page wasn't that big of sales driver, so you weren't too worried about buyer engagement in the past. Now you're realizing Facebook is a powerful tool for connecting with buyers and don't quite know where to start.
Using Facebook to reach buyers on a more intimate level is easier than it sounds as long as you treat your page as an extension of your people and not just an extension of your company's products. If you follow these 10 Facebook post ideas for home builders and developers, you'll be creating pro‑Facebook content in no time that buyers actually care about and want to see more of.
Looking to hire a proven real estate marketing focused agency? Contact us below!
How to get more engagement with FB?
Ask our social media expert, Tanner.
HOME BUILDER FACEBOOK POST IDEAS TIP 1:
SHARE HOMEBUYER TIPS
The first step in creating any Facebook post is making sure you have your buyer in mind at all times. That includes posts sharing homebuyer tips. For instance, if your audience is predominantly first‑time homebuyers, sharing Homebuyer 101 and financing tips is a good idea. If your audience is most likely a 2nd or 3rd‑time buyer, throwing in tips on staging and selling their current homes would be useful. But sharing homebuyer 101 tips to seasoned buyers and selling tips to buyers who are currently renting will result in either low engagement or the wrong audience.
Have a blog on your website that shares buyer tips? Even better! Sharing your blog posts on your Facebook page is a great way to send buyers back to your website.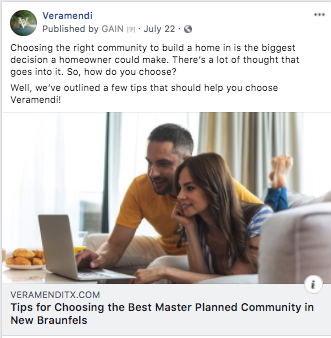 HOME BUILDER FACEBOOK POST IDEAS TIP 2:
FACEBOOK ISN'T A LISTING SITE
As a home builder or developer, you may be tempted to post your available homes and floor plans over and over and over again. But resist the urge. Facebook is not a listing site. A homebuyer does not go to Facebook and set filters to search for homes in the Austin area with 3‑4 bedrooms and 2‑4 baths for under $500,000. They visit your Facebook page to learn more about who you are as a builder, the amenities and lifestyle you'll provide, the culture, the buyer experience, etc.
This doesn't mean don't share beautiful photos of your homes and community. But keep in mind you're creating a page story around lifestyle and people who have emotional responses. So be sure to get more creative than "Move‑In Ready home selling at $355,000. Stop by today."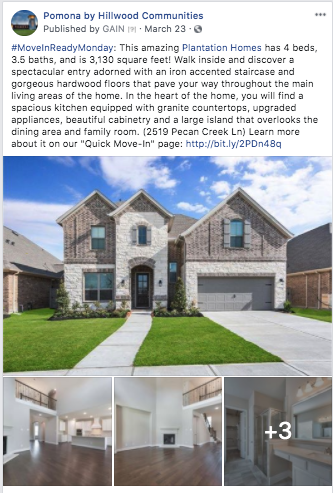 HOME BUILDER FACEBOOK POST IDEAS TIP 3:
INTEGRATE YOURSELF INTO THE COMMUNITY
Aside from sharing homebuyer tips, it's also a great idea to share events near the community, exciting news and developments, and close by shops and restaurants that tie back into the lifestyle of the community.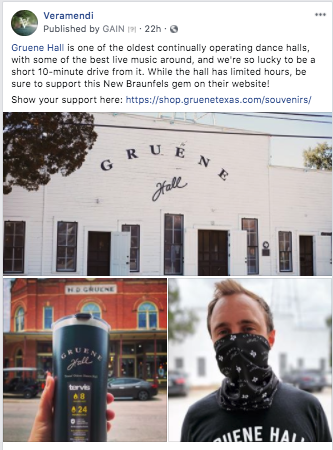 HOME BUILDER FACEBOOK POST IDEAS TIP 4:
TAGGING!
Tagging other pages is a great way to get more exposure and even better when they're relevant and tie back into your company. For instance, if you're a developer with four builders currently building new homes in your community, you can absolutely tag or link out to them and share their new home posts, tips, promotions, and events.
Same goes if you're a builder – tag and link to the communities you build in, share events held at the amenity center, share development updates such as new parks, trails, etc.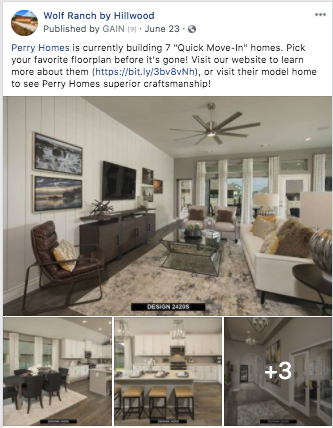 HOME BUILDER FACEBOOK POST IDEAS TIP 5:
HIGHLIGHT YOUR AMENITIES
Highlight amenities found at your community by sharing images of your residents using them, or just sharing fun facts about them.
Share images of your residents swimming in your incredible pool, hosting get togethers at the amenity center, hiking your exclusive trails, and just living in your community!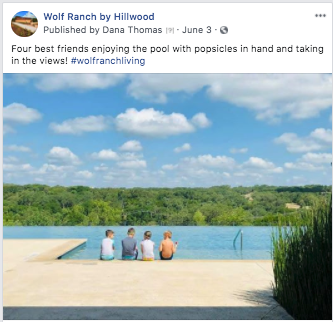 HOME BUILDER FACEBOOK POST IDEAS TIP 6:
KEEP THE SOCIAL PART OF SOCIAL MEDIA
We said earlier to think of Facebook as an extension of your people and not just another way to advertise the homes you sell. Show your personality and your amazing team. Think of your best Sales reps. Are they good at what they do because they can list every detail of your floor plans and features inside and out? Or is it because they know their buyers by name, know they have 2 kids who love Star Wars, and know the corner lot with a bigger yard is way more suitable for their dog Duke who has a LOT of energy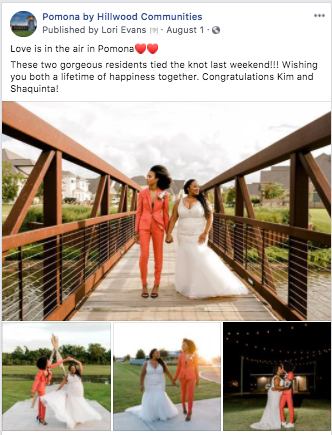 HOME BUILDER FACEBOOK POST IDEAS TIP 7:
SHARE YOUR NEW HOMEOWNERS
Before making large purchases, buyers often look at reviews. This also goes for when they're buying something as important as a home. But homebuyer reviews aren't typically as plentiful as they are for restaurants or electronics.
A great way to share "reviews" is by welcoming your new homeowners. It helps when buyers see real people buying your homes, and when new homeowners look excited to have purchased their new home, you can count that as a glowing review!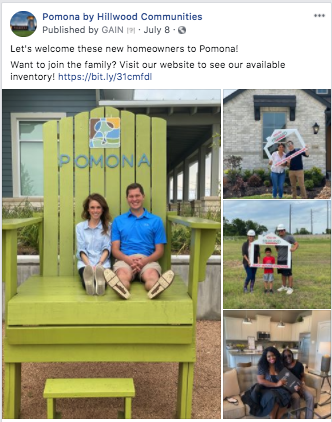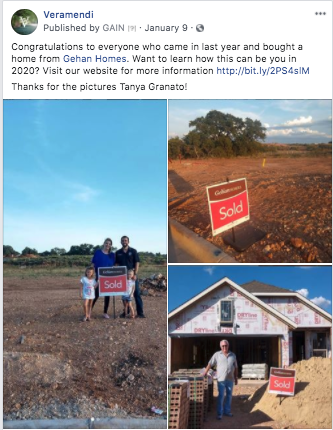 HOME BUILDER FACEBOOK POST IDEAS TIP 8:
VIDEO IS KING
A video is worth a 1,000 engagements…
People love videos. There's just no contesting it! If you have videos you're using in other promotions and Facebook ads, post them on your page as well.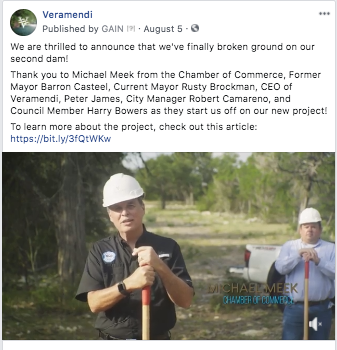 If you don't currently have the budget for videos or virtual tours of your homes, there are some low‑cost options you could use for Facebook video posts as well.
Facebook can turn multiple images into slideshow videos for you.
Many laptops come with simple video programs like iMovie if you want to add some transitions or typography to your photo slideshows.
Have a salesperson do a quick walk through of an inventory home or your model from their smartphone.

Cameras in smartphones have come a long way in the past couple of years and have a much clearer resolution than they use to if you're worried about quality.
HOME BUILDER FACEBOOK POST IDEAS TIP 9:
INCLUDE RESIDENTS IN YOUR HOLIDAY POSTS
Facebook is typically crowded with thousands of posts celebrating holidays. Make your announcements different by focusing on your residents.
Avoid using stock photography that isn't personalized, especially if it's just from Google Images. Make your post count!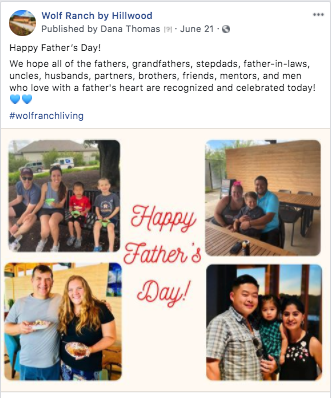 HOME BUILDER FACEBOOK POST IDEAS TIP 10:
USE MORE THAN ONE PHOTO ON A POST!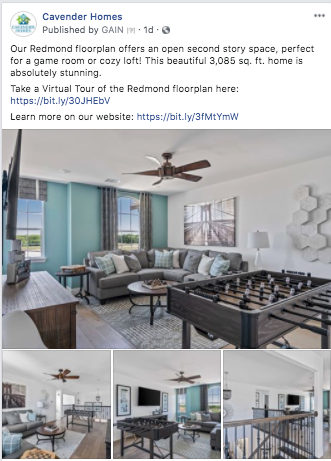 HOME BUILDER FACEBOOK POST IDEAS BONUS TIP:
Hire a Real Estate Focused Marketing Agency
Social Media is important to your marketing! It helps you connect with your current or potential customers, increase brand awareness, increase website traffic, and helps with organic search visibility! Get a team that knows exactly what you need.
SmartTouch® Interactive is a full‑service real estate marketing agency offering home builders and residential developers custom marketing plans, including digital marketing services like Facebook and Instagram Page Management, Organic Monthly Posting, and Facebook and Instagram Paid Advertisement.
Contact us today to learn more about how we can help you connect with buyers on Facebook and sell more homes faster!
Want to know how to get more engagement with FB?
Ask our social media experts at SmartTouch!